Welcome to my eco-friendly gift guide for Christmas 2020! It may seem a little early to be posting a gift guide as it is still only October. However, this is a strange and uncertain year, and nobody really knows how things are going to pan out over the next couple of months. There is a good chance that postage and delivery will be slower than usual. We may also need to post Christmas presents to people instead of giving them in person.
Fingers crossed we will be able to celebrate Christmas as normally as possible this year. But, I recommend starting your Christmas shopping early so that you can be prepared for any scenario!
This is the first time I have made a gift guide on my blog and I am excited to share it with you!
Disclosure: This post contains affiliate links, which means if you purchase something through my link, I will earn a small commission. This does not affect the price you pay for the item. I only advertise products that I have used myself and would genuinely recommend.
Why buy eco-friendly gifts?
We all have a responsibility to do our bit to care for the planet, and I think it's important to be environmentally conscious when buying gifts for people. This can mean:
Buying fewer but higher quality gifts.
Supporting small businesses.
Opting for products that are ethically and sustainably produced.
Avoiding excess packaging.
Buying items that will help the receiver to live a more eco-friendly lifestyle.
Buying products that are reusable and will last a long time.
All of the items included in this gift guide are things I have either bought or been gifted personally and I really like them. They all fall into one or more of the categories listed above, therefore they are all sustainable and eco-friendly in some way. I thoroughly recommend them as gifts for others or to add to your own Christmas list!
Eco-Friendly Gifts for Christmas 2020
PMD Clean
Last year I was gifted the PMD Clean facial skincare device and it has been a staple of my skincare routine ever since. It is a battery-powered, vibrating brush used for cleansing your face. The vibrations help to break down dirt and oil from the pores, giving a deeper clean than you would otherwise get. The PMD Clean can also be used for massaging serums and moisturisers into your skin. It comes in a range of colours to suit every taste and decor.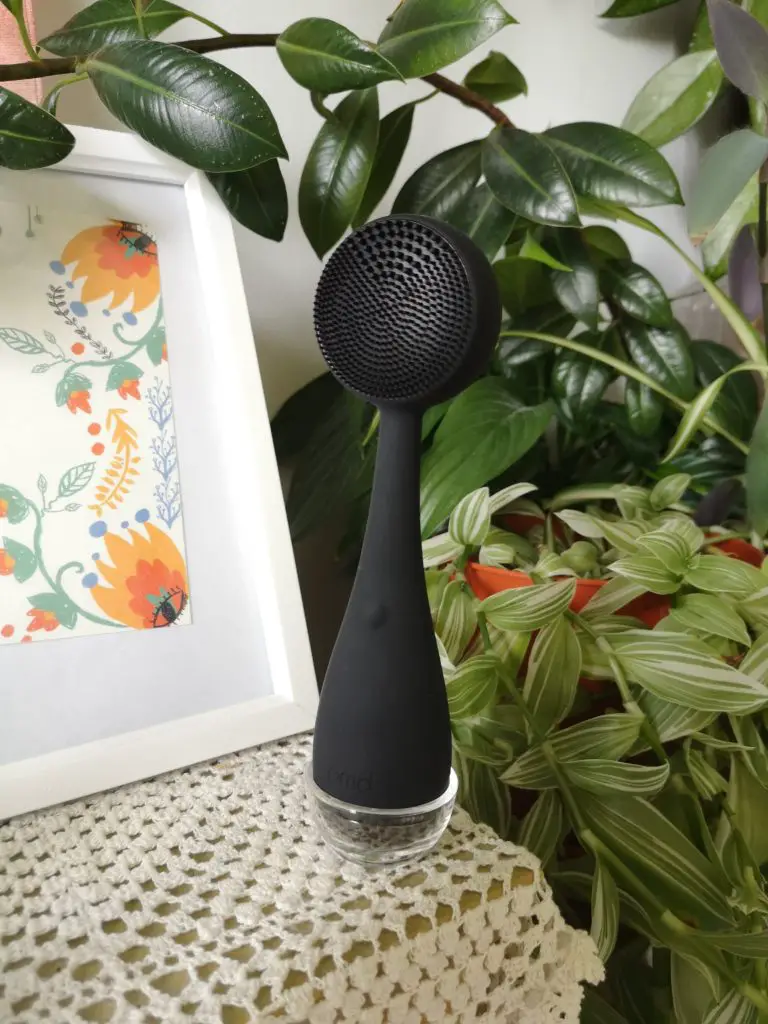 The PMD Clean is an eco-friendly addition to anyone's skincare routine because it replaces the need for disposable facial care products such as cleansing wipes. It also requires less water and energy to clean it compared to a flannel, and it is durable so will last for years. If you have a friend or family member who is into skincare, this would be the perfect gift!
WipeOut Microfibre Cleansing Cloths
I treated myself to these microfibre cleansing cloths by Magnitone London earlier this year. They work incredibly well to remove make-up with only water! Admittedly, I only wear a little bit of make-up so I can't personally testify to how well they work at removing a full face of make-up. But they certainly make my face feel clean!
They are made of 100% Bamboo which is a sustainable material because bamboo grows very fast. They can be machine washed and used again and again, which will save hundreds of make-up remover products and wipes. The packaging is also really cute, which adds to its appeal as a gift!
Buy WipeOut Microfibre Cleansing Cloths
Mary Jean Sensitive & Dry Hand Cream
[Edit 20/1/23 – this specific hand cream seems to no longer be available, but Mary Jean does various other products suitable for hands.]
In the winter, my hands get really dry and I slather on plenty of hand cream to keep them as moisturised as possible. I'm sure I'm not alone in this, therefore hand cream is a great gift for this time of year!
Last month I was gifted this lovely shea and camellia hand cream by Mary Jean, a Scottish family-owned business that uses ethical practices and sustainable ingredients. The cream comes in a glass jar with simple, minimalistic labelling.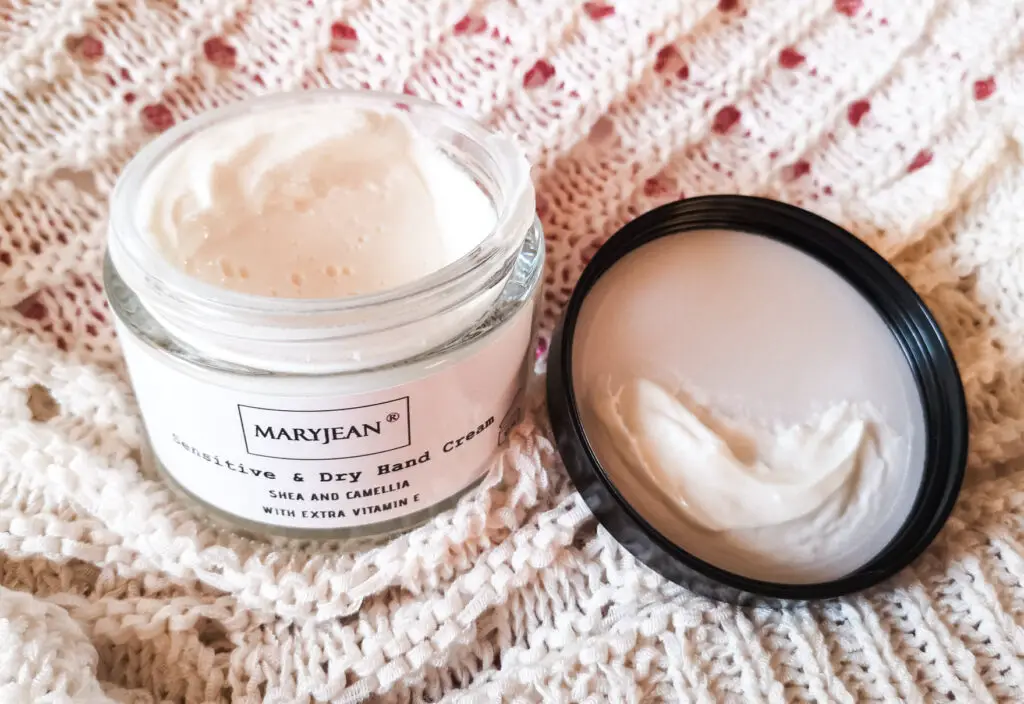 I have been using this hand cream for around 6 weeks now and my hands are feeling soft and smooth despite the cold weather. I highly recommend this hand cream, and the bonus is, you will be supporting a small, ethical family business by buying it!
Read my full review of Mary Jean Sensitive & Dry Hand Cream
Eden Perfumes
It's several years since I discovered Eden Perfumes and I have been a regular customer ever since, both for myself and for gift purchases. Eden produces vegan and cruelty-free dupes of popular mainstream perfumes. They are handmade, have sustainable packaging, and are free from synthetic preservatives, parabens and phthalates.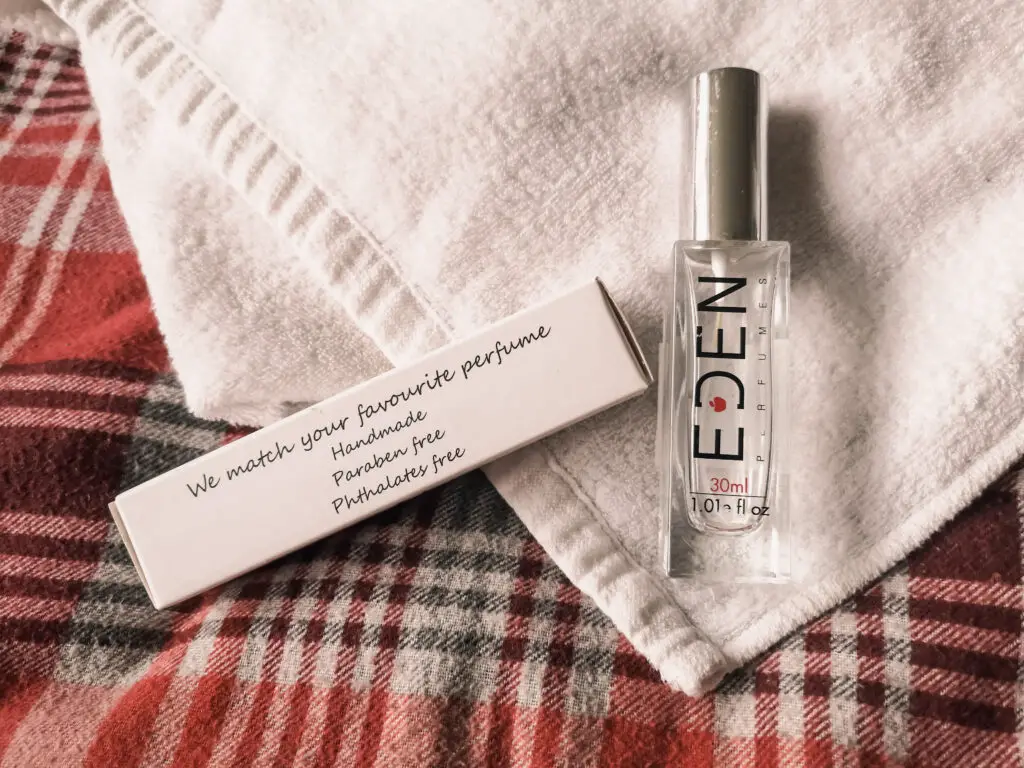 I can confirm that the perfumes smell gorgeous and they are almost indistinguishable from the mainstream perfumes that they are dupes of. So many perfumes contain questionable ingredients that can be potentially harmful to our health, so it's so nice to know that there is a healthier alternative out there that smells just like the original!
My favourite thing about Eden Perfumes is that you can post your empty glass perfume bottles back to them for a refill, for a cheaper price than buying another bottle new! This encourages their customers to keep on re-using the same bottle which is better for the environment.
Two of my personal favourites are No. 405 La Vita Ed Bella and No. 079 Enchanté.
LUSH Products
Where would a gift guide be without a mention of one of my favourite shops – LUSH? I am a big fan of their products, and they make amazing gifts because they are so pretty and fun, especially their bath bombs and bubble bars. LUSH is my go-to shop for buying gifts for people.
LUSH is an ethical company because they trade fairly with their suppliers, use natural and sustainably grown ingredients and use minimal packaging. They also have a scheme where they take back your empty pots for recycling, in exchange for a free face mask.
If you need some gift inspiration, start by checking out their new Christmas range!
Guppyfriend Washing Bag
This may not be the most exciting gift, but it is truly an eco-friendly one! Did you know that every time you wash your clothes, thousands of microfibres are released into the water? Many of them are too small to be caught by the filter systems and they end up in the rivers and oceans. This is called microfibre pollution.
I didn't know about this until recently! Luckily, there is a solution. The Guppyfriend Washing Bag catches these microfibres so that they can be disposed of safely in the bin. I have been using mine for the last year or so and it's been great. It also protects your clothes from rubbing against each other so much in the wash, which will help your clothes last longer.
This is definitely a great gift for anyone who loves eco-friendly products. The fact that it also protects your clothes will make it appealing to many fashion lovers too.
Buy the Guppyfriend Washing Bag
A Cosy Blanket
It's so nice to snuggle up under a blanket in the winter! The reason why blankets are an eco-friendly gift is that they can keep you warm so you don't need to turn the heating up so high.
Related post: How to get warm without turning the heating up.
If you choose a blanket made from eco-friendly materials, it's even better! Last Christmas my mum bought me a Koala weighted blanket which is partially made of bamboo and contains glass beads. Weighted blankets are comforting but expensive, so if they are out of your price range then any blanket makes a great gift!
Handmade Face Masks
Again, this is more of a practical gift, but we all need face masks at the moment (apart from those who are exempt) so you can be sure that this gift will be used! Why not buy your loved ones a patterned mask or two? There's no reason why a mask can't form part of your outfit or be a fashion statement.
I bought several handmade, cotton face masks from a small seller HandmadeMasks101 on Etsy and they are really well made. They come in a lot of different patterns. It's great to support small businesses and individuals, so I highly recommend this seller for your face mask needs!
Shop handmade face masks on Etsy
Waterman Fountain Pen
An area that sometimes gets neglected when thinking about eco-friendly products is stationery. How many different pens and biros do you own that will eventually get thrown away when they run out?
A few years ago I invested in a fountain pen by Waterman and I am so glad I did! It took me a while to get used to writing with a fountain pen because I was used to ballpoint pens, but now I love it.
You can buy cartridges for your fountain pen, but I opted for a converter and bottled ink because that is a less wasteful option. My pen usually lasts for a few weeks before it needs filling up, depending on how much writing I do. It's quite satisfying to fill it up, and the bottles of ink last for ages. I'm on the same 2 bottles that I bought nearly 3 years ago (black and blue ink) and they are still half full! It's definitely an eco-friendly choice of pen and it also works out cheaper in the long run than buying disposable pens.
As well as being eco-friendly, fountain pens look really attractive which makes them a great Christmas gift for any stationery lover.
Buy a Waterman fountain pen
Get a converter
Buy bottled ink
Chilly's Water Bottle
Reusable water bottles are a much more eco-friendly option than buying bottled water. I have several reusable water bottles and my favourite brand is Chilly's! They are really high quality and they don't leak whereas some cheaper brands do. They also offer a wide range of sizes, colours and patterns.
A chilly's bottle makes a perfect eco-friendly Christmas gift and I have gifted several to my family members in the past.
Montezuma's 100% Dark Chocolate
What would Christmas be without chocolate? Montezuma's is a great eco-friendly choice of brand because they are fair trade and they use 100% recyclable, biodegradable or compostable packaging.
Lately, I've been trying to reduce my sugar consumption, so I've been buying their 100% dark chocolate range. It literally is 100% cocoa with no sugar! This won't appeal to everyone because the taste is very intense, but several of my family members are fans so I will be buying it for them!
Buy a mixed selection of Montezuma's 100% Dark Chocolate
Or opt for their less intense 70% cocoa range
Have I given you some ideas for eco-friendly gifts this Christmas?
I hope you have found this gift guide helpful and got some ideas of eco-friendly gifts to buy for your friends and family. I will definitely be buying some of these items as gifts. Do you know of any other great eco-friendly gifts? Please let me know in the comments because I would love to get even more ideas of what to buy people for Christmas!
I really hope that you and your family have a lovely Christmas, even if it is a bit different to normal this year!