AD | This post features a product that has been gifted to me in exchange for a review. All opinions are honest and my own.
This post also contains affiliate links, which means if you purchase something through my link, I will earn a small commission. This does not affect the price you pay for the item. I only advertise products that I have used myself and would genuinely recommend.
It's Autumn now, and the weather is starting to get cooler. This means hot drinks, cosy bonfires and snuggly jumpers, as well as crisp, Autumn walks, blackberry picking and a visit to the pumpkin patch. For me, this also means it's time to start taking extra care of my hands.
When I was a teenager, my hands started getting dry and cracked in the Autumn and Winter. They would end up bright red, sore and itchy and would even bleed! I don't know exactly what condition caused my hands to get so dry, but I do know that it was triggered by cold weather and by my hands getting cold.
Over the years, I have gradually learned ways to protect my hands and prevent them from getting dry and cracked. Nowadays, they still get dry sometimes in the winter, but as long as I am careful, they rarely get cracked or sore at all. In this post, I am going to share with you my tips for protecting dry hands in winter. If you suffer from dry hands, I hope that these tips will help you find some relief!
7 Ways to Protect Dry Hands in Winter
1. Use hand cream at night
This is my number one tip for keeping your hands moisturised all year round! I keep a pot of hand cream by my bed and apply a generous amount every evening before I go to sleep. This allows the hand cream to work on moisturising my skin while I am asleep. Since I started doing this, my hands rarely get cracked.
Of course, you can apply hand cream during the day as well, but I find it more effective to apply it at night. This is because I obviously won't be washing my hands while I am asleep, so the product will have time to absorb properly without getting washed off. Also, it doesn't matter if I have greasy hands because I will be asleep.
Normally, applying hand cream before bed is sufficient for my hands to stay moisturised, and I only occasionally feel the need to apply extra hand cream during the day.
If, however, you do need to apply hand cream in the day, I have a tip for you. Keep a tube, rather than a pot, of hand cream in your bag. This way, you can squeeze some hand cream onto the back of one hand, and then rub the backs of your hands together to distribute the cream. Your palms and fingertips will stay clean and non-greasy so you won't have to worry about getting hand cream all over your keyboard or whatever equipment you are using.
If your hands are extra dry, you can wear thin cotton gloves at night after applying hand cream. This stops the cream from rubbing off your hands and also keeps your hands warm so the cream will absorb more effectively.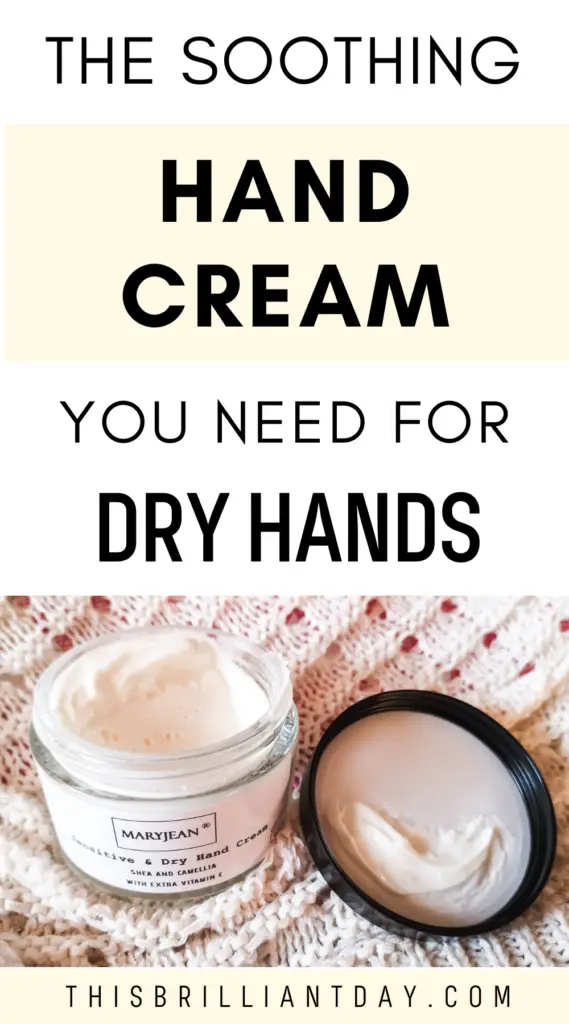 Mary Jean Sensitive & Dry Hand Cream – Shea and Camellia
Lately, I have been using this hand cream by Mary Jean which was kindly gifted to me by the company. Mary Jean Cruelty-Free Beauty & Home Fragrance is a Scottish family-owned business selling handmade soaps, balms and more. They use ethical practices and sustainable ingredients sourced in the UK. 
I was excited when Mary Jean reached out to me to review one of their products, and I was especially delighted to receive a hand cream because, as you have read, this is something I use on a daily basis to combat my dry hands!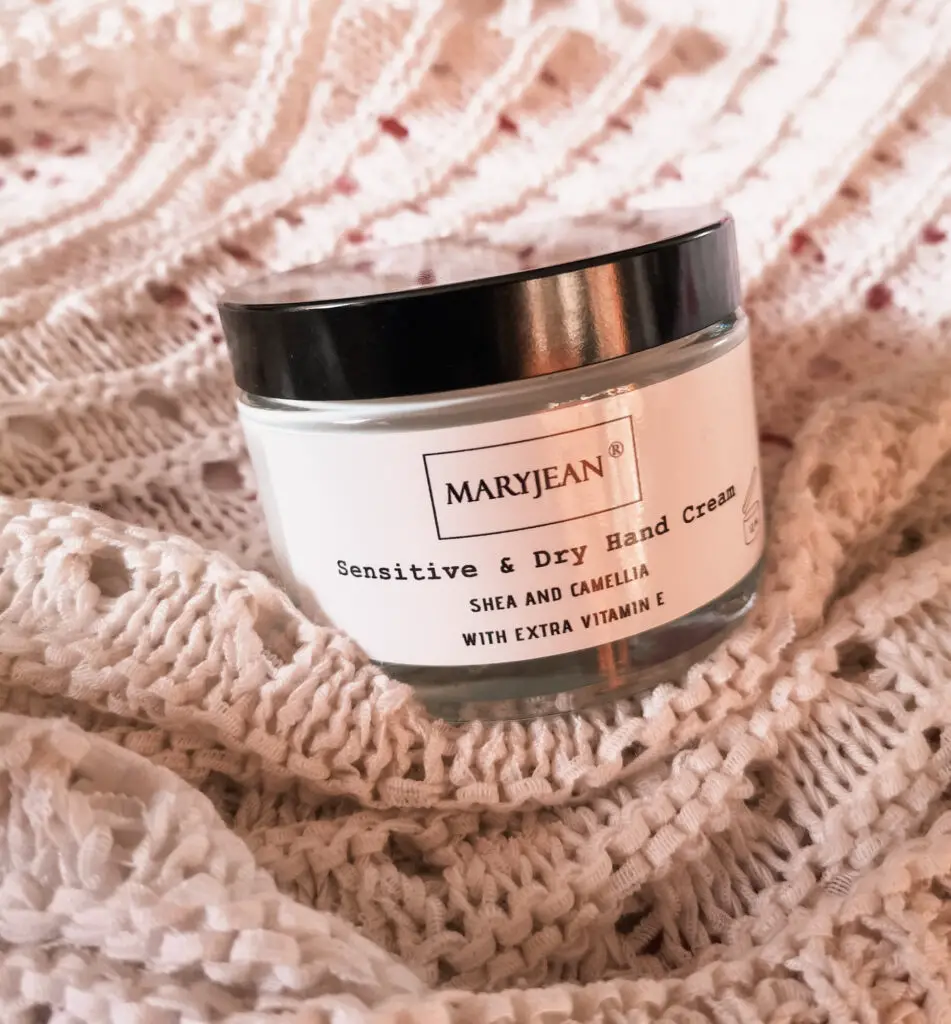 This hand cream is for sensitive and dry skin, which is perfect for me. The key ingredients are Aloe Vera, Almond oil, Camellia oil and Shea butter, all of which soothe and moisturise the skin. It also contains vitamin E which helps protect the skin by preventing oxidative damage by free radicals. Additional beneficial ingredients include Allantoin and Panthenol (pro-vitamin B5), as well as lavender and geranium oils which calm any skin irritation and also provide mental benefits with their relaxing scents.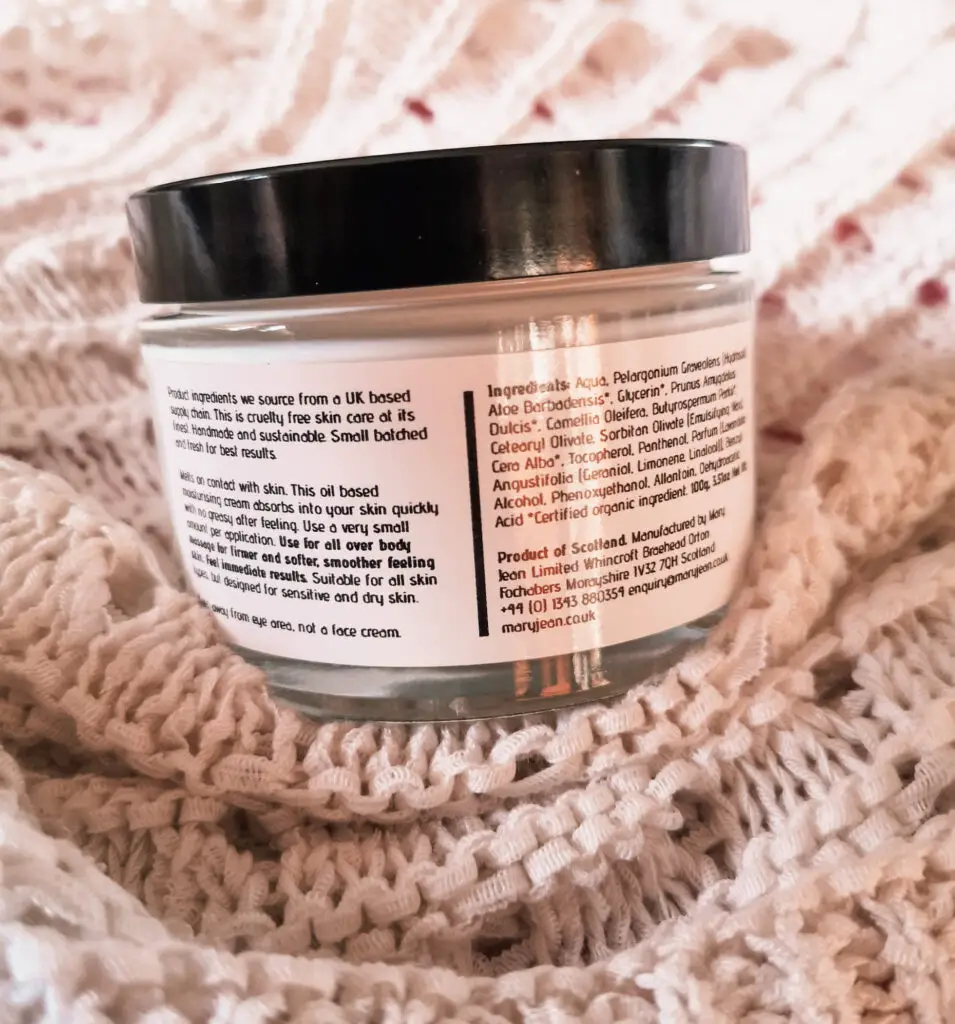 What is this hand cream like to use?
The hand cream is thick and creamy and it applies smoothly onto the skin. A little seems to go a long way, which is good because it means the pot will last longer. This cream seems to absorb well. My hands do feel a bit greasy after applying it, but not as much as with some other creams I've tried. I don't mind the greasiness anyway because I apply it at night!
The cream has a pleasant, relaxing scent that is not too strong. I don't think I would have recognised the scent as Shea and Camellia; I can smell lavender more than anything else.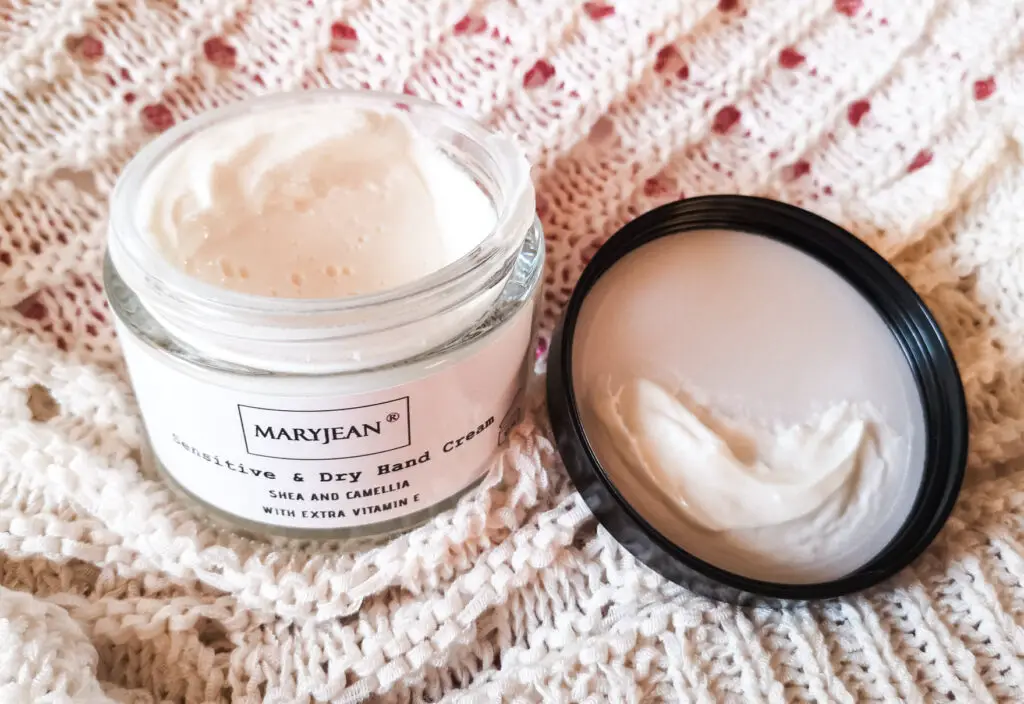 How effective is Mary Jean Sensitive & Dry Hand Cream?
I have been using this hand cream for 2 weeks now and my hands are feeling very moisturised with no dry patches or irritation. The weather has been colder in the past week, but this hand cream has stood up to the test. So far, I conclude that it is an effective hand cream! I plan to continue using it over the next few months and I am hoping it will keep my hands protected and moisturised throughout this cold season.
Packaging
The cream comes in a generous sized 100g glass jar. I love the aesthetics of the jar and labelling – it is minimalistic in black and white. I also love that the jar is made of glass because it is a recyclable and sustainable material. The product was sent to me in minimal, plastic-free packaging, which shows that this company is eco-conscious and making an effort to keep their packaging as sustainable as possible.
Value for money
This 100g jar of cream is priced at £20. Obviously this is expensive compared to some other hand creams. However, considering it is a handmade product from a small company and is made with good quality, ethically sourced ingredients, I think it is very good value! As mentioned, a little goes a long way so I think this jar will last for several months, even with regular use.
If this hand cream is out of your budget for everyday use, it would make a lovely gift for someone or why not put it on your Christmas list for yourself?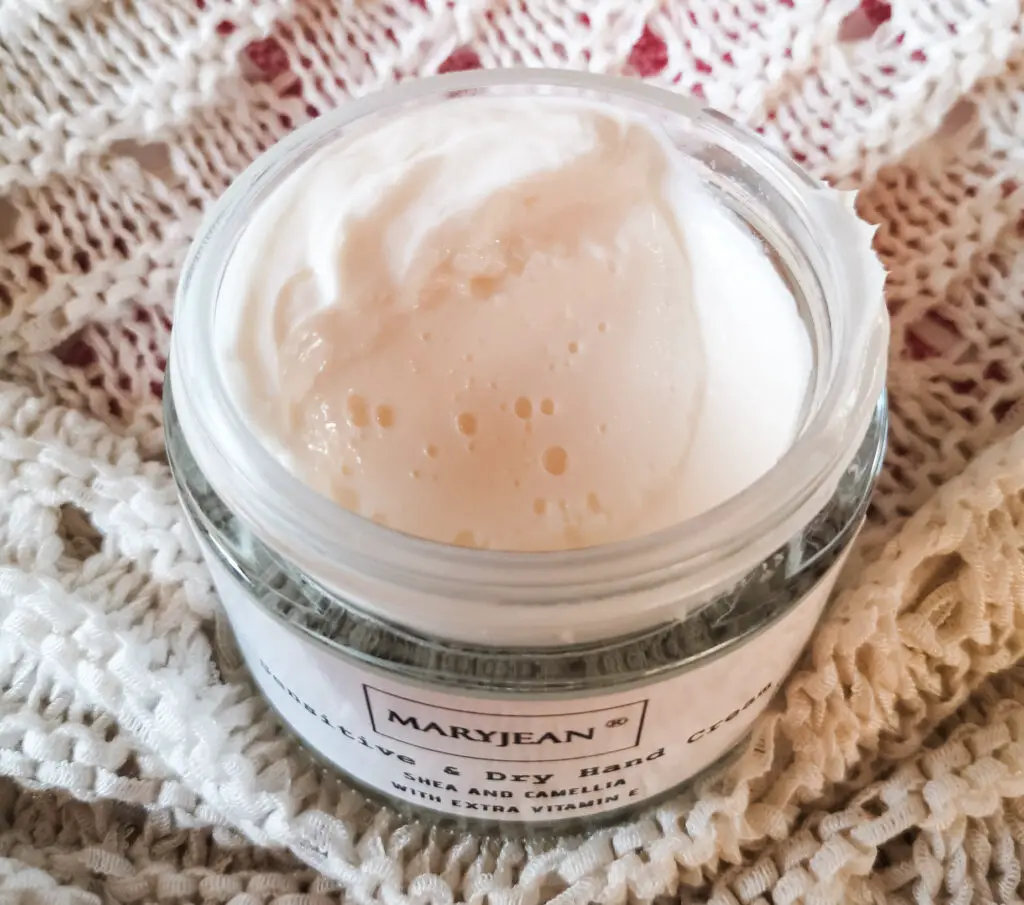 Is this hand cream suitable for vegans?
In my correspondence with Mary Jean, there was a slight confusion over whether this product is vegan. It turns out that it's not because it contains Cera Alba (beeswax). I strongly prefer to use vegan products as much as possible, but since it was already sent to me, I decided to still try it out.
Although I like this hand cream, I would be much more likely to repurchase it if it were vegan. In my communications with the brand, they hinted that they are looking to create a new selection of products for Spring next year, which would hopefully include some vegan products! I am excited to see what they will have to offer in their new range.
Overall, this is a lovely hand cream and this brand is one to watch!
2. Wear thin, fingerless gloves under mittens
Gloves are essential for keeping your hands warm in cold weather, and warm hands are less likely to get dry and cracked. Admittedly though, gloves are not the most convenient things to wear!  How many times have you had to constantly take your gloves off and on again just to check your phone? And your hands get frozen in the process!
I find that fingerless gloves are the most convenient because your fingertips are not covered so you can still use your phone and do other tasks that require dexterity. I can even play the piano while wearing fingerless gloves! 
However, in terms of warmth, I find that mittens are the best option. I have a pair that is lined with faux wool, and my hands always stay toasty-warm when I am wearing them. Unfortunately, though, it's hard to do anything with your hands when you are wearing mittens!
My solution is to get the best of both worlds by wearing some roomy mittens over the top of thin fingerless gloves. That way, you can remove your mittens when you need to use your hands, but your hands won't completely freeze because you'll still have fingerless gloves on!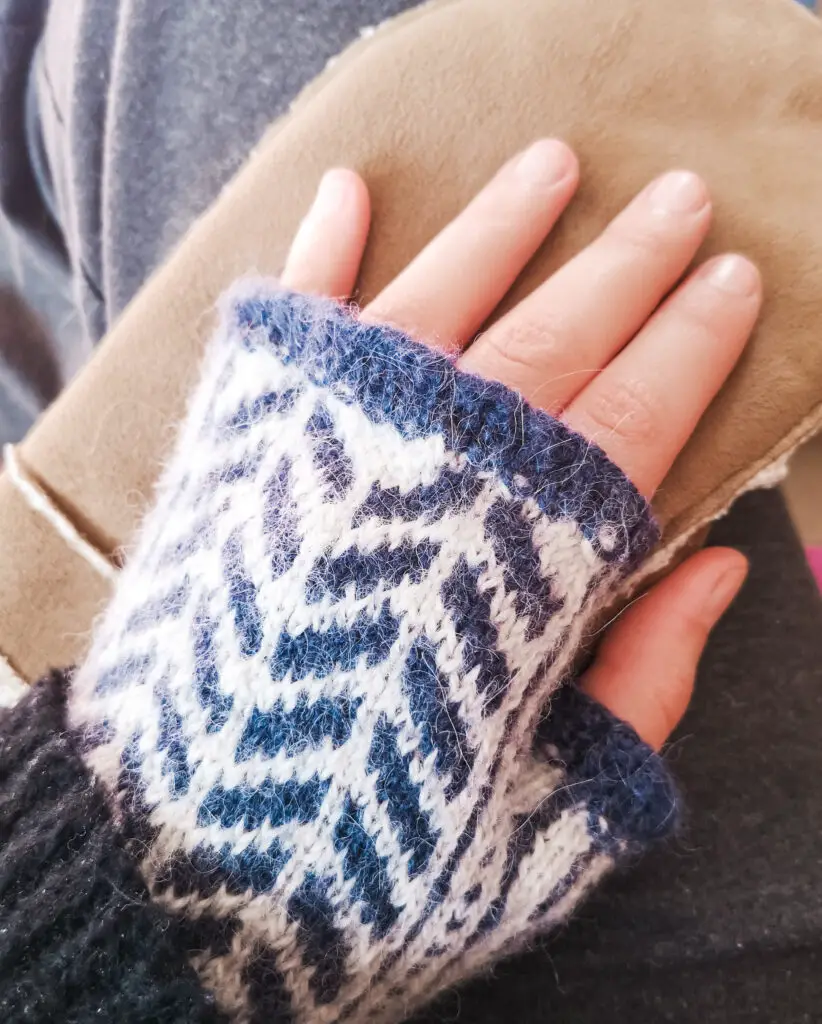 Another option is to invest in some touch screen gloves. These are made with conductive fibres which means that you can use your smartphone whilst wearing them!
3. Keep your wrists warm
In addition to wearing gloves to keep your hands warm, it's important to keep your wrists warm too. This can make a surprising difference to the temperature of your hands. The great thing is that wrist warmers can be worn at any time including indoors!
Last year I knitted my own wrist warmers, but if you are not into knitting you can buy some.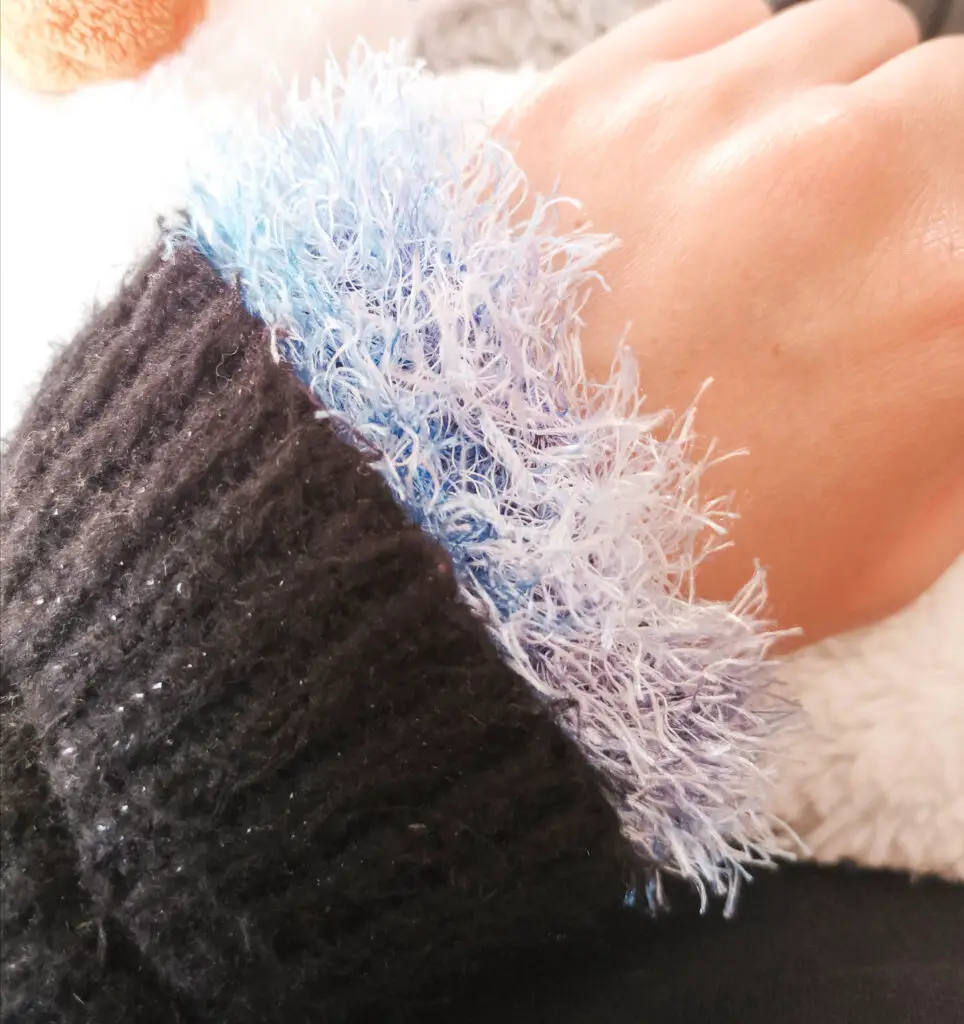 4. Sometimes, only wash the palms of your hands
I would actually not recommend following this tip at the moment whilst the coronavirus pandemic is happening! Always make sure to wash your hands thoroughly.
However, something I have sometimes done in the past is to only wash my palms and fingers, but not the back of my hands. I only do this when I am at home and my hands are not very dirty!
When you think about it, the fingers and palms are the parts of the hand that get the dirtiest, because they come into contact with more surfaces than the backs of the hands. For me, the backs of my hands are also the parts that get the most dry and cracked, and this is not helped by frequent washing! Therefore I sometimes protect the backs of my hands by washing them less frequently.
As I said though, this is not a tip I would recommend at the moment because we need to be taking extra care to make sure our hands are clean!
5. Use gentle, moisturising soaps
If you have dry hands, you need to be especially careful about what soaps you use. After all, you will be washing your hands many times throughout the day so your hands will be exposed to your soap a lot! Go for a gentle formula that is free from harsh chemicals and fragrances. Natural ingredients are likely to be best for your hands, but you may have to try a few different soaps to find out which works best for you. I also recommend a soap that has moisturising properties, because that means that every time you wash your hands, they will get moisturised rather than dried out.
My favourite moisturising soap used to be Rockstar soap from LUSH, but sadly this has been discontinued! LUSH has a lot of other moisturising soaps though, such as the Christmas soap 'Baked Alaska' pictured below! I recommend checking them out.
6. Wear rubber gloves when washing up, or use a dishwasher
One of the main activities that contributes to my hands getting dry is washing up! The combination of the hot water and washing up liquid can really strip the moisture out of my hands. Luckily, I have a dishwasher so I don't have to wash up very often. If you have a dishwasher I recommend using it. However, if you do have to wash up by hand, I suggest wearing rubber gloves to protect your hands.
7. Use paper towels rather than hand dryers
In public toilets, when you have a choice, dry your hands with paper towels rather than a hand dryer. This is because hand dryers blow hot air on your hands which can really dry them out. Also, make sure to dry your hands thoroughly with paper towels. Sometimes, I used to only use one paper towel because I didn't want to waste resources. But then my hands would still be damp, and when I went outside into the cold, my hands would get freezing cold, which contributed to them getting cracked. It's better to use several paper towels and get your hands properly dry so that they won't get so cold.
Do you get dry hands in winter?
If so, I hope these tips will help your hands to stay moisturised this winter, and all year round. Do you have any other tips for protecting dry hands in winter? Let me know in the comments!