AD | This post features a product that has been gifted to me in exchange for a review. It also contains affiliate links, which means if you purchase something through my link, I will earn a small commission. This does not affect the price you pay for the item. All opinions are honest and my own.
Over the past few months I have been paying more attention to my skin than I used to. My skin has never been awful, but it's never been great either, so I wanted to see whether I could improve my complexion by taking better care of my skin. Back in May I created a skincare routine and have been following it ever since (albeit sporadically at times!).
The PMD Clean came into my life at just the right time! I was lucky enough to be gifted this product by the company, and have been incorporating it into my skincare routine.
What is the PMD Clean?
The PMD Clean is described on the box as 'a smart facial cleansing device that uses SonicGlow™ technology.' Essentially it is a battery-powered, vibrating silicone brush that is designed for massaging cleansers and other skincare products into your face. 
The PMD Clean has 4 different modes which you can cycle through at the press of a button. Modes 1 and 2 are designed for cleansing. The vibrations supposedly help to break down dirt and oil from the pores, giving a deeper clean than you would otherwise get.
Modes 3 and 4 are designed for gently massaging your face with the back of the brush. This is supposed to help serums absorb deeper into the skin. These modes also claim to stimulate blood flow and collagen production, creating an anti-ageing effect.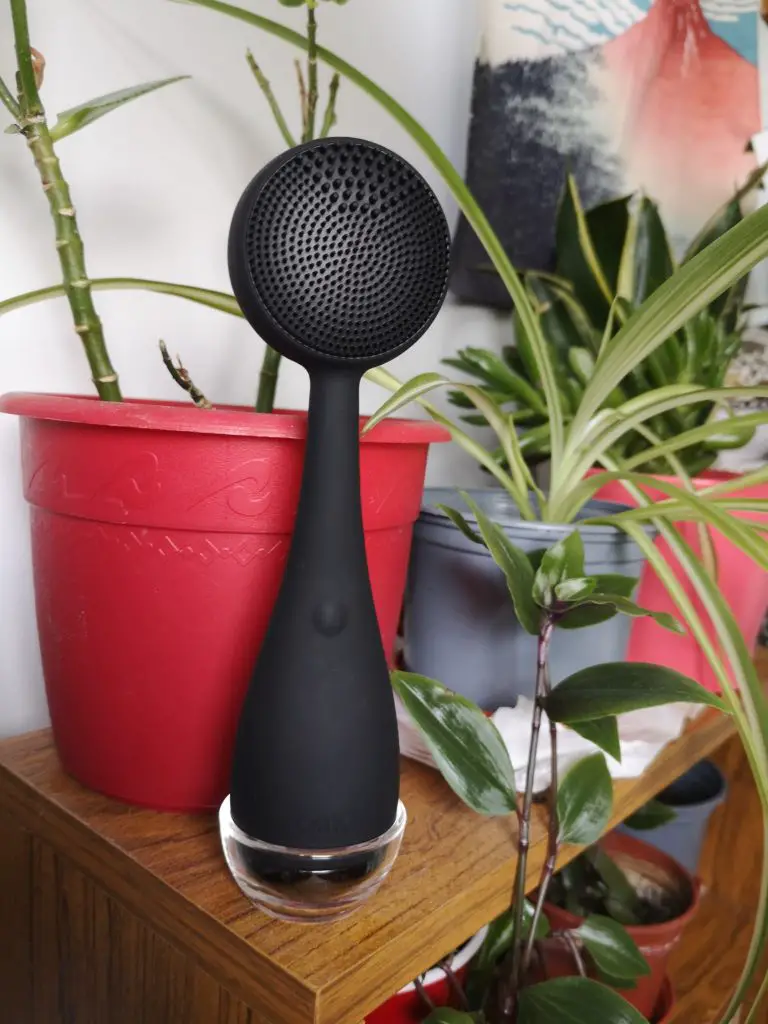 My first impressions
When I agreed to try out the PMD Clean, I was excited to find out what colour I would be sent because it comes in several colours. I got black which was a nice surprise because I had forgotten that black was an option, having initially overlooked it as one of the plainer colours. The black is actually far from plain – it looks sleek and smart and would go with any decor. 
The device is made of silicone and it feels smooth and almost velvety. One side of the head has soft bristles; the other side is flat with grooves. The base is made of hard plastic and it is dark grey, metallic and shiny with faint concentric circles (the colour is described on the site as gunmetal). The whole device looks attractive and feels high-quality.
The PMD Clean comes with a clear plastic 'dish' to stand the device up in. Without it, the device doesn't stand up by itself. I'm not sure why the base couldn't be made flat so that the device would stand up by itself without needing the dish. There is a Pro version of the PMD Clean available which is self-standing, so I'm not sure why this version can't be.
The battery was easy to insert. The base twists off to reveal the battery compartment, and twists back on again once the battery is inside. I was concerned that water might get into the battery compartment. However, it does claim on the website that it is waterproof and can be used anywhere, even in the shower.
There is lots of information on the box about what the PMD Clean does. The actual instructions on the box are basic though. I had to check their website to find out certain things such as how to use it with different skincare products. The website answered all my questions in plenty of detail, so I recommend looking on there if you are in any doubt about how to use the PMD Clean.
My experience with using the PMD Clean
The first day I received my PMD Clean, I tried it out with my evening skincare routine. First, I used it with my cleanser, the Balance Me Pure Skin Face Wash. I smoothed the cleanser onto my face first and then used the PMD Clean on mode 1, the gentlest cleansing setting. The vibrations felt nice, although a bit tickly, especially when I used it on my nose! The cleanser didn't foam up as I thought it might, but it seemed to absorb into my skin. 
I then tried out mode 2, the more intense setting, just to see what it felt like. It was more intense and created a warm feeling on my face. After this I rinsed and dried my face and the device. My face felt a bit funny afterwards, almost a bit numb from the vibrations! My skin looked and felt pretty clean though.
Later I used the PMD Clean to massage in my serum – the Nip + Fab Glycolic Fix Serum. First I distributed the serum across my face. Then I used the flat side of the PMD Clean. My face was quite sticky with product so the device didn't glide across it very easily. Instead, I lifted and placed the head in different areas on my face. Once the serum had absorbed a bit more, the device glided better across my face. I wasn't sure how much pressure to use but I just did what felt right.
I tried both modes 3 and 4 while massaging in my serum. Mode 3 gives slow pulses, and mode 4 gives faster pulses. Both felt nice, and were comfortable to use, even on sensitive areas like under my eyes. After a few minutes of use, it didn't feel as though the serum had been massaged in any better than I could have done with my fingers. But maybe the point is that the device provides other benefits such as toning your face and promoting collagen production. Like with the cleansing, my face felt a bit numb and funny after.
Maintenance and practicalities
The PMD Clean is very easy to keep clean. I just rinse it under the tap and dry it with a towel. Once in a while, I might give it a more thorough clean, which won't take long because it is just one lump of smooth silicone. 
My only complaint so far about the PMD Clean is the little plastic dish that it stands up in. It doesn't form a very stable base, so the device tends to fall over easily, sending the dish flying. This isn't very convenient in the middle of your skincare routine. It especially doesn't stand up very well on carpet, which is not great for me because I do part of my skincare routine kneeling on the carpet in front of a mirror. 
It would be much better if the dish was weighted, or even better if the device was self-standing like the Pro version. If you know you're going to keep your PMD Clean in one place, for example in the bathroom, a possible solution would be to blu-tack the dish down to a surface. You could even blue-tack it to the bottom of the PMD clean, although water might collect in it. 
Have I seen an improvement in my skin?
Overall, my skin has been pretty good since I've been using the PMD Clean. I've noticed a 'glowy' look to it at times. I have broken out in a few spots around my mouth area from time to time, which is normal for me, but overall my skin has been pretty clear. 
I haven't been using the PMD Clean every day because I have a tendency to be a bit sporadic with my skincare routine. Therefore I am planning to use it more regularly over the coming months and see if I notice even more of an improvement to my skin. I may write an update post about this in the future!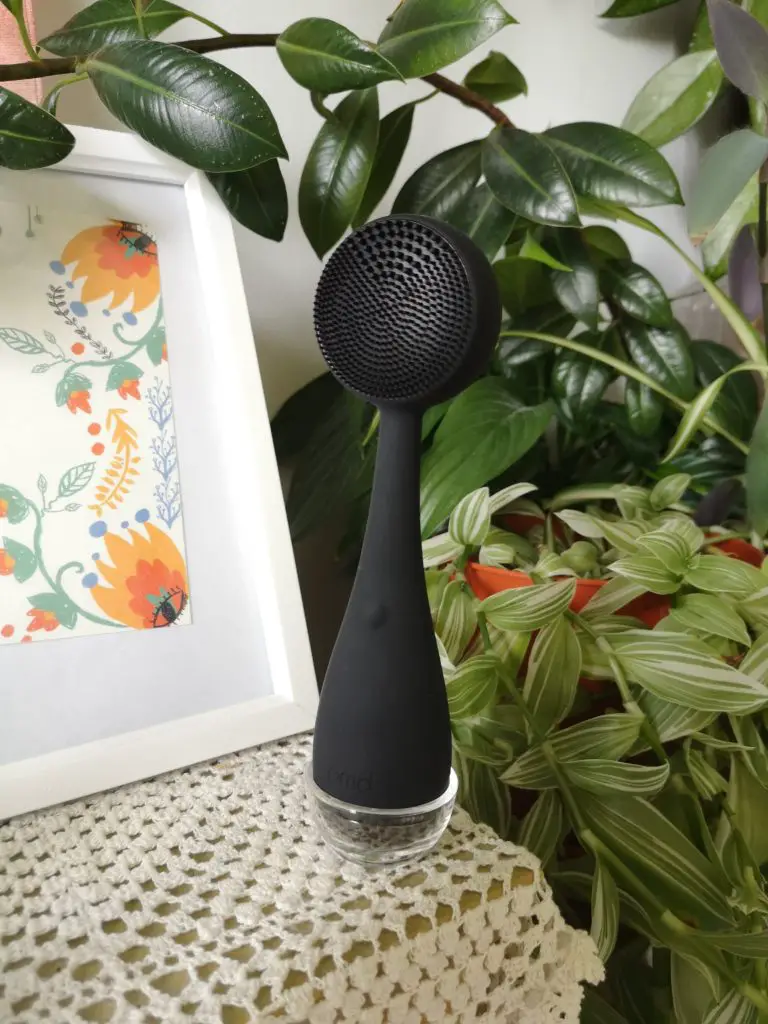 Is the PMD Clean a sustainable product?
The PMD Clean comes in a cardboard box with a plastic window. The device is in a plastic tray, and it comes with a battery which is shrink-wrapped in plastic. This is quite a lot of plastic packaging and this could have been avoided by using a cardboard tray instead. The packaging does, however, fit snugly around the product, so at least the resources are used efficiently.
It says on the box that this product is 'assembled in China' which means it has been shipped across the world to reach me in the UK. This is not ideal from a sustainability point of view.
The device is powered by a single AA battery. I have been using it semi-regularly for two months now and the battery is still working so it seems to last quite a long time. On the website it states it should last up to 2 months if used once a day. I imagine that this device would take rechargeable batteries which would be a more sustainable option. I may do this once the current battery runs out.
The Pro version of the PMD Clean is rechargeable so if you can afford it, it may be a better option for the environment because you are not getting through lots of batteries. Also it is self-standing so it doesn't come with that extra plastic 'dish'.
As mentioned earlier, the device itself is made from silicone and plastic. Saying that, the PMD Clean is a reusable device that should hopefully last for many years if cared for properly. If using the PMD Clean means that you stop using some disposable facial care products such as wipes, then that is definitely a positive. It is also more energy and water-efficient to clean than a flannel or sponge. Also, if using the PMD Clean improves your skin, you may not need to buy as many skincare products which is another plus for the planet.
Would I recommend the PMD Clean?
I would recommend the PMD Clean to anyone who is looking to improve their complexion or keep their skin looking youthful. It is a sleek, high quality tool and it is so easy to use and maintain. 
With Christmas approaching, it's worth mentioning that the PMD Clean would make a great Christmas present for anyone who is into skincare and beauty gadgets. 
The PMD Clean is priced at £89 although prices on Amazon vary. There is also a Pro version with more features which retails at £135.