I was browsing in Boots last week, and a brightly coloured turquoise and pink box caught my eye. It was the Hairburst shampoo and conditioner set. I had read about this product online before, and similar products that are supposed to help boost hair growth, as I have always wanted to have thicker, longer hair. My hair tends to only get to a certain length before it looks thin and straggly. So far, I haven't invested in any such products, because they are usually expensive, a hassle to order online, and not always very environmentally friendly.
I didn't realise Hairburst could be found on the high street, and on checking out the box, it actually looked quite good. It was on offer too, so I thought, why not give it a try! Next to the shampoo and conditioner set was the Hairburst Volume & Growth Elixir, which was also on offer, so I picked that up too.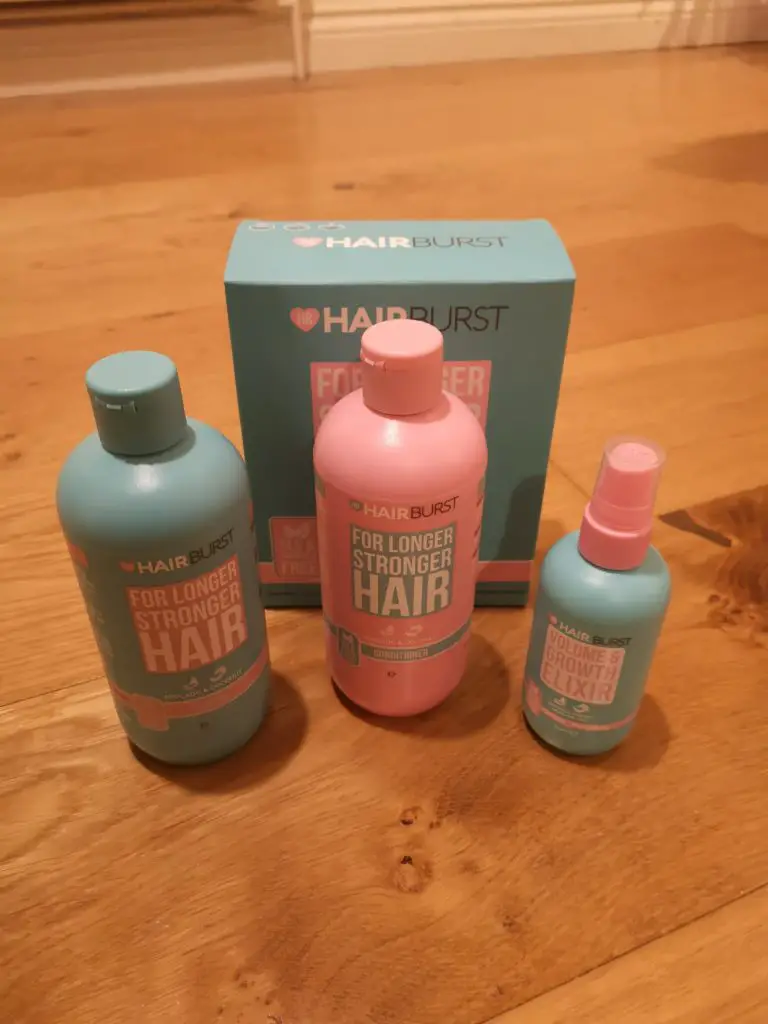 What does Hairburst do?
The shampoo and conditioner claim to 'supercharge your hair growth for maximum length in minimal time', and to 'strengthen your hair and reduce breakage'. They also claim to have over 95% natural ingredients, and to be SLS and Paraben free, and vegan. There is a lot of information, as well as useful tips, on the box. The volume & growth elixir claims to be a multifunctional hair product, with benefits including adding volume, reducing hair loss and improving the strength and quality of hair. It also claims to provide UV, heat and pollution protection. 
Hairburst also sell vitamins to promote healthy hair, in capsule or chewable form, but I haven't purchased those at the moment. Maybe in the future I will try those in combination with the other products.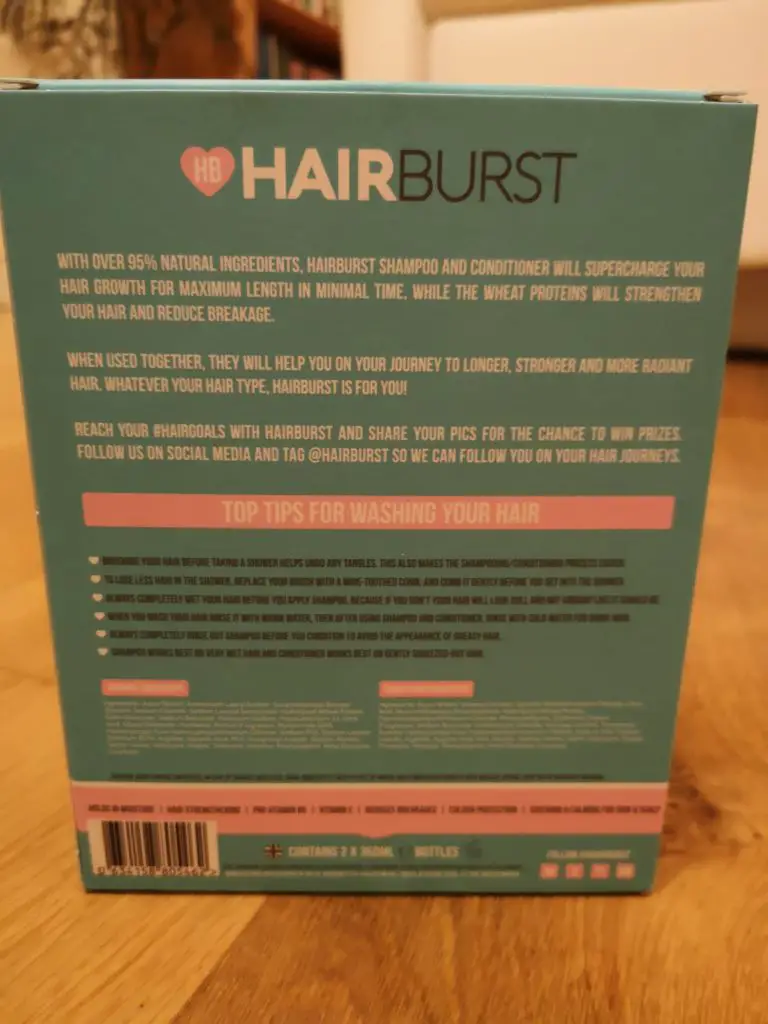 My first impressions
I have been using the products for about a week now, and obviously that is too soon to know whether it is making my hair grow faster or thicker. I will tell you my first impressions of the products now, and in a few months' time I will let you know the results!
Shampoo and Conditioner
The shampoo and conditioner came in a cardboard box. They are in plastic bottles but there was no additional plastic packaging inside the box. The elixir came in a separate plastic bottle. The bottles and box are attractive, in nice colours.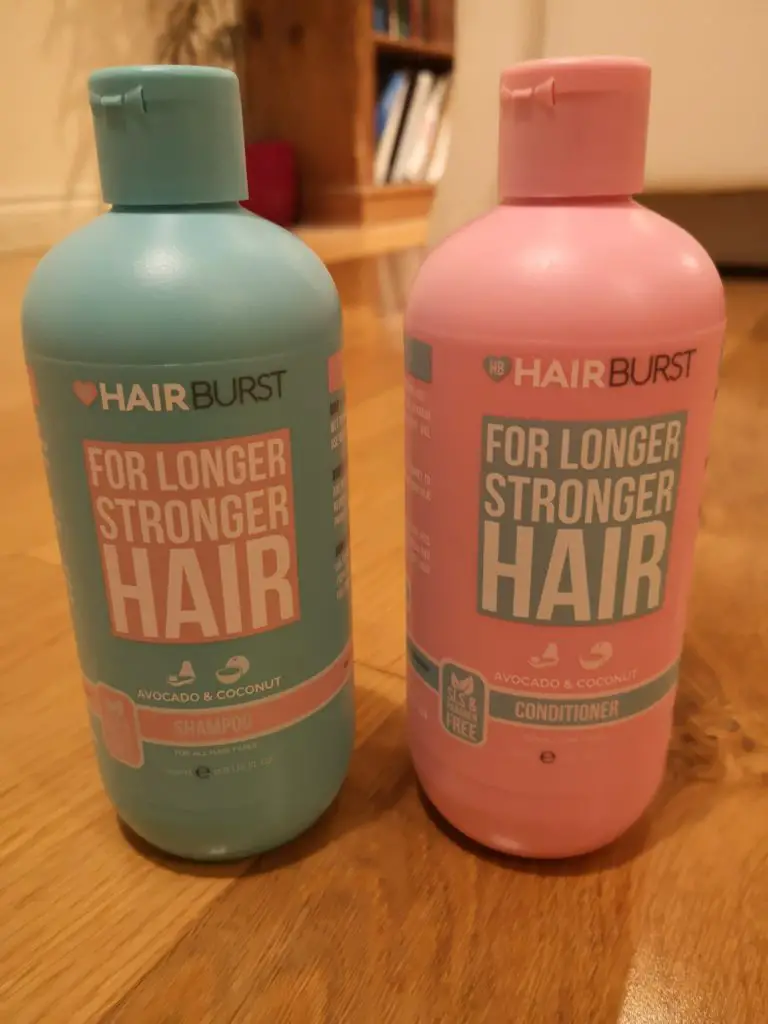 The first time I used the shampoo and conditioner, I noticed that they have a pleasant scent. It is supposed to be avocado and coconut, I'm not sure if I could smell the avocado but it definitely smells coconutty. It is a subtle scent though, not strong or overpowering. The shampoo and conditioner both come out easily from the bottles. 
I found I needed to use quite a lot of shampoo in order to make it lather. Although, it does say on the bottle to make sure the hair is soaked for it to work properly, so maybe I had squeezed my hair out too much. It also says on the bottle to massage it into the scalp for 2-3 minutes, which I did. This is longer than I would normally massage my scalp for when washing my hair.
The conditioner felt smooth and conditioning, but I needed to use quite a lot to feel that it was fully covering my hair. It wasn't as slippery and easy to apply as some other conditioners. I managed to leave it on for the recommended 3-5 minutes (probably nearer 5) because I did my shower gel and shaved while it was on. The shampoo and conditioner both rinsed off easily, like normal ones.
I usually wash my hair every other day, so the next time I used the shampoo and conditioner was two days later. This time, I noticed that some hair came out in my hand while applying the conditioner, which is normal for me. Maybe initially the extra scalp massaging with the shampoo might make more hair come out than normal. I am hoping that if this product strengthens my hair, less will fall out as time goes on.
For my most recent washes, I have followed the instruction on the shampoo bottle of having my hair soaking wet when applying the shampoo, rather than squeezing it out (I used to squeeze it out a little bit before applying shampoo, but not as much as I do for conditioner). I found this helps it to lather up loads, especially with the extra massaging, and I only actually needed to use quite a small amount of shampoo, unlike the first time I used it.  
There is an instruction on the shampoo bottle that says, for best results, to repeat applying the shampoo, and then follow with conditioner. I haven't been doing this, mainly to save time and make the shampoo last longer. However, I am finding that I need to use quite a lot of conditioner to feel that it is fully coating all my hair. At this rate, I am going to run out of conditioner long before I run out of shampoo (I find this is what usually happens anyway, do you?). So maybe it is worth following the instruction and shampooing twice when I have time, because then the bottles might last a similar amount of time.
Of course, I could purchase more conditioner on its own. They sell the shampoo and conditioner separately on the Hairburst website, but I'm not sure whether they would sell them separately in every store, or only in a set like how I bought it. I don't remember seeing them sold separately in the particular Boots store I got them in. 
For the last couple of washes, I noticed less hair coming off in my hands as I conditioned, so hopefully things will continue that way, although the amount of hair that comes off normally fluctuates anyway so I will have to do a few more washes before I can truly tell.
Volume & Growth Elixir
I sprayed the Volume & Growth Elixir while my hair was damp. The bottle sprays well, and quite a lot comes out with each spray. While my hair was still air drying, it felt a bit clumped and heavy with product, but when it dried it felt quite nice and soft. I could still faintly smell the product, but it didn't leave a strong scent on my hair (nor did the shampoo and conditioner). My hair looked a little more glossy than usual, but not massively. But it was only the first day.

I have used the elixir every day since I started using these products. After my second time of washing with the shampoo and conditioner, I did what it suggested on the bottle – spraying it on my hair when damp and then blow drying my hair upside down. I don't always blow dry my hair, only if I need to get ready quickly, which I did on this day. It says on the bottle that doing this will add lift and volume. Evidently it worked because my hair was voluminous that day. It was a bit 'poofy' / frizzy as would normally happen when I blow dry it, but I could get away with only straightening my fringe – the rest of my hair looked okay. Not massively shiny, but not crazy frizzy either.
I wondered if the spray would make my hair look oily as though it was caked in product, especially as I sprayed it quite liberally. Luckily it doesn't seem to have had that effect. If anything, my hair looks extra clean after using it. 
The following day, I let my hair air dry, then I used the elixir spray and straightened my hair. I used the elixir instead of a heat protection spray because it says on the bottle that it provides heat protection. My hair actually looked clean, as though I had washed it that morning, even though I hadn't! I'm not sure whether that is the effect of the spray, or whether the shampoo got it extra clean the previous day. Maybe the elixir is less oily than my usual heat protection spray. I definitely noticed my hair looking more voluminous this day. I am impressed so far with the effects of this spray.
Pros and Cons
Here is a summary of the pros and cons of these products that I have found so far:
Pros
Vegan (I emailed and checked about the elixir as it didn't say on the bottle or website – and they replied confirming it is vegan).
Cruelty free.
Although they are in plastic bottles, at least there is no additional outer plastic packaging – just a cardboard box for the shampoo and conditioner.
Attractive packaging.
SLS & Paraben free.
Suitable for pregnant women.
Contains Pro Vitamin B5 and Vitamin E.
Not as expensive as some other hair growth shampoo brands, and you get decent sized bottles, and it was on offer in boots.
Can be bought on the high street, unlike some other similar hair growth products.
It has a specific purpose – to grow your hair – it's not just any ordinary shampoo and conditioner so it may be worth the money if it works.
Over 95% natural ingredients.
Has clear and detailed instructions and tips on the box and bottles.
Manufactured and packaged in the UK.
Smells nice.
The scent is not overpowering.
The elixir can be used as a heat protection spray – saves you buying multiple products.
The shampoo lathers up well.
As far as I can tell, it makes hair look more healthy and glossy.
Adds volume.
Makes hair look extra clean.
Cons
Plastic bottles.
Not 100% natural ingredients.
More expensive than standard hair products.
Not a very strong scent, if that is what you want.
Need to use quite a lot of conditioner to fully coat the hair.
May run out of conditioner first and it may be difficult to purchase the shampoo and conditioner separately.
On the day of writing this review, I think my hair is looking great (for me!) I definitely looked in the mirror a few times today and thought it looks more glossy, thick and healthy than normal. Plus, I didn't even have to straighten it (apart from the fringe)! So far, I'm impressed with the Hairburst products, but I will check back in a month or two to let you know if my hair has grown!