I am a big fan of setting myself goals. When I have a goal to work towards, I am much more likely to make progress, avoid procrastination and get things done. Can you relate to this?
I used to set goals for myself on a monthly basis, but I recently changed to setting weekly goals instead. So far, I am finding weekly goal setting to be a much better system than setting monthly goals! In this blog post, I am going to share with you the reasons why this is.
Of course, everyone has their own way of organising their time, and different methods will work for different people. But if you currently set monthly goals, this post might make you re-think and perhaps give weekly goals a go!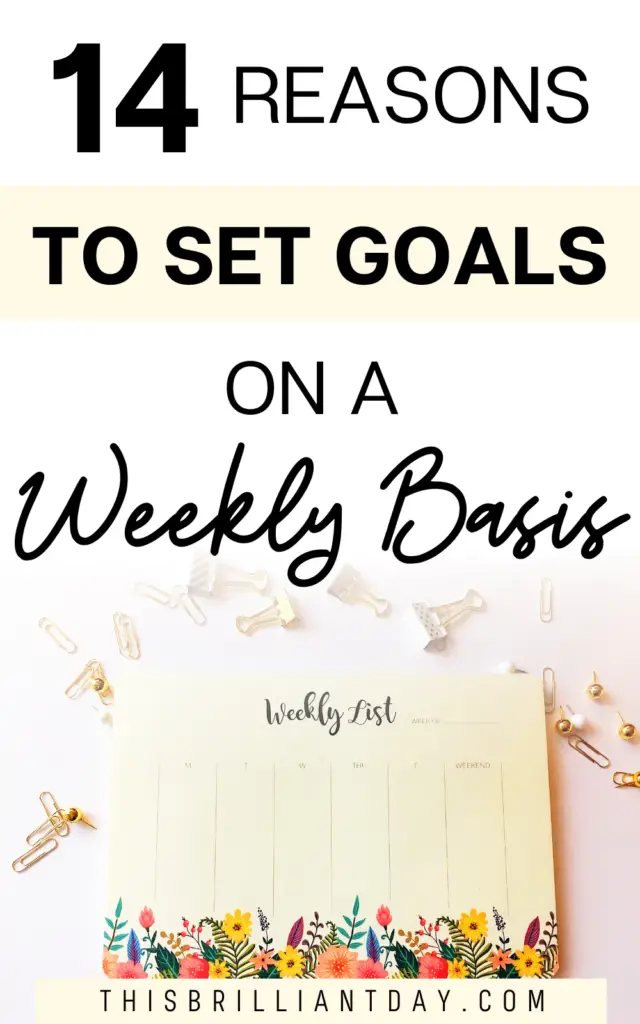 14 Benefits of Setting Weekly Rather Than Monthly Goals
1. It's easier to know how many goals to set
It's easier to judge how much you will be able to get done in 7 days than 30. This means you are more likely to set a realistic and achievable number of goals. If you were setting goals for a whole month, it would be harder to judge so would be more likely to set too many or too few goals.
2. You know what other commitments you will have that week
You will generally know a week in advance how busy you are likely to be. If you know you will have a busy week with lots of commitments, you can set fewer goals. If you know you have an empty week, you can set more goals. This is harder to judge when setting goals for a whole month because you don't know what will come up and how busy you might be at the end of the month.
3. It allows for more variety
Personally, I have quite a short attention span and I prefer to have a lot of change and variety in my life. When I used to set monthly goals, I would often get bored and unmotivated with particular goals by the end of the month. By setting weekly goals, it's possible to create more variety by setting different goals every week. If you find yourself getting bored of working on a particular task, you only have to last until the end of the week. Then you can have a break from it and set it as a goal again in a few weeks time.
4. It helps you to beat procrastination
When I used to set monthly goals, I would sometimes put off unappealing tasks because I knew I had a whole month to work on the goal. Unfortunately, I would often end up leaving them to the last minute and not having enough time to complete the goal at all, because I spend most of the month procrastinating and thinking I had loads of time. By setting weekly goals, you are more likely to start work on a goal straight away because you know you only have a week to complete it. You also know that no matter how unappealing it is, it will be over within a week.
5. It gives you short-term focuses
It can be more powerful and manageable to focus on something for a short time rather than a whole month. You can get a lot done towards a certain project if you really concentrate on it for a few days or a week. If you try to focus on something for a month, however, you are likely to lose focus and run out of motivation.
6. It allows for more frequent reviews and resets
Sometimes, you will inevitably have a bad week and you just won't get much done. You'll get behind and end up abandoning your goals. This certainly happens to me! This won't matter too much because you can 'reset' and create new goals the following week, based on where you got to. If you were setting monthly goals, and you ended up losing track and abandoning them, you might then wait until the end of the month to reset and you might feel like you wasted the month.
Setting weekly goals also allows you to review your goals more frequently and see what's working. You can re-word goals or set different types of goals if certain ones are not getting reached. You can set a larger or smaller number of goals if you feel you are setting too few or too many.
7. You are less likely to get swamped or overwhelmed
When I was setting monthly goals, I would sometimes misjudge things and set too many goals. Other times, I would get unexpectedly busy during the month and would not have as much time to work on my goals. In these situations, I would end up with loads of goals still uncompleted towards the end of the month. I would then put pressure on myself to try and complete these goals, despite knowing that there were too many and it wasn't realistic. This would make me stressed and overwhelmed, and I would feel disappointed with myself when I didn't complete all my goals.
By setting weekly goals, you are less likely to get into this situation because it is easier to judge how many goals to set in a week.
8. It is an opportunity to try things without being committed for a whole month
Sometimes, you might want to try something out, such as a new hobby or a habit that might improve your life. You might not be sure if you will want to continue with this new hobby or habit long-term, but you just want to try it. By setting weekly goals, it's possible to try things short-term and if they don't work for you, you can stop after a week.
9. You can tailor to your current priorities
Priorities can change a lot over the course of a month, so it's hard to know what goals to set. When setting weekly goals, you can choose goals that are most relevant to your priorities that week. You can mix and match goals depending on what is important each week.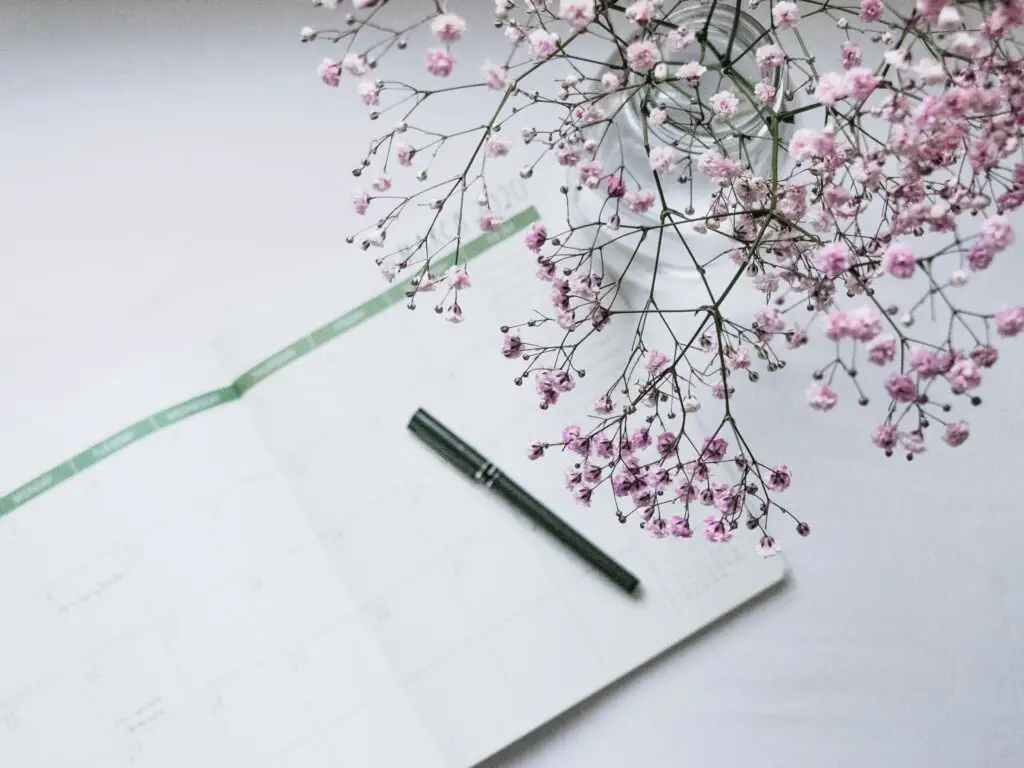 10. It's easier to keep your goals in mind
When setting weekly instead of monthly goals, there will be fewer goals to remember. This means you can keep them in mind more easily. You won't have to refer back to a written list so often and you are less likely to forget about a goal.
11. You can have a week off if you need it
If you feel you need a complete break from working on goals, you can easily take a week off without setting any goals at all. This will give you a refreshing break but without impacting your projects too much because it is only a week. Whereas if you took a whole month off from setting goals, you are more likely to get out of the swing of things, and it will be harder to get back into your projects again.
Also, you probably wouldn't decide to take a month off in the first place because it seems so long. What would actually be more likely to happen is that you would burnout at some point from taking on too many monthly goals, and end up taking the rest of the month off. We all need a break sometimes so it's better to deliberately take a week off when you need it, rather than waiting until you burnout.
12. It helps you to break large goals down into smaller chunks
If you have a large goal or project to work on, it can seem overwhelming. Rather than setting the entire project as a monthly goal, you can break it up into smaller chunks and set one each week. This makes it more manageable so you am more likely to complete it.
Related post: Setting 'Micro Tasks' for Improved Productivity
13. It's easier to measure your progress throughout the week
There may be certain types of goals that you set on most weeks. One of mine is to write and schedule a blog post. You can easily measure how near you are to completing that goal by comparing your progress to the day of the week. I know that I usually start writing a blog post on Wednesday or Thursday and finish it by Friday or Saturday. If I get to Friday and I haven't started yet, I automatically know that I need to start soon. If you have a whole month to complete your goals, it's harder to measure your overall progress.
14. There is less possibility for disappointment
If you set a lot of monthly goals but don't manage to reach them all, you are likely to be disappointed. Whereas, if you set weekly goals, they will be smaller and fewer so it won't feel like such a big deal if you don't quite reach them all. By taking small steps at a time, you may not notice so many big victories but you are more likely to make bigger progress long-term and avoid disappointments.
Do you set weekly goals?
I hope this post has given you an insight into the benefits of setting weekly goals. Whatever system of goal setting you use, it's important to set goals the right way that will make you more likely to complete them. For more goal setting advice, see my post: How To Set Goals You WILL Achieve.
Do you set goals for yourself on a weekly or monthly basis, or something else? Do you find that you usually manage to complete your goals by the deadline you set? Let me know in the comments!