AD | This post features products that have been gifted to me in exchange for a review. All opinions are honest and my own.
Are you a fan of Halloween? Personally, I love to get into the spooky atmosphere of Halloween, but only the light-hearted side of it. I like the pumpkins, black cats, witches, ghosts that many would consider pretty 'tame' when it comes to spooky things. Basically, the Halloween of my childhood. However, I'm not so keen on the darker things like horror films, blood, jump-scares, any kind of implied violence or anything too demonic. I don't want to actually be scared!
If you are like me, and you enjoy the fun, atmospheric feeling of Halloween but you don't like being scared, you might be wondering how to spend your Halloween in a way that gives you the right balance. Hopefully, this post will help, because I am going to be sharing 9 relaxing Halloween activities that won't scare you! To help, let me introduce you to my featured brand in this post, Zineful, who have produced two Halloween specials you might enjoy.
What is Zineful?
Zineful is a project that aims to promote healing and education through the Arts. They produce 'Zines' which are DIY booklets you can print and fold at home. Alternatively you can download a digital version to use on a tablet, for example. The booklets are filled with creativity and self-expression exercises, such as colouring and mindfulness exercises. This is such a simple concept but with the potential to help you slow down, connect with your thoughts and emotions, get you into a state of flow, stimulate both sides of your brain, and form part of your self-care routine, among other benefits.
Zineful have produced two Halloween special editions, one aimed at adults and one for children, both of which I have been kindly gifted to feature in this post. The adult edition is called '5 Types of Witches' and it explores and embraces the witch archetype as well as acknowledging the women lost to medieval witch-hunting. The children's edition comes with fun halloween puzzles, games and pictures to colour, and there is no reason why adults couldn't enjoy and benefit from the children's edition too.
I'll be sharing what's in the Zines along with some photos throughout this post, and make sure to read to the end where I'll be sharing a discount code you can use to buy your own Zines!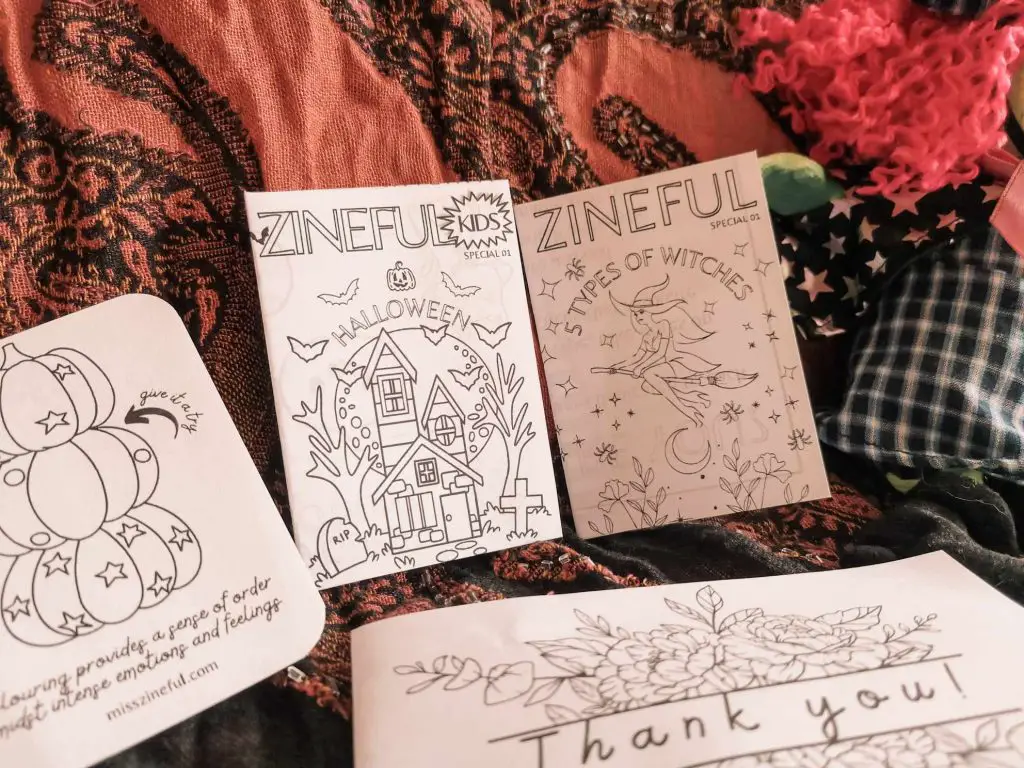 9 Relaxing Halloween Activities If You Don't Like Being Scared
1. Go window shopping
You might not want to decorate your home for Halloween, especially on the outside, if you don't like being scared, as it would encourage trick-or-treaters to come to your door. There are lots of Halloween things in the shops at the moment that are fun to look at, even if you don't actually buy any.
2. Colouring
Colouring is known for being a relaxing, mindful activity that can get you into the flow state. The Halloween Zines are entirely in black and white and are designed to be coloured in! I found it very soothing colouring in my Zines with the crayons that were provided. It's been a long time since I did any colouring with crayons so it really took me back to my childhood days.
3. Watch children's films
If you don't like horror films, you can still watch children's Halloween films. These will still be enjoyable to watch and help you get into that Halloween mood, but as they are aimed at children, they hopefully won't be too scary for you if you are sensitive to scary things!
4. Puzzles and games
Curling up with a puzzle book is one of my favourite relaxing activities to do in the colder months. The children's Halloween Zine has several Halloween themed puzzles in it including a maze and a game of 'brooms and ladders', which as you can imagine, is a Halloween version of snakes and ladders! I need to find someone to play this with me, but in the meantime I enjoyed doing the puzzles I could do alone.
5. Go for a walk
I'm not talking a spooky night walk, but you could go for a walk in the daytime and appreciate what nature has to offer in the autumn, including colourful trees and leaves, spider webs and mushrooms.
Read more: 10 Reasons To Love Walking Even If You Hate Exercise
6. Enjoy sweet treats
You might not want to go trick-or-treating (or you might feel you are too old!) but there's no reason you should miss out on sweet treats if you enjoy them. There are some interesting Halloween sweets in the shops at the moment so why not treat yourself to some while they're there.
In my package from Zineful I was kindly sent a pack of Haribo Mega-Roulette, which was a really nice touch. I am vegan so I won't be able to have these myself as they contain gelatine, but I'll be giving them to a friend or family member who I know will appreciate them!
7. Baking
Baking is a cosy, comforting activity at any time of year, but I think it's especially suited to the Autumn and Halloween season. There are plenty of seasonal bakes you can try making such as pumpkin pie or apple pie, or you could decorate a cake, cupcakes or muffins in Halloween style.
Read more: Making Pumpkin Spice Granola
8. Journalling
If you don't want to head out into the scary world outside this Halloween, it's the perfect time to retreat inwards and do some self-exploration. Journalling is a great way to do this because you can look closely at your thoughts and feelings and work through them. Getting things down on paper can really help to clarify things in your mind.
The witches Zine has an opportunity to do some journalling by exploring which type of witch, as described in the zine, you most relate to. As well as taking notes on this, you can draw a visual representation of your own witch archetype. I had a go at this but I admit my drawing skills have a lot of room for improvement!
9. Listen to seasonal music
A lot of Halloween music is not really scary – it's just fun! The 'Ghostbusters' song comes to mind. Make your own playlist of fun Halloween songs that don't scare you, and play it as background music while you're doing these other relaxing Halloween activities – to enhance the mood!
What relaxing Halloween activities will you try?
Zineful is a great place to start when it comes to relaxing Halloween activities because their Zines combine colouring and puzzles with other mindfulness exercises to help you relax. If you're reading this after Halloween, they have other, non-Halloween editions available, so make sure to explore their website and pick out one that you like!
As promised, here is a discount code for the Halloween zines! Use the code TBD25 for 25% off, valid until the end of the year.
If you don't celebrate Halloween, for religious or other reasons, you can still adapt many of these activities as Autumn activities rather than Halloween. For example, you can still enjoy an Autumnal walk or bake a pie with seasonal produce. There are also plenty of non-Halloween related Zines you can get from Zineful. For more inspiration, check out the following post: 25 Fun Things To Do in October, Even If You Don't Celebrate Halloween.