AD | This is a sponsored post and features products that have been gifted to me in exchange for a review.  All opinions are honest and my own.
When you think of a summer holiday, you probably think of being outdoors in the sun. Perhaps lounging on the beach, hiking in nature or visiting outdoor family attractions. Whatever your ideal summer holiday, chances are you imagine it with a blue sky and the sun shining!
But of course, we can't control the weather, and inevitably some of us will have a rainy day (or several) during our summer holiday. This can be a real disappointment when you had your heart set on a sunny summer holiday with lots of time spent outdoors.
Here's where this blog post comes in. I have put together a list of summer holiday activities to do on a rainy day, so you can still have fun despite being indoors! These activities keep a summer theme so you can stay in the spirit of your summer holiday whilst keeping dry indoors.
6 Fun Summer Holiday Activities for a Rainy Day
1. Play a card game
My family loves playing card games. It has always been a staple activity for us, both in the winter and on a rainy summer day. We play all sorts of games, from simpler games such as snap or Uno to more complex games like Cribbage. Therefore I was excited to have a new game to try when Aura Print kindly sent me their seaside-themed 'Matching Pairs' card game!
This game is absolutely perfect to play on your summer holiday, especially if it's a beach holiday. The cards feature images of all the different things you are likely to see at the seaside, including a seagull, sandcastle, boat and ice cream. I love the designs on these cards – they are so cute and colourful.
Although the game doesn't come with instructions, it's very self-explanatory. Who hasn't played a matching pairs game in the past? You just lay all the cards out upside down and take turns to turn two over. If they match, you can keep them, if not, you turn them back over. Whoever has collected the most pairs at the end wins. It's such a simple game so it's great to play with children! It's also educational because it is a memory game, as well as teaching them to identify different things at the beach.
The great thing about this game is that you can play it alone too. So if everyone else has braved the rain and you fancied staying in, you can keep yourself entertained! Maybe time yourself to see how quickly you can match all the pairs, and then try to beat your record.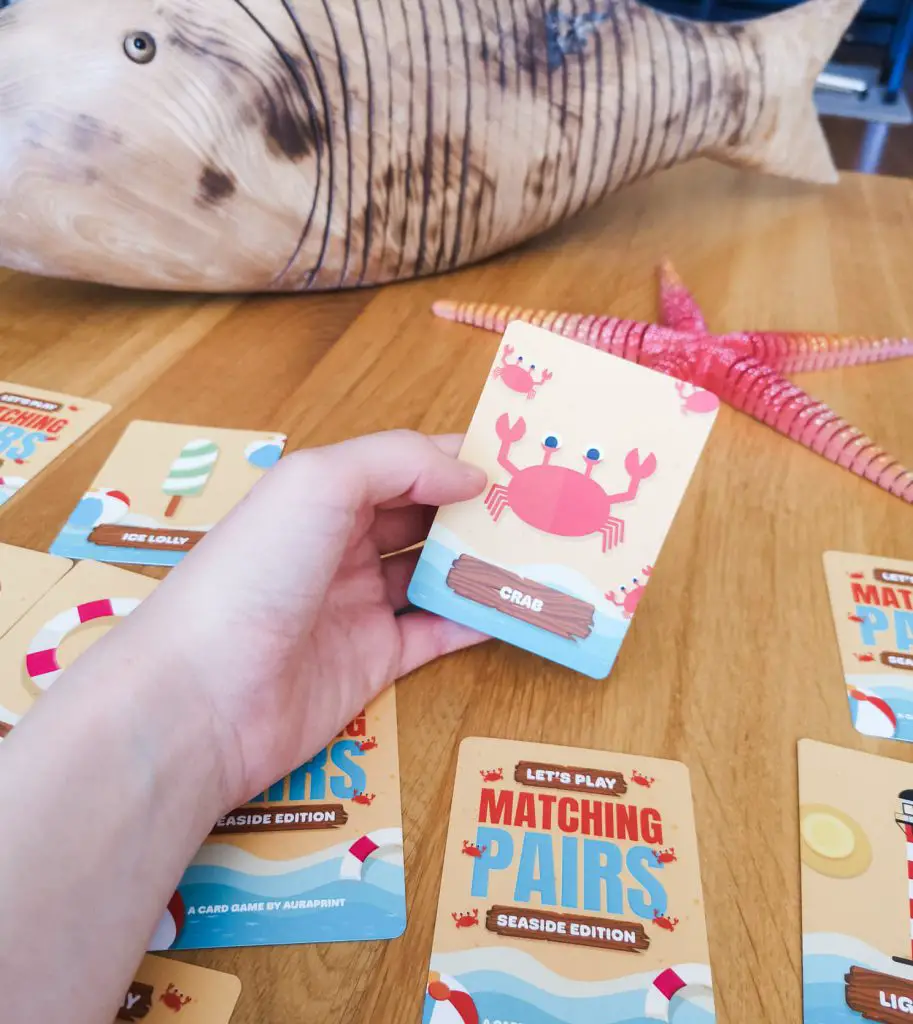 Despite not having children myself, I love playing this kind of simple game with my family and friends. There is nothing quite like a games evening with family and/or friends – it can be so immersive and hilarious! It's a great way to pass the time if you encounter a rainy day whilst on holiday.
Aura Print have managed to create the perfect balance with these cards. They are high quality and thick, not flimsy, yet the pack is still small and lightweight. This makes them extremely portable – they are ideal to pop in your bag and bring on holiday just in case the weather turns rainy.
Aura Print offers a card deck printing service so you can design your own personalised playing cards on any theme. For example, you could create your own Matching Pairs game with pictures of your family members and pets, or even use your holiday photos. This would be the perfect memento of your summer holiday!
2. Watch a film
Watching a film is an absolute classic activity to do on a rainy day. You can either do this in your hotel room or wherever you are staying, or you could take a trip to the nearest cinema.
I suggest watching a summer-themed film to keep you in the summer mood. This can also inspire activities for the rest of your holiday when the sun hopefully comes out again!
Some summery films that are perfect for all the family include:
Mamma Mia
Grease
Moana
Finding Nemo
The Parent Trap
Let me know your summer film recommendations in the comments below!
3. Make a meal out of a meal!
One of my favourite things about going on holiday is eating at restaurants and trying different foods, especially if the holiday is abroad. If it's raining, that's a great excuse to linger in a restaurant for longer than you usually would! Take your time, order multiple courses and have extra drinks afterwards. Really savour your meal and be in no rush to get anywhere else – after all, it is raining!
To make your meal feel summery and special for your holiday, perhaps opt for local cuisine or summery foods such as salad or ice cream.
If you have children with you, I recommend choosing a family-friendly restaurant that offers activities such as colouring, puzzles or a play area – that way they can stay occupied for hours.
Alternatively, if you don't want to venture out in the rain at all, you could order takeaway to your accommodation and have a casual feast!
4. Go shopping (indoors!)
If there is an indoor shopping centre or mall nearby, that's the perfect place to visit on a rainy day. To keep in the spirit of your holiday, you could pick up some souvenirs to remind you of your trip. You could also shop for summery clothes in the hope that the sun will come out so you can wear them for the remainder of your holiday. Just make sure not to buy more than you can fit in your suitcase!
5. Reading out loud
Lots of people read books as a solitary activity, but reading out loud is something we don't do enough of nowadays. If you have children with you on your trip, why not round them up and read them a story? Even if you don't have children with you, there's no reason why adults can't enjoy a good story too. You could either choose one confident reader or take turns to read out loud and all get immersed in the story. I think that would be a really wholesome way to pass the time when it's raining outside.
Like with the films, I recommend choosing a summer-themed book to keep you in the holiday mood! If your group is into chick flicks, anything by Sophie Kinsella or Jenny Colgan makes a great summer read.
6. Sleep!
This seems like a really lazy option! but when you think about it, one important purpose of a summer holiday is to give you a break from your everyday life and help you to feel relaxed and refreshed. If you are constantly doing activities and visiting places, you could end up more exhausted than you were before your holiday! If it's raining, why not take a day of complete relaxation and rest? The following day, you will have plenty of energy to get active again.
This obviously depends on the length of your holiday – if you're only away for a weekend you won't want to spend half of your holiday sleeping! But if you are on a longer holiday, it's a realistic option.
What summer holiday activities would you do on a rainy day?
Have you ever been on a summer holiday, only to have it rain the whole time? What did you do during that time, and did you still manage to enjoy your holiday? I'd love to hear your rainy summer holiday stories – do tell them in the comments below.
Make sure to check out Aura Print and their card printing service, so you can create some personalised playing cards. They are the perfect summer holiday activity!