AD | This is a sponsored post. All opinions are honest and my own.
Most of us have sold something online at some point. I used to sell a lot of items on eBay when I was having a clearout. In addition to eBay, there are so many different sites where you can sell online. For individuals, there's also Amazon Marketplace, Facebook Marketplace, Depop and more. Small businesses may sell on Etsy, eBay or a private online storefront.
Whether you run an online business or you just sell the occasional personal item, it's a good idea to think about being sustainable. Shipping contributes to around 2.9% of the world's CO2 emissions, and that number covers maritime shipping alone, so the number will be higher when you take into account air shipping and more local shipping too. Although yours will only be a miniscule fraction of that, it all adds up. We all have to do our bit! With that in mind, here are some ways to be more sustainable when selling online.
How To Be More Sustainable When Selling Online
Use sustainable packaging
One of the most obvious ways to be more sustainable when selling online is to use sustainable packaging. We are all aware of the problems caused by excess plastic packaging that often ends up polluting the environment. Therefore, using sustainable materials is key!
If you just sell the occasional item online, the best option is to reuse packaging that you already have. Make a habit of saving boxes and mailing bags that you receive with other deliveries. You can reuse these to package up your goods.
If you run an online business, you may need a larger-scale solution, such as Lil Packaging. This is a sustainable packaging company that offers bespoke ecommerce packaging for internet retailers. They sell boxes, envelopes, mailing bags and more, and all of their packaging products are completely plastic-free. They are even designed so you don't need to use plastic tape to seal them. Their products are made from FSC® certified materials, and all of their inks are plant-based. Lil Packaging is a company you can feel good about using for your packaging needs when selling online.
Related post: How I Package Houseplant Cuttings To Send In The Post
Use minimal packaging
This is obviously related to the point above. As well as using sustainable materials, another way to make your packaging more sustainable is to use as little as necessary. Of course, you'll want to make sure your parcel is secure, and that any fragile items are well protected. But there's no need to include layers and layers of unnecessary packaging or use oversized boxes (I'm looking at you, Amazon!).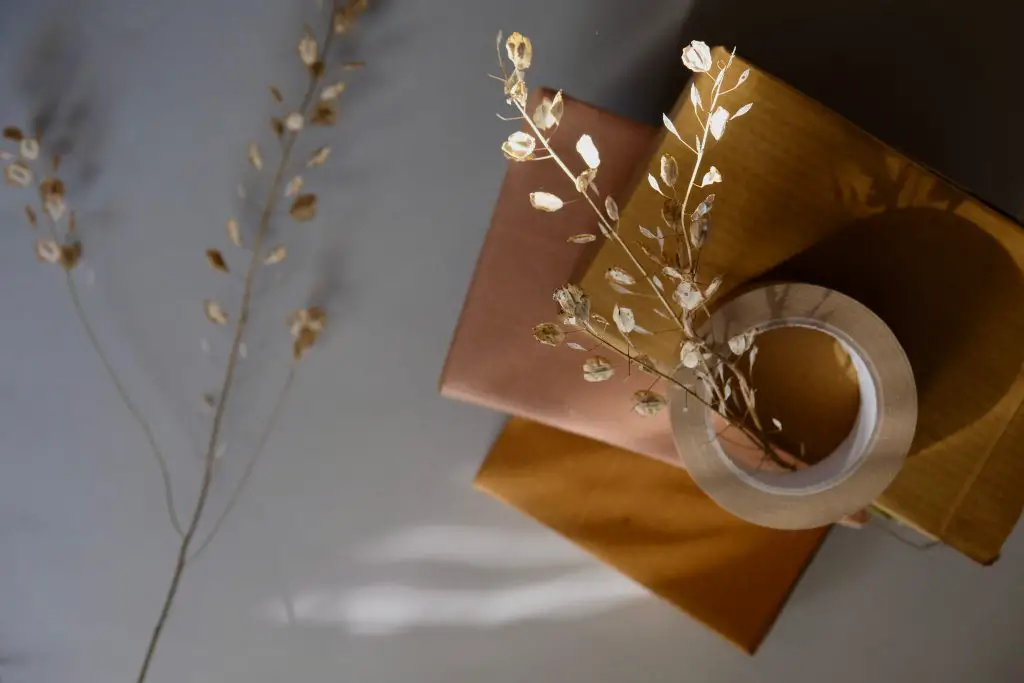 Consider only posting locally / nationally
International shipping is a great way to make your products accessible to more people around the world, but the downside is that it's worse for the environment. It usually involves a plane or ship to carry your parcels a long distance. Therefore, you might want to consider only posting locally / nationally, or perhaps also to neighbouring countries that are not overseas. You'll still have plenty of potential buyers and you'll know you're being more sustainable by avoiding international shipping.
Offer collection for local customers
If a customer only lives up the road from you, it would be a waste of packaging and postal travel to post it to them, not to mention the postage cost. It would be more eco-friendly if they just pick it up! Therefore, offering collection for local customers is a good way to make your online business that little bit more sustainable for those special cases. If you are selling on eBay, I know they give the option of offering collection. I imagine most other ecommerce sites have that option too.
Offer bulk discounts
If you encourage your customers to buy in bulk, then that will result in fewer overall deliveries. This is more sustainable both in terms of shipping and packaging. Bulk discounts can be a great incentive to get your customers to buy in bulk. I recommend only doing this on products that it makes sense for, such as groceries or toiletries – things that people would likely buy again and again anyway. You don't want to encourage people to buy extra things just for the sake of it, that they might not use.
This point is more relevant for businesses, but even if you are selling multiple items personally, for example, selling clothes on Depop, you can still offer bulk discounts where appropriate.
Use seed paper
If you include a delivery note or any details about the product(s), why not try using seed paper? This is paper that is embedded with seeds, usually wildflower seeds. When the recipient has finished with the paper, they can plant it and it will grow wildflowers to help the bees! I've seen this quite a lot in deliveries, especially from sustainable companies. It's a really cute and fun way to make your parcel more sustainable and help the environment in a small way.
How do you make your online selling more sustainable?
If you've ever sold items online, did you do anything to make those sales more sustainable? I'd love to hear about any more ideas you have for how to be more sustainable when selling online – do let me know in the comments!