It's that time of year where we are all starting our Christmas shopping! Or maybe some of you are super organised and have already finished it? In my case, I have bought a few presents already but I still have a lot more to do.
I love looking at gift guides on blogs to get ideas for what to buy people, and I especially love discovering ethical and sustainable brands and companies. Last year I put together an eco-friendly gift guide and it's still fully relevant, so do check it out! This year, instead of suggesting specific products, I am going to be sharing my favourite UK small businesses to buy from this Christmas.
Why shop from small businesses?
It's a great idea to support small businesses because they will truly appreciate every single sale and you will be helping to keep their business going. Typically, small businesses tend to be a lot more ethical and sustainable than large corporations, so that's another great reason to support them. You can get some amazing quality gifts that are often handmade and completely unique!
The businesses I am going to share are all online, so by buying from them you will be able to avoid the crowds in busy shopping centres. I have shopped at all 8 of these businesses before and I've loved their products, so I fully recommend them whether you are buying Christmas gifts or treating yourself!
Note – I am not affiliated with any of these businesses. I just want to spread the word about the small businesses I love!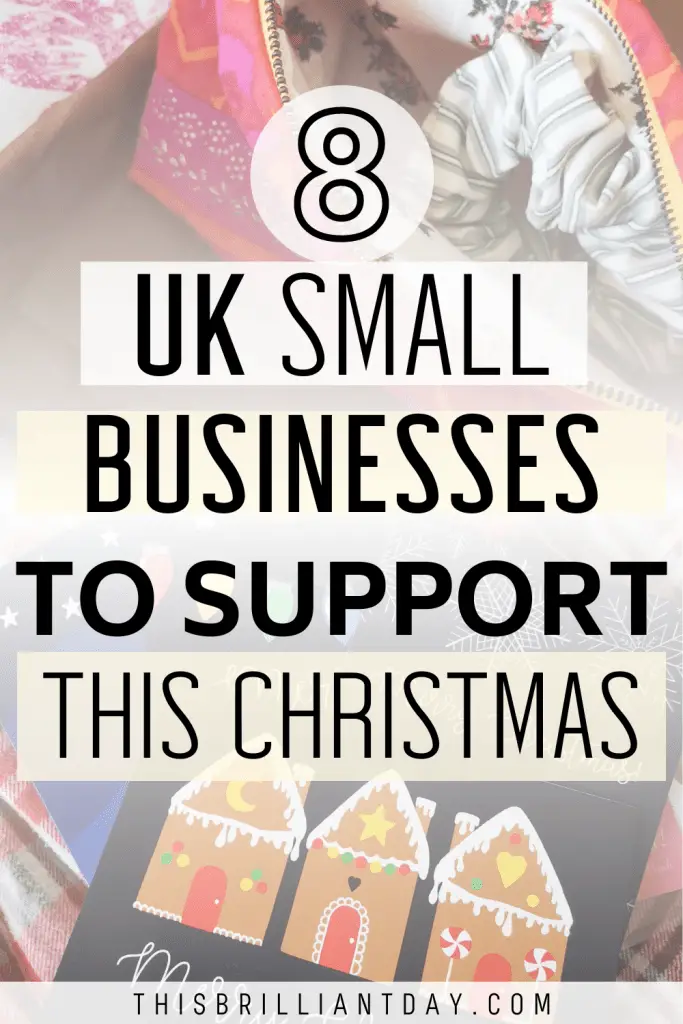 My Favourite UK Small Businesses to Support This Christmas
1. OhMyGoodnessCo – Vegan and gluten-free bakes
OhMyGoodnessCo is an Etsy store that sells beautiful and delicious baked goods, all of which are vegan and gluten-free. It's the perfect place to shop if you have family or friends with special dietary requirements, as they will often miss out on receiving sweet treats at Christmas time. I have not actually tried any of the goodies myself, but I have gifted them to gluten-intolerant friends who have assured me they are amazing!
They are currently selling Christmas brownies which look incredible!
2. Stupid Egg Interiors – Houseplants and planters
As a lover of houseplants, I am obsessed with this store. Stupid Egg sells a wide variety of gorgeous houseplants, including rare ones, and stylish planters to go with them. I'm not sure if they still count as a small business, having made over 70,000 sales on their Etsy store, however, I included them because I really love their items. I've bought several pots and plants from there and they have been great quality and securely packaged. They are the perfect store to buy gifts for any plant lover in your life.
I especially love their Hettie planters and have bought them as gifts for several people in the past. They are so cute!
3. Amy Frances – Guinea pig themed gifts
Amy Frances sells stickers, pin badges, stationery and apparel featuring her cute and colourful guinea pig designs. I have a few guinea pig lovers in my life, so this Etsy store has quickly become my go-to when I am buying them gifts. I've been unable to resist buying myself a few things from there too. I recently bought some of her washi tapes and they are such good quality. Another thing I love about Amy Frances is that her packaging is absolutely beautiful!
4. LovePandD – Clothing and gifts promoting positive mental health
I discovered LovePandD earlier this year when I was looking for a gift for somebody, and I ended up buying them the Letterbox Pick Me Up Gift Box which they absolutely loved. This Etsy store sells the most gorgeous items featuring positive quotes and aimed at boosting mental health and wellbeing. I love that this company puts such a focus on mental health because it's such an important issue that affects us all. We could all use a little extra positivity in our lives so this is the ideal business to shop for gifts.
Just before publishing this post I noticed that LovePandD are taking a break and are closed for orders until the new year. I thought about taking them off this post as it's aimed at Christmas, but I decided to keep them in anyway as they are such a great business that's worth knowing about! Keep them in mind for any birthday gifts you need to buy in the new year.
5. Art by Lena – Original paintings, prints and stationery
Lena creates the most beautiful artwork featuring animals, flowers, nature scenes and more. A couple of years ago I was fortunate enough to win a giveaway from Art by Lena and I have been back there to shop several times. Her designs are so cute and I love the vivid colours she uses! Check out Lena's custom wooden ornaments – they would make perfect Christmas gifts or you could get some to decorate your Christmas tree.
6. Pink & Peach – Digital artwork and prints
Aimee from Pink & Peach is an artist who creates beautiful digital artwork including stickers, greeting cards and apparel. Last year I bought Christmas cards from her shop and they were such high quality. I will definitely be shopping there again when I'm in need of gifts and cards. I love the look of her Character Christmas Cards she is selling this year. Aimee also offers custom pet portraits which would make an amazing gift!
7. Freedm Street – Cruelty-free and vegan beauty and lifestyle
[Edit June 22: Unfortunately Freedm Street have now closed down. I'll miss them! Please keep supporting small businesses so they can stay open.]
Freedm Street used to be branded as The Cruelty-Free Beauty Box, and I first discovered them when I read a review of their subscription box on another blog. I couldn't resist signing up and I received their subscription box for around 18 months. I only stopped because I had too many lovely products to use up before I could justify getting any more!
Again, this is a larger 'small' business but they are still quite new as they were only established in 2017. It's great to see how much they have grown since then!
I love that Freedm Street only sells cruelty-free and vegan products. I always do my best to shop vegan and cruelty-free so it saves the hassle of having to research which products fit those criteria. As well as beauty products, they also sell food, alcohol, household items, clothing and pet products so there is so much to choose from. It's a great place to buy ethical gifts for your friends and family this Christmas.
8. Saffron Skies – Sustainable fashion and homewares
Saffron Skies, run by Lucy, sells beautiful homewares and fashion items handmade from upcycled vintage fabrics. I first discovered Saffron Skies when I won some of their items as part of a giveaway. Since then, I have been back to purchase a gift for my friend, which is pictured below. I love the variety of beautiful colours and fabrics that Lucy uses in her creations.
I love how sustainable this business is. In addition to using fabrics that would otherwise go to waste, all their packaging is recyclable and plastic-free. This makes it a great, ethical company to support this Christmas. I have my eye on their Christmas collection!
What are your favourite small businesses?
Have you ever heard of, or shopped at any of these UK small businesses before? Which ones will you be checking out? Do you have any favourite small businesses that you plan to shop from this Christmas? I'd love to hear your recommendations – let me know in the comments below!