Disclosure: This post contains affiliate links, which means if you purchase something through my link, I will earn a small commission. This does not affect the price you pay for the item. I only advertise products that I have used myself and would genuinely recommend.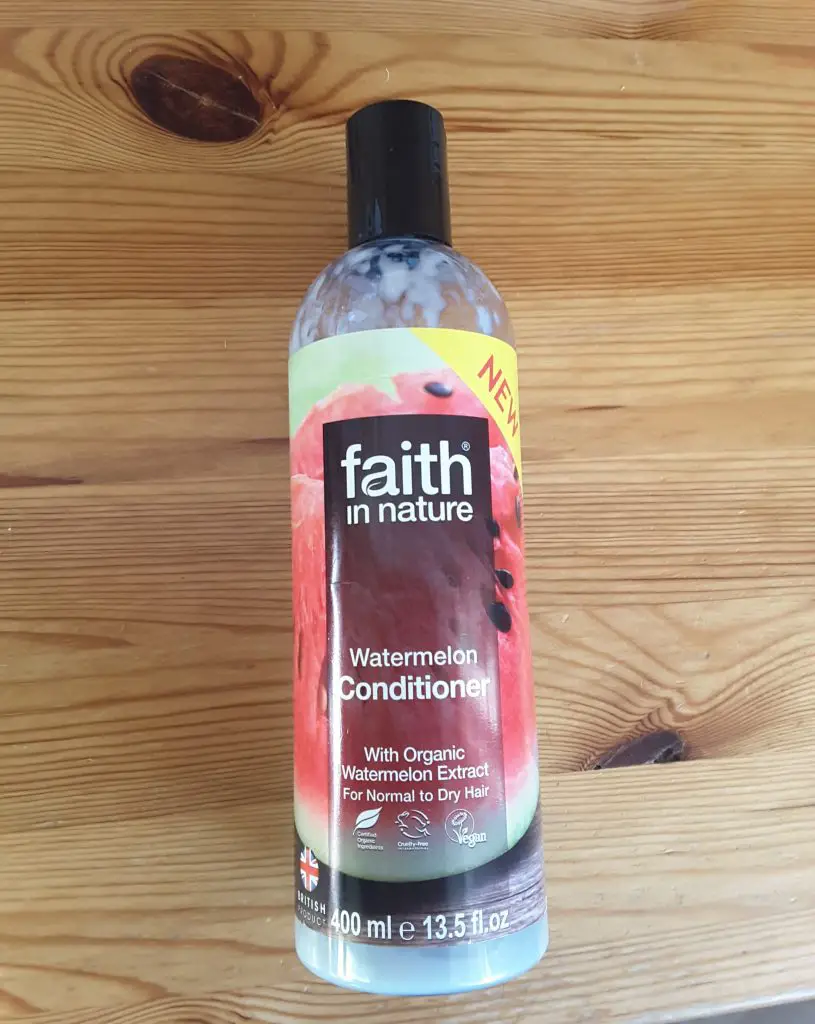 I have recently been using the Faith in Nature Watermelon Conditioner and I like it a lot. It smells amazing and smooths nicely onto my hair. It's from an ethical, responsible brand, which is what I like to choose, where possible.
Firstly, I should say that I have quite dry hair, mainly due to straightening it. However I'm not big into hair care; I tend to let it be as it is, and I usually use quite a small amount of conditioner each time I wash my hair. This is just to make the bottle last longer, even though a larger amount would probably do my hair good! So my review will probably not be much use for telling you the effects of the conditioner on my hair. The effects have been much the same as any other conditioner I've used!
Related post: Hairburst Shampoo, Conditioner and Elixir – My First Impressions
There is a matching Watermelon Shampoo available, but I haven't been using this. This is because I almost always use solid shampoo bars from Lush. They are cheap, plastic-free, effective, and last for ages, so I hardly ever buy bottled shampoo. Ideally, I would like to use solid conditioner as well, and I have tried the Lush ones, but I find them tricky to apply to my hair, and not very moisturising. So I have been using bottled conditioners for now.
Pros and cons of the Faith in Nature Watermelon Conditioner:
Pros
Lovely smell – sweet and refreshing. I usually find myself having a good sniff of it before applying it to my hair. I wouldn't necessarily make the link to it being a watermelon scent, but it's definitely very nice!
Vegan.
Cruelty-free (not tested on animals).
Contains organic ingredients.
Free from parabens and SLS.
Made in England – local product for me (obviously this is only a pro if you live in the UK!)
Smooths nicely onto the hair – a little seems to go a long way!
According to the Faith in Nature website, the bottle is made from recycled plastic (and can be recycled again). However, my bottle has different packaging from the one shown on the website, so it looks as though they have recently updated their packaging (my bottle also says 'NEW' but there are reviews going back to 2016 on the website, so mine may have been old stock). I can't see anything on my bottle mentioning whether it's made of recycled plastic, but at least it seems like their new bottles are!
It is one of the top brands in ethical hair care, so it can be found in most health stores, as well as larger branches of the mainstream chemists Boots and Superdrug. They also sell it in Oxfam.
Attractive bottle (both the old and new versions!)
It's fairly inexpensive compared to some other good quality conditioners, at £5.50 a bottle.
You can get a Watermelon Shampoo to match.
Cons
Not all the ingredients are organic.
Quite a thin, runny consistency – it can be easy to spill some whilst applying. Some people may prefer a thicker consistency, particularly if they have very dry hair.
I find that the smell doesn't last for very long on the hair – I haven't been able to smell it throughout the day. But maybe if I used more, or used the Watermelon Shampoo as well, the scent would last longer.
It comes in a plastic bottle.
It only comes as 400ml, which will not last you for a long time (depending how much conditioner you use in each go!).

 
Overall, this conditioner works well for me, and I think the pros outweigh the cons, especially when you consider that many other conditioners will have similar cons! I intend to keep a lookout for solid conditioners and try other conditioners along the way, but I would definitely purchase this one again.
Related Post: Love Beauty and Planet: Gentle Cleansing Conditioner – Shea Butter and Sandalwood Oil
You can buy this conditioner here on Amazon UK.