I have been using the Hairburst Shampoo, Conditioner and Volume & Growth Elixir since January, and it's a while since I posted an update about my hair growth! The Hairburst products are supposed to help your hair grow longer, stronger and faster.
Here is my original post about the Hairburst products.
Has Hairburst worked for me?
The pictures below show my hair growth since I started using the products in January: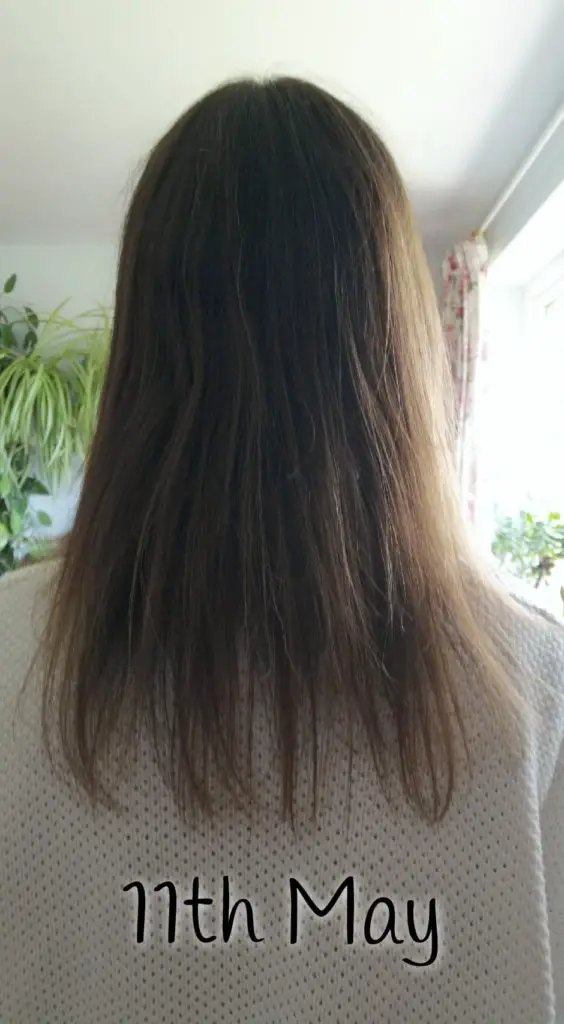 As you can see, my hair has grown a little, and it seems to have thickened out at the ends. This would suggest that the Hairburst products are having some effect. However, that could just have been the way my hair was falling on that day! I'm not convinced that my hair has grown more than it normally would in 16 weeks (almost 4 months).
I still get some hair coming out in my hands when I apply the conditioner. However, I think the amount has reduced over the past couple of months, which suggests that the Hairburst products may be strengthening my hair.
The shampoo effectively cleans my hair, and the conditioner makes it feel soft. I use the Elixir as a heat protection spray, and it works well for this purpose. The products all smell nice. However, I am sure that there are many other hair products that would achieve the same effects.
How much product have I got through since January?
As I mentioned in my previous update, I get through the conditioner a lot faster than the shampoo. I am already halfway through my third bottle of conditioner, but I am still on my first bottle of shampoo (although I expect it will run out within the next couple of weeks).
I am halfway through my second bottle of Elixir. The bottle is small and I use it quite generously. It would be great if the Elixir also came in a larger bottle. This would be more cost effective and save on the amount of plastic packaging.
Sustainability
I don't think Hairburst products are very sustainable. They come in plastic bottles, and there is no indication that these are made from recycled plastic. There is only one size option for each product so it is impossible to buy them in bulk. As mentioned, I get through the products quite fast, especially the conditioner. This means I end up with a lot of empty plastic bottles. These can of course be recycled, but plastic cannot be infinitely recycled and it uses up valuable resources to make it in the first place. Therefore plastic is never a good packaging material in terms of sustainability.
One redeeming factor is that the Elixir claims to have been manufactured and packaged in the UK. I can't find this claim on the shampoo or conditioner bottles but I would guess that they were manufactured in the same place. This is good for those of us who live in the UK, because it means the products were not shipped across the world. They do ship to other countries though, so this is obviously not so good for sustainability.
Am I going to continue using Hairburst products?
For now, I will continue using the Hairburst products because I have several bottles of shampoo left, and I intend to purchase more conditioner to use with those. I will keep monitoring my hair growth, but if I don't see any significant results by the time I run out of Hairburst products then I will stop using them. I have other shampoos and conditioners to use, and I would really prefer to use products that don't come in plastic bottles. The Hairburst products are expensive, so unless I see noticeable results, I will switch back to less expensive hair products.
I probably won't post another Hairburst update unless I have anything significant to report in the coming months. I intend to trim the ends of my hair soon because I have some split ends. This means that I won't be able to show exactly how much my hair has grown since January, but it also means that my hair may look thicker and healthier. I also intend to colour my hair using henna, which will also make my hair appear shinier and thicker because the henna coats the hair.
If anyone reading this has tried Hairburst products, I would love to know whether they worked for you! Let me know in the comments.