I tend to accumulate a lot of clothes and accessories over the years. These come from clothes swaps, friends and family, eBay and the occasional shopping spree. This means my wardrobe gets very cluttered sometimes! Are you anything like me?
In this post, I am going to share with you some of the wardrobe hacks I use to save space in my wardrobe and keep it tidy and functional.
Disclosure: This post contains affiliate links, which means if you purchase something through my link, I will earn a small commission. This does not affect the price you pay for the item.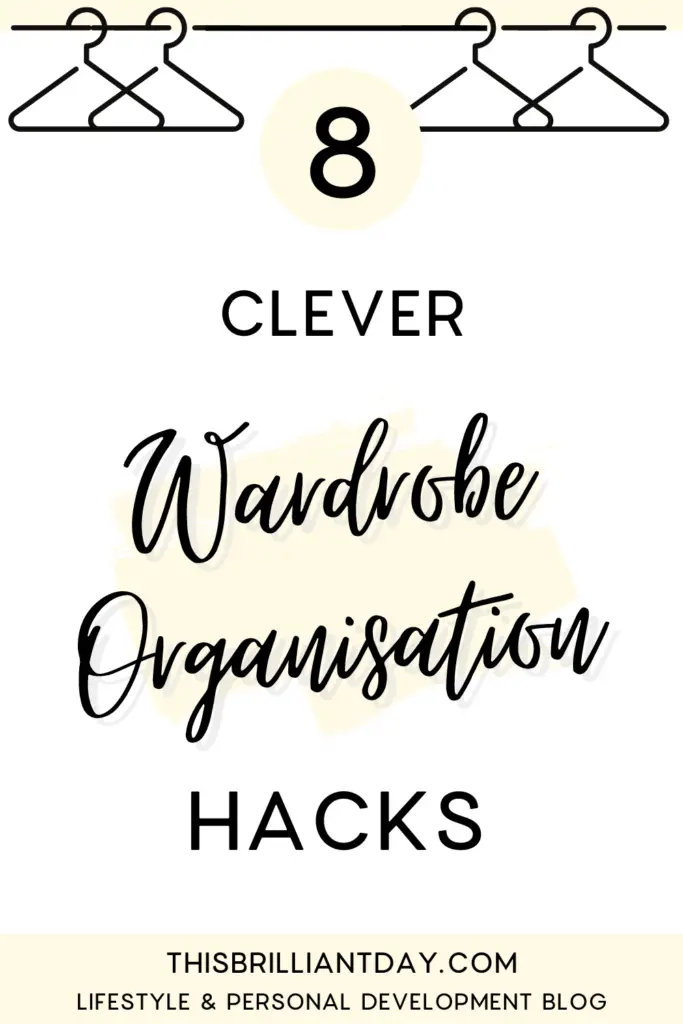 8 Space-Saving Wardrobe Hacks
1. Store away out-of-season clothes
At the start of every new season, I sort through my clothes and pick out the ones that are suitable for the season. For example, in Autumn I bring out the warm jumpers and long-sleeved tops and I opt for Autumnal colours including red, orange, brown and black.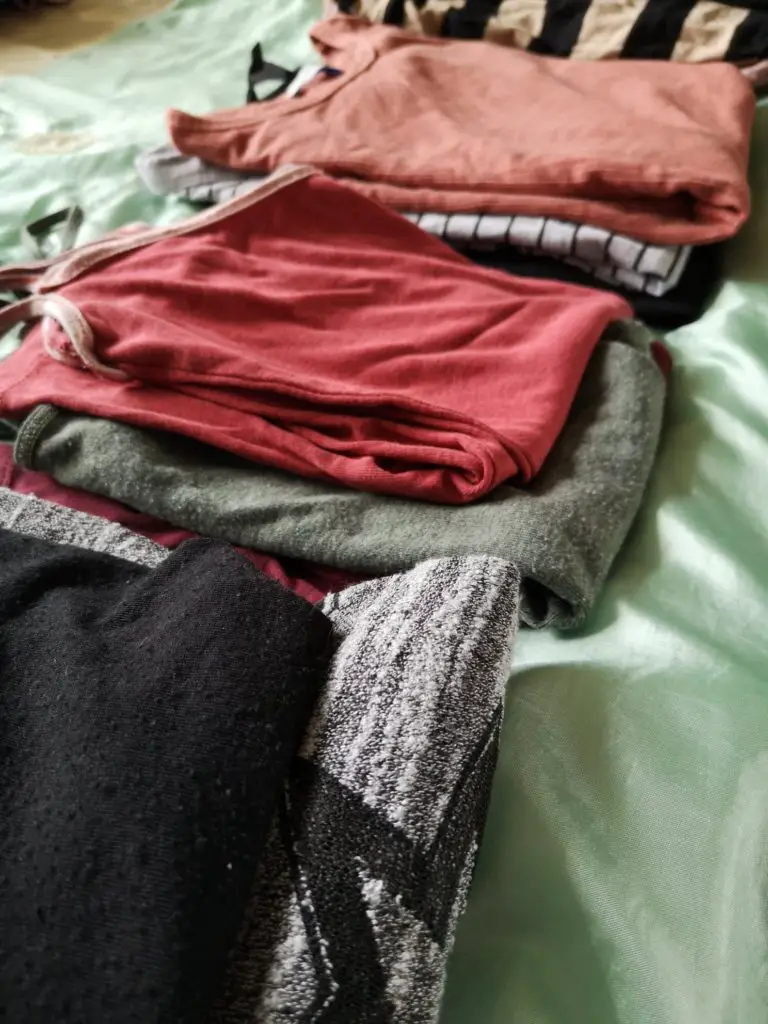 These are some of the advantages of organising your wardrobe for the season:
You have fewer clothes to choose from, which actually makes it easier to choose an outfit.
Most of the clothes in your wardrobe will go well together as they are of a similar colour palette. Again, this makes it easier to choose an outfit.
It mixes things up and brings a fresh set of clothes for you to wear each season. Because you haven't worn these clothes for a while, they feel new so you are less likely to feel the desire to buy new clothes. Therefore it is good for the environment!
I usually just put my out-of-season clothes to the back of my wardrobe and bring my seasonal clothes to the front. But if you want, you can go a step further by storing away your out-of-season clothes in a large bag or crate. This keeps them compact and creates more space in your wardrobe. You could even store the bag or crate in the loft so that it is really out of the way.
2. Use a hanging shoe organiser to store bras
I always used to find that bras were the most difficult item of clothing to store. I didn't want to just shove them in a drawer because they would get squashed and misshapen. There wasn't really anywhere else to store them though. That's until I thought of using a shoe organiser!
I already had a shoe organiser hanging on the inside of my wardrobe door. When I was younger, I used it to store my soft toys. I realised that by storing a bra or two in each pocket, they would keep their shape but they wouldn't take up too much room.
I realise that this tip might not work so well for larger bras. However, there might be some shoe organisers out there that have larger pockets, so it's worth a look! Here are some suggestions:
3. Sort your sock drawer into different types of sock
I have accumulated quite a lot of socks over the years, and I tend to wear them until they have so many holes that they are uncomfortable to wear! When they reach the end of their wearable life, I repurpose them into useful cloths.
I currently have two drawerfuls of socks, and I divide them into different types. Ordinary short socks go to the left of the higher drawer, and trainer socks go to the right of that drawer. In the lower drawer, I store thick, warm, winter socks as well as knee-length socks. This way, I don't have to rummage to find the type of socks I need!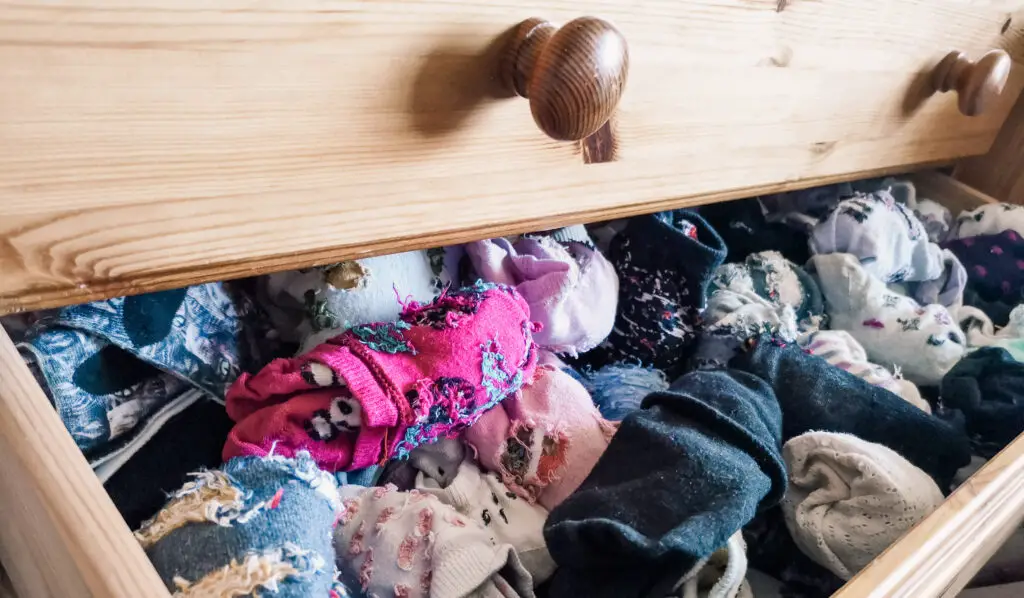 4. Use mini drawers to store accessories
I have quite a lot of random accessories such as scrunchies, hair accessories, belts, sunglasses, jewellery, flannels and hairbrushes. I used to store these all in a jumble in a large drawer. A couple of years ago, I saw these cute stacks of mini drawers in WHSmith and I thought they would be perfect for storing accessories. The great thing is that several of these sets of drawers can be stacked on top of each other, creating extra storage without taking up horizontal space.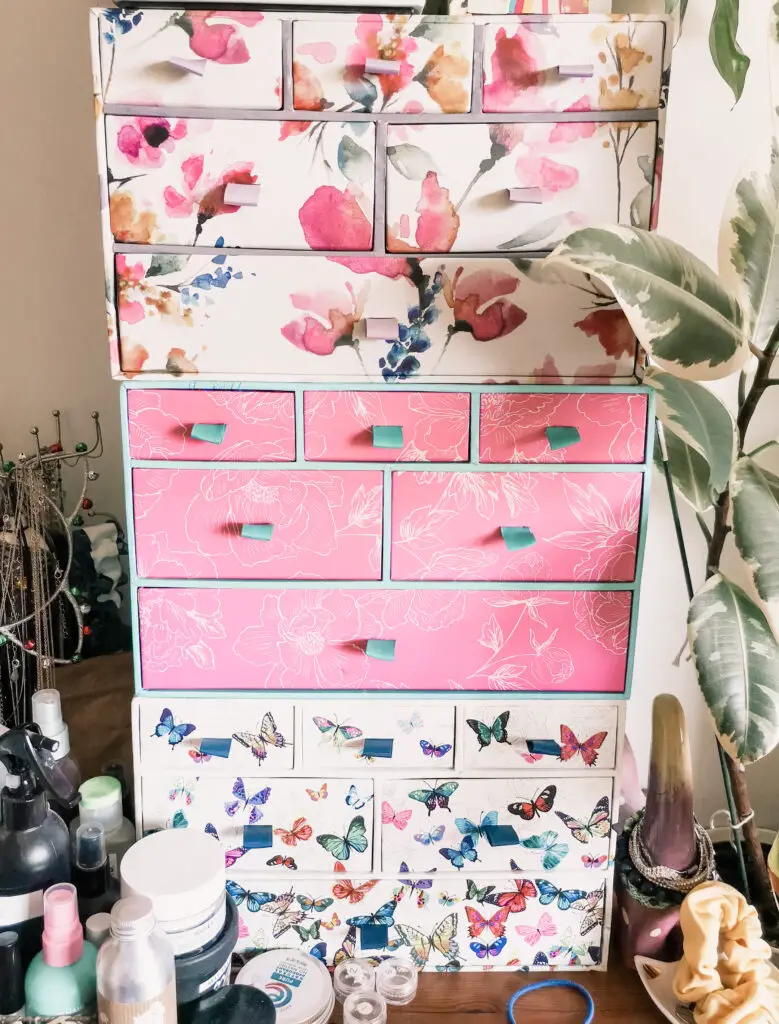 The drawers are all different sizes so I store larger accessories such as belts and sunglasses in the larger drawers, and smaller accessories such as hair clips and hair ties in the smaller drawers. It's so much easier to find things now! I haven't done this personally, but you can even put labels on the drawers so that you will remember what is in each one. These drawers would also be great for storing make-up.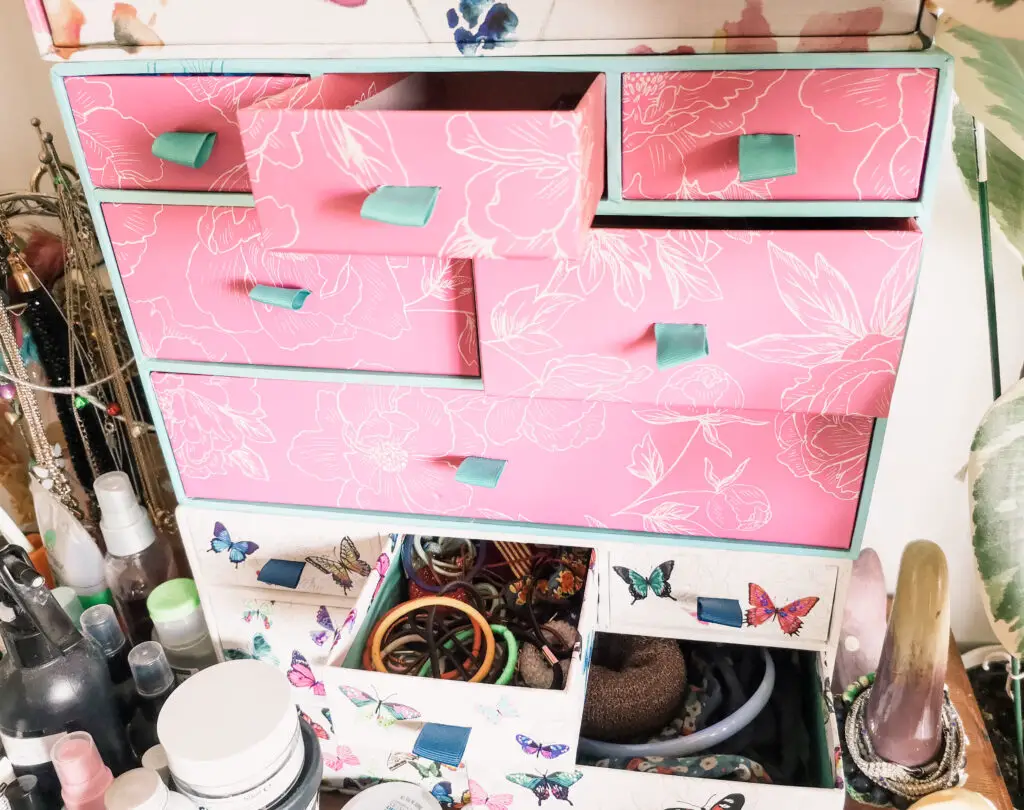 5. Get a scarf hanger
A few years ago, my sister gifted me this cute scarf hanger. I had never seen one of these before, but it's such a genius idea for storing scarves! Before, my scarves were all jumbled together on a shelf with my other winter accessories. Now, they hang neatly on my scarf hanger and don't take up much room. It's so much easier now to find the scarf that I want to wear!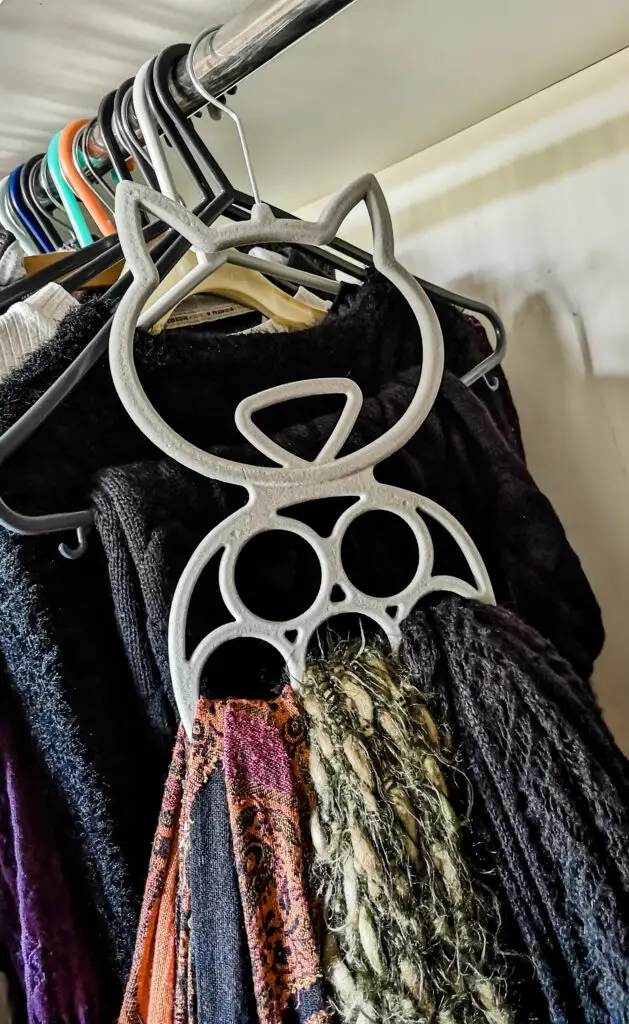 6. Wrap rubber bands around coat hangers to provide grip
This isn't exactly a space-saving tip, but it will save you time putting clothes back on hangers when they keep slipping off! Does this happen to you?
An easy solution is to wrap rubber bands around the ends of coat hangers. This provides grip and helps clothes to stay on the hangers. For the triangular type of hanger (as shown below), you can cut the elastic band, wrap it around the upper 'arms' of the hanger and tuck the loose end under.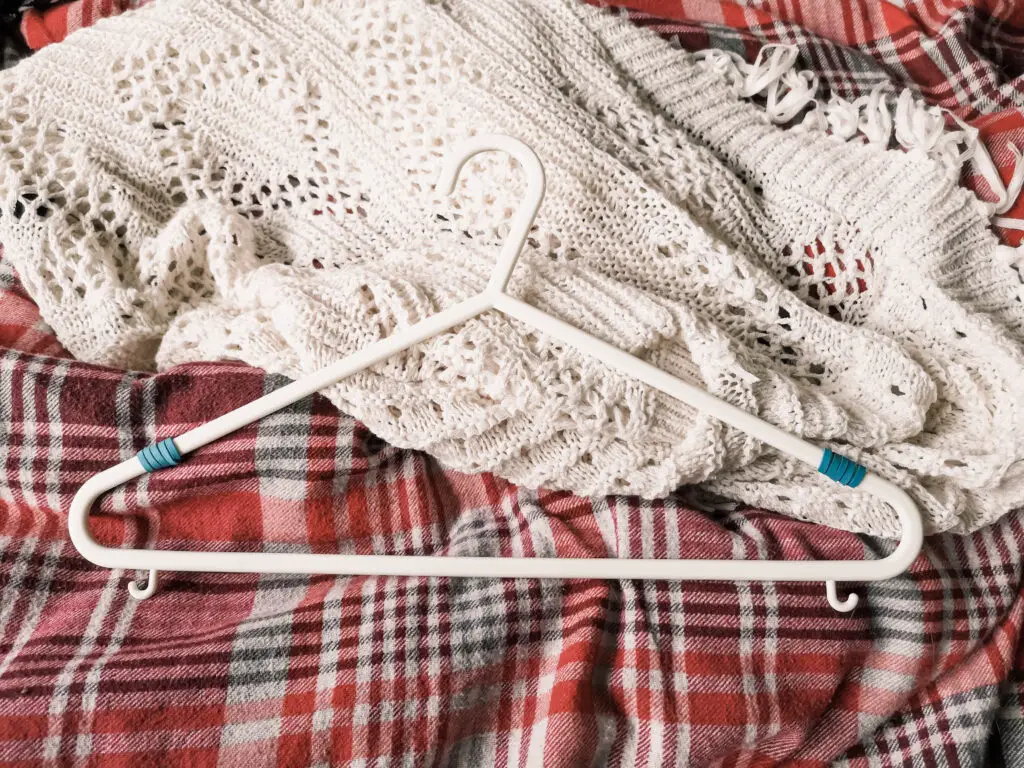 If you are short of rubber bands, look out for the ones that come wrapped around certain groceries such as spring onions, bunches of herbs and cut flowers. This is a great way to reuse them!
Related post: What To Do With Those Little Ribbons You Cut Off Your Clothes
7. Put freshly-washed clothes to the back
Again, this isn't really a space-saving hack, but I like to do this because it means I wear all my clothes rather than just wearing the same few outfits over and over, while other clothes get forgotten at the back of my wardrobe.
Every time I do laundry, I put my freshly-washed clothes to the 'back' of my wardrobe, i.e. the far end of the rail or the bottom of piles. This way, I will reach for different clothes that are nearest to the 'front' of my wardrobe next time.
Related post: Reducing Microfibre Pollution with the Guppyfriend Washing Bag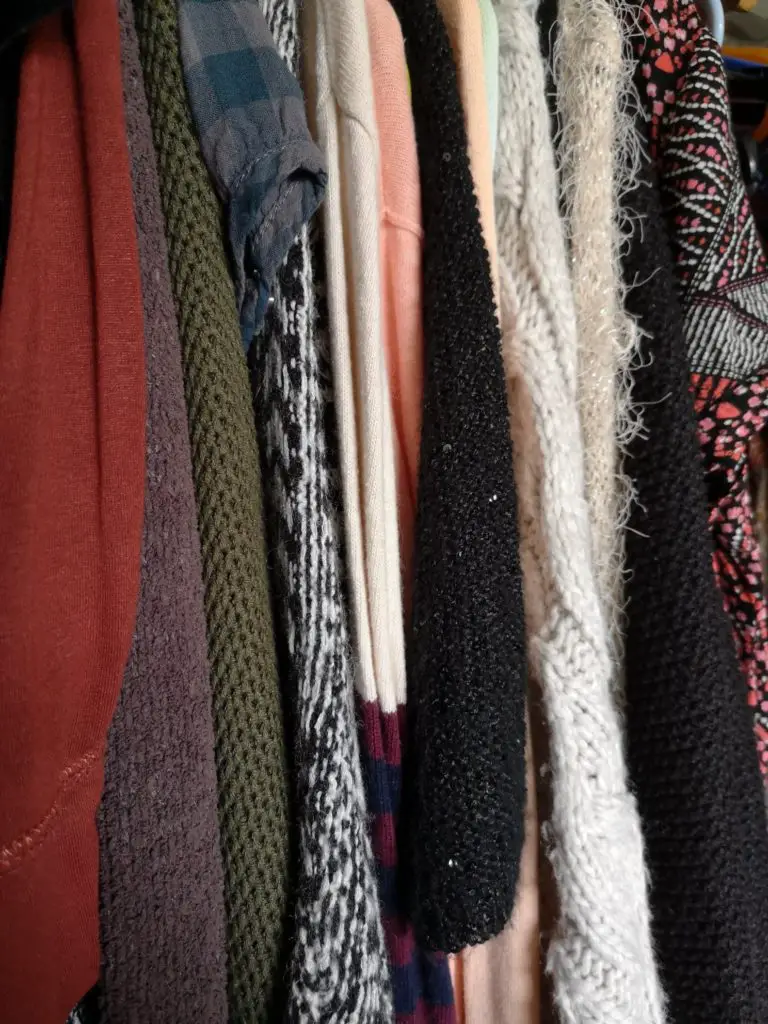 8. Have a clear out!
This is the most obvious way to save space in your wardrobe. Go through all your clothes and sort out which ones you want to keep, and which ones you could give away.
I usually sort my 'rejects' into the following piles:
Clothes that my friend might want (I have a friend who I often exchange clothes with).
Good quality clothes to go to a charity shop.
Clothes that are quite worn out which I take to H&M. They have a scheme where they take old clothes of any condition and everything gets used in some way.
Other options that I have used in the past are:
Selling clothes on eBay (more effort, but a good option if you want to make a bit of extra cash).
Taking clothes to clothes swaps (fun, and you can pick up other clothes in exchange).
Taking clothes to 'clothes banks' for charity or recycling.
By having regular clear-outs (perhaps whenever you organise your wardrobe for a new season?) you will keep your wardrobe in check and stop it from overflowing with clothes that you never wear!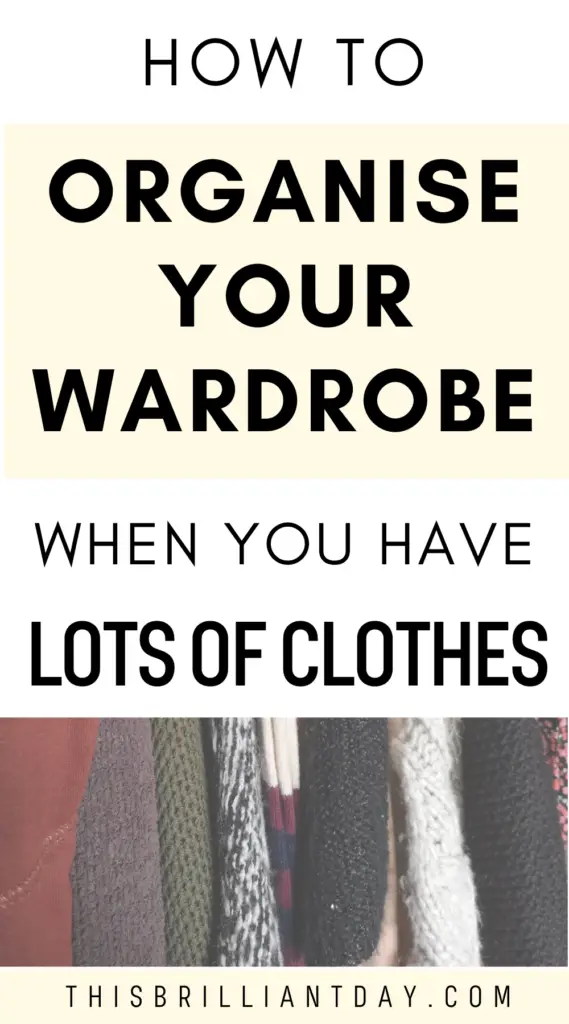 Do you know any other space-saving wardrobe hacks?
I would love to hear how you keep your wardrobe organised. Let me know in the comments!