I first made this recipe completely by chance, when I was hurriedly throwing together a meal. I added together a bunch of random ingredients (including kale and quinoa) that I found in the kitchen, and I was surprised to find that it turned out absolutely delicious! It was the kind of meal that tastes really healthy and nourishing (and indeed the ingredients are all healthy) but at the same time is satisfying and more-ish.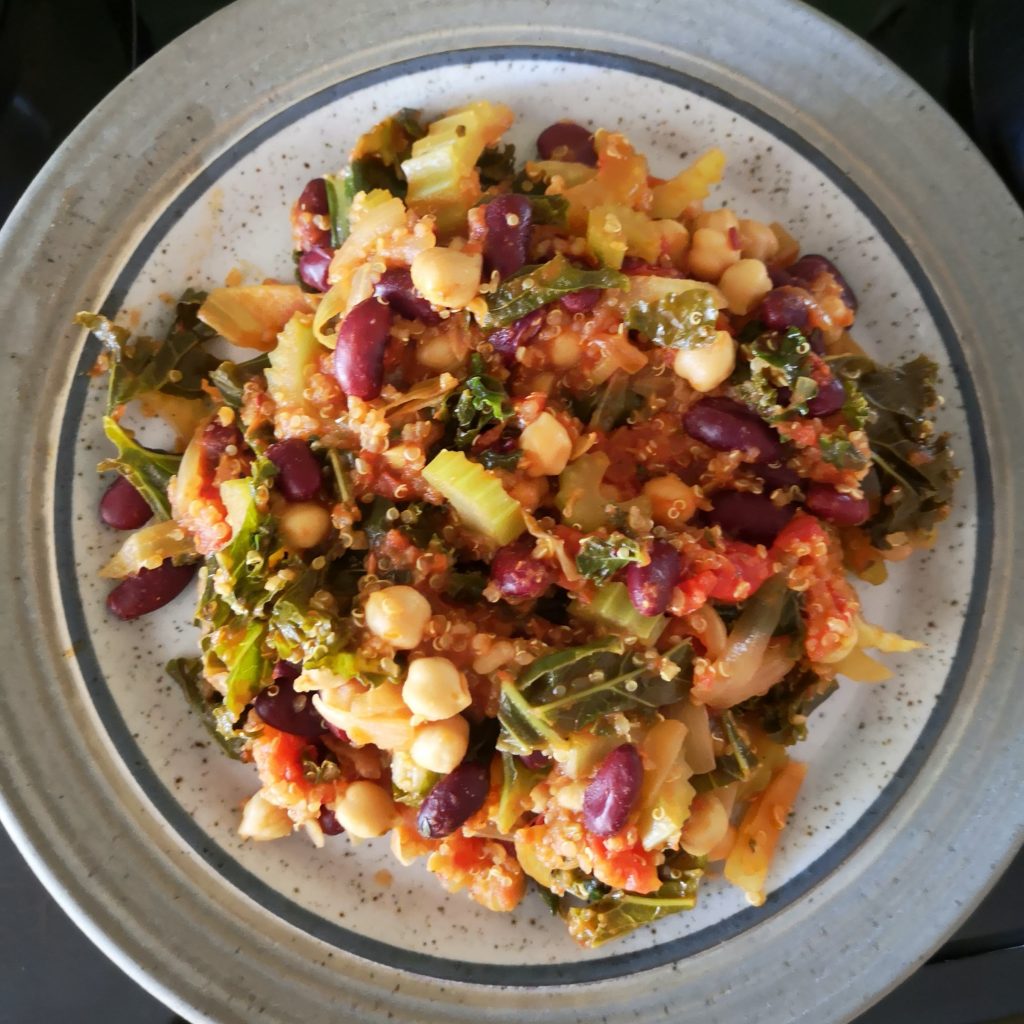 I wrote down the ingredients that I had used, so that I could later replicate the meal. Unfortunately, I hadn't measured out the amounts of some of the ingredients, so I wasn't sure exactly how much I had used. It took a bit of trial and error to get the proportions right when I made it again, but after a few attempts, I finalised the recipe that you see below!
This is a good recipe to make when you don't have much food in the house, because most of the ingredients are staples that you are likely to have in. It is also easy to adapt the recipe by leaving out ingredients that you don't have, or replacing them with something else. For example, if you don't have kale, you could replace it with spinach, broccoli, or another green vegetable. If you don't have quinoa, you could replace it with cous cous, rice or another grain.
The recipe is quick and easy to make, because it can all be made in one or two pots, depending whether you use uncooked or precooked quinoa. This also means it is quicker to wash up afterwards!
It makes for a filling main dish on its own, but it would also work as a side dish, alongside a pie or a quiche perhaps.
The recipe is vegan and gluten free.
Ingredients
Serves 2
50g kale
1 onion (or red onion)
2 garlic cloves
2 sticks of celery
50g uncooked quinoa or 1 pouch of precooked quinoa
1 tin of beans, any sort (e.g. black, kidney, butter or haricot)
1 tin of chickpeas
1 tin of chopped tomatoes
2 teaspoons of Sacla Cook's Paste – Rich and Robust Sun-dried Tomato (or similar)
Oil for frying
Mixed dried herbs
Dried turmeric
Dried cumin
Himalayan Rock Salt (or any salt)
Black pepper
Method
If using uncooked quinoa, cook it according to the instructions on the packet.
Meanwhile, chop the onion and garlic. Heat oil in a large saucepan (not frying pan) and fry the onion and garlic until soft.
While the onion and garlic are frying, wash and chop the kale and celery, and rinse the beans and chickpeas.
Add all the ingredients into the saucepan (including the quinoa when it is ready, or the precooked quinoa if you are using it), and mix.
Bring to the boil, then lower the heat, cover and simmer for 15-20 minutes or until the kale and celery appear cooked.
Serve and enjoy!
Notes
You can add the herbs, spices, salt and pepper to your taste, but I recommend that you only add a little bit of cumin because otherwise it can easily overpower the taste.
Optional extras – I have tried sprinkling yeast flakes on top, and this works well, so I recommend it! I used the Engevita yeast flakes with added Vitamin B12, which are a great supplement for vegans. 
Other ingredients that I think would be a nice addition to the recipe are cashew nuts, tofu or soya sauce, but I haven't tried these myself. You could also try sprinkling cheese or vegan cheese on top.
Let me know if you try it!
I would love to hear from you if you try this recipe! Was it successful, and did you like it? Did you add any extra ingredients that went well? Let me know in the comments!