AD | This post features products that have been gifted to me in exchange for a review. All opinions are honest and my own.
I love choosing gifts for people. It's not always easy to find the perfect gift, but once I do, one of the most satisfying parts is choosing the finishing touches like cards, wrapping paper and gift bags to style it. That's why I was excited to have the opportunity to review a mystery box of gifts and gifting items from Love Layla!
About Love Layla
Love Layla is a small business that produces cards, gifts, stationery and more. Their designs are humorous, banter-filled and often profane! They also offer a range of personalised products including cards, mugs, Christmas sacks and pet bowls, so you can make your gifts even more unique and tailored to the recipient. All their products are designed and printed in-house, in Yorkshire, by their small team of three.
Unboxing Love Layla's Mystery Box
There's always something extra fun and exciting about opening a mystery box. You never know quite what you are going to get! I was curious and slightly apprehensive about opening Love Layla's mystery box, knowing that many of their designs are quite rude and profane! While I am not offended by profanity myself, there are not many people in my life who I would feel comfortable gifting such things to. I had no doubt that the products would be hilarious but I hoped there would be enough items that I could actually use.
Love Layla do several different mystery boxes but the one I received was their 15 items for £15 box. This contains items picked at random, some of which may be slight seconds. On opening the box, I found a mixed selection of different types of products which I will describe in more detail below. There were more than 15 items in my box and they were all in good condition – there weren't any noticeable signs of them being seconds. I think this is great value because each item will average at under £1 when they would have cost a lot more bought separately.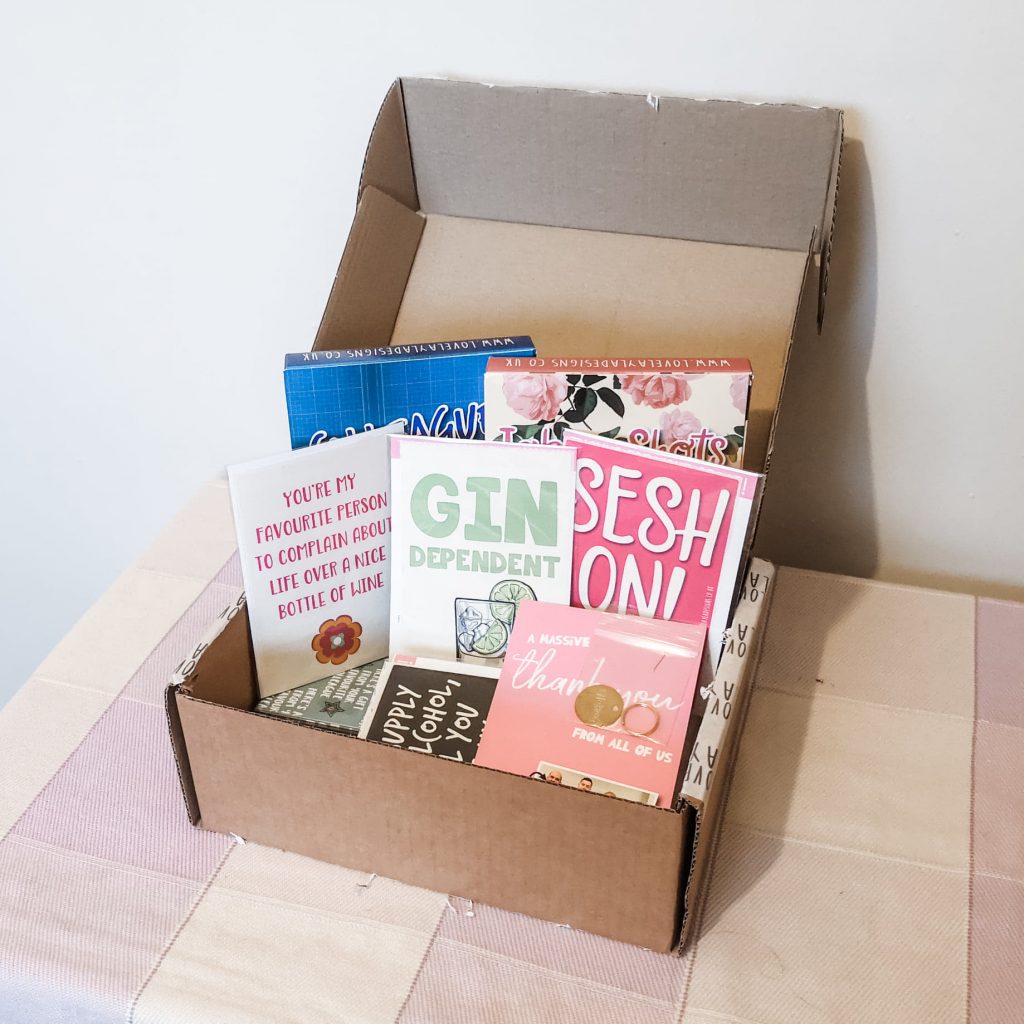 I was prepared for lots of profanity, but actually, there were plenty of tamer items in the box. I was pleased about this because I will be able to give them to more people in my life. I will start by showing you the tamer items and I'll save the ruder ones for the end of this post, so you can either end with a good laugh, or skip them if you prefer!
What was in the box?
Cards
Love Layla is probably best known for their cards, and I received 4 fantastic cards in my mystery box. These ranged from birthday cards to congratulatory cards as well as some that could be used for any occasion. All of Love Layla's products are high quality, but I feel the quality especially stands out in their cards. They are made of thick card and they don't feel flimsy at all.
Cards are such a useful thing to have, and they are easy to store. This means that even though I don't have a use for all of the cards at the moment, I can save them until a relevant occasion comes up.
Stickers
My box contained several large stickers in hilarious designs. Because of their large size, I first thought these were cards or postcards before realising they were stickers. These stickers are so versatile and could be used for a variety of creative projects. They would be great for making homemade cards, by peeling them off and sticking them onto a piece of folded card in a colour of your choice.
Wrapping paper
I received a generous total of 5 packs of wrapping paper in my mystery box. Each pack contains one large sheet, and like the cards, they have a thick, high-quality feel. I already have some people in mind that I will use these wrapping papers for. Some of the designs I received are quite rude so scroll to the bottom of this post if you'd like to see them!
Gift bags
I received 3 gift bags, one of which is wine bottle shaped while the other two are the standard shape. Gift bags are always useful as I often have to resort to giving gifts in plain brown paper bags when I don't have a proper gift bag on hand. These will come in handy at Christmas!
Caption cards
I wasn't quite sure what to call these, but they are packs of cards with funny captions on them. One is office themed, with captions such as 'Work besties', 'Gossip queen' and 'Boss's Pet' and the other is wedding themed with captions including 'Bridezilla', 'I said yes' and 'I'm only here for the cake'!
There are so many versatile uses for these cards and they would definitely add a splash of fun and humour to your workplace or to your wedding preparations. What a great idea!
Coasters
I received two fun coasters in my mystery box. One is Christmas themed and the other is for a stepdad – I don't have a stepdad in my life but I can pass that on to someone who does. Coasters are a great little gift or a stocking filler as they are so useful. Personally, I can never have enough coasters as I like to be able to put my drink anywhere. They are great for putting under houseplants too. Like all of Love Layla's products, these coasters feel sturdy and high-quality.
Other miscellaneous items
The final items I received in my box were a badge (mother's day themed!) and a dog collar tag. I'm not sure my own mum would appreciate this particular badge but these are fab little gifts for the right person!
Sustainability and packaging
I was happy to read on Love Layla's website that they are doing their bit for the environment. They have minimised their use of plastic by no longer using plastic wrapping for their products or replacing it with biodegradable versions. Indeed in the box I received, many of the products had no individual wrapping, yet they still arrived well packed and in good condition. It just shows how plastic wrapping is not really needed! Some of the products including the stickers and wrapping paper were wrapped in film, but I assume it is either the biodegradable version or they are old stock from before they made their sustainable changes.
Love Layla have also signed up for the Woodland Trust's tree planting scheme to catch carbon. It's always great to find out that a company is acting responsibly and sustainably, and this encourages me to buy from them again.
My final thoughts on Love Layla's mystery box
Overall it was such an entertaining experience to unbox Love Layla's mystery box. The mystery aspect was so much fun because I love surprises! There was such a generous amount of items in the box, and they are all so funny as well as high-quality. I knew that this mystery box was going to contain profanity, but I was pleased that many of the items in the box are not too rude because I can gift them to a wider range of people. This could obviously vary from box to box, though.
As with any mystery box, I had no idea what it would contain. Therefore it's not surprising that some of the items are not personally relevant to me at the moment, for example, the step-parent items or the wedding items. However, I can save them to potentially use in the future or pass them on to relevant people who I think would use them.
Go get yourself a mystery box!
Are you wondering whether to buy a mystery box yourself? I would say that if you need items for a particular occasion, or that you are guaranteed to use, it would be better to place a normal order. However, the mystery box is great if you want to experience the brand and get a mixed selection of things. It's also great value as you get a lot of items for only £15 and hopefully, you will be able to use the majority of them. I would especially recommend the mystery box if you are a person who gives a lot of gifts. You could get a few mystery boxes to stock up on gifting items for all occasions.
You can browse Love Layla's selection of mystery boxes on their website or go straight to the 15 for £15 box that I received.
What did you think of this mystery box? What's your favourite item that was in my box? Would you ever consider placing an order or getting a mystery box from Love Layla? Let me know in the comments below!
The rudest items
Are you ready to see the really rude items? I've saved them until last so if you don't like profanity then you might want to stop reading now!
Can you imagine someone's reaction to receiving a gift wrapped in one of these wrapping papers? Obviously this is not appropriate for everyone but a recipient with the right sense of humour would have such a funny reaction to it! I know the cat one is not necessarily as rude as the others, but as a cat lover, I felt compelled to put it in this category haha!
If profane gifts are your thing, then Love Layla is 100% the place to shop! Are you a fan of profanity or do you prefer to avoid it? Let me know in the comments!