AD | This is a sponsored post. All opinions are honest and my own.
Summer is a popular time for weddings, and for good reason! The weather is generally nice and the evenings are lighter, which is ideal for an outdoor wedding reception. The travel conditions are better – I once got stranded in the snow after attending a winter wedding! That won't happen in the summer. Another advantage of summer weddings is that you'll have more options for a sunny honeymoon after, without having to go to the other side of the world!
I'm attending a wedding next weekend – in fact, I'm playing the organ music for my friend's sister's wedding! When discussing the music with her and finalising music choices, I got to see some of the planning that had gone into her wedding, including the design of her order of service, and her colour scheme. This gave me so much summer wedding inspiration! It really is the little things that can make a big difference in creating a beautiful wedding day. Here are 9 special touches to add to your summer wedding day, to make it even more perfect.
9 Ways To Make Your Summer Wedding Extra Special
1. Have a summery colour scheme
Most people choose a colour scheme for their wedding, whether it's their favourite colour or just colours that they think look pretty together. To make your wedding extra summery, you could choose light and airy colours to suit the season. Pretty much any pastel colour will be perfect for summer – think light pinks, purples, blues, greens or yellows.
2. Find the perfect bridesmaids dresses
One challenge in planning a wedding is finding dresses for your bridesmaids, that they are all happy and comfortable with. A tip for summer is to think about the weather – it's likely to be hot (if you're lucky!) so I'd recommend going for shorter and/or looser dresses to keep your bridesmaids comfortable in the heat. Click here to browse some dress ideas – this site is for prom dresses but they would be perfect choices for summer bridesmaid dresses too.
3. Use an app for your guests to share wedding photos
Most couples book an official photographer for their wedding, but some of the best candid wedding photos are often taken by the guests. There's an amazing app for wedding photo sharing that allows your guests to easily upload their wedding photos so you can see them all in one place. I think this is such a genius idea because you'll get to see every photo that was taken of your special day. Between all of your guests, you'll get so many! In summer, the lighting is perfect for outdoor photos too.
4. Have live music
Many weddings use recorded music nowadays, which is a convenient and budget-friendly option. However, there's something so special about having live music as you walk down the aisle. As I mentioned earlier, I am playing the music for my friend's sister's wedding next weekend. It's quite a traditional church wedding so they are having the Wedding March on the organ as the bride enters. There are so many different options for music that will suit your wedding and reception, whether you want traditional organ music, a string quartet, or a band. For a summer wedding, you might consider having summer-themed music – a quick Google will find you plenty of classical or popular choices on this theme.
5. Have a summer-themed order of service
You'll likely have a programme or order of service for the wedding ceremony itself. For a special touch, you could give these a summer theme. Think flowers, trees, or even the beach! If you are artistic you could design them yourself, or otherwise, get them designed by a professional.
Related post: How To Start Your Dream Career in Arts and Design
6. Have lots of flowers
Flowers are an important feature of most weddings, but in summer you can really go all-out with the flowers! There are so many summery flowers to choose from – cornflowers, sunflowers, hydrangeas, and the most romantic choice: roses. You could even have a flower arch! You'll want your flowers to fit your colour scheme – maybe have them match your bridesmaids' dresses.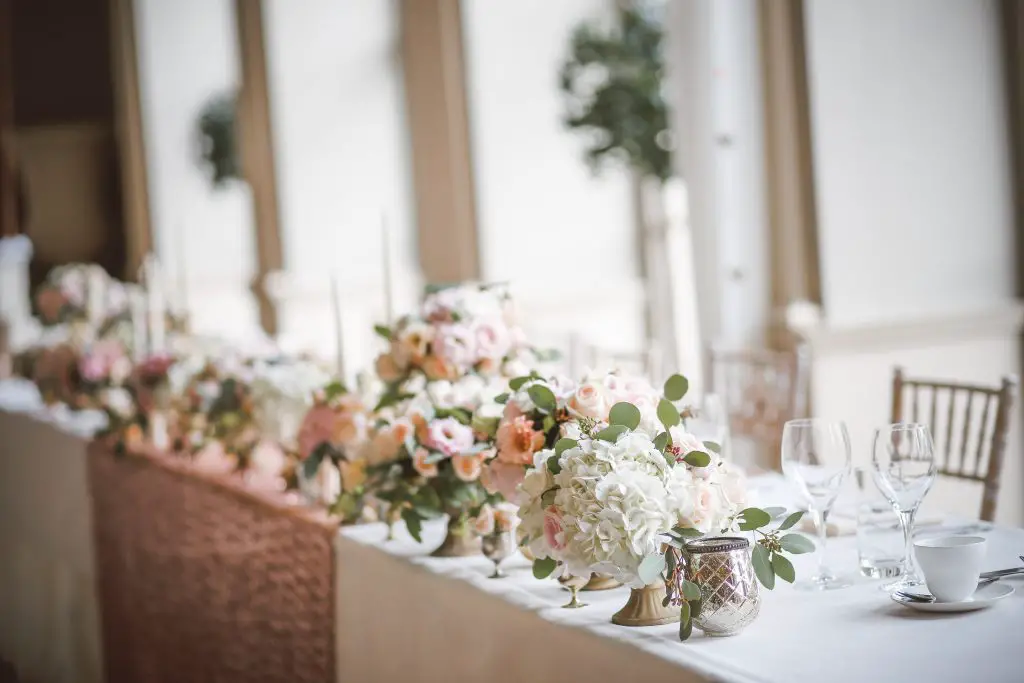 7. Pick summery food and drinks
People often have a smaller appetite when it's hot, so they might not want to be served a three-course hot meal. Light and summery food such as salads, fruit salad and ice cream will go down better. Consider having a buffet so people can eat as much or as little as they want. A cold buffet is a great option for summer – think picnic food. In terms of your wedding cake, you might want to consider a light sponge! Drinks-wise, you'll want to serve cold, summery drinks such as fruity cocktails, and also have plenty of water available so your guests stay hydrated.
8. Lots of confetti!
Confetti can obviously be used at any time of year, but there's something summery about it! Consider eco-friendly confetti that is paper-based and will biodegrade. For an even more eco-friendly option, you could use rose petals, or punch holes in leaves or petals to create truly natural confetti. Check first if your wedding venue allows confetti because some don't.
9. Provide shade
This won't be an issue if your wedding and reception are indoors, but in summer, at least part of your day is likely to be outdoors. Make sure your venue can provide a marquee or shaded areas for your guests to get out of the sun (if you're lucky enough to have a sunny day). A bit of shade can make all the difference to the comfort of your guests.
Are you planning a summer wedding?
If you're planning a summer wedding, I hope this post has given you some inspiration. By adding some of these special touches, you could make your day even more magical and enjoyable for you and your guests! What else would you do to make your summer wedding extra special? Let me know in the comments below!