AD | This is a sponsored post. All opinions are honest and my own.
Would you consider yourself to be a crafty person? Personally, I enjoy making crafts but I wouldn't say I am particularly skilled in any crafting field. I tend to go for easy crafts that don't require too many materials or specialist equipment to make. Are you the same, or do you have any special crafting skills?
Whether you are an experienced craftsperson or not, it is possible to make money by selling crafts. Either you can set up a table at a craft fair or similar, or it's easy to create an online store on a site such as Etsy. For an even easier option, you can simply sell your crafted items on eBay or Facebook Marketplace.
In this post, I will be sharing 3 craft ideas that are simple enough for almost anyone to make. These crafts are functional and useful, so people will be willing to part with their money for them!
3 Easy and Functional Crafts You Can Make and Sell
1. Painted plant pots
Houseplants are so popular nowadays, and plant lovers are always on the lookout for pretty pots to put their plants in. If you head to your local garden centre you can find terracotta pots fairly inexpensively. Acrylic paint is the best type of paint to use on terracotta. Get creative and paint them with any colour or pattern you like!
If you want to add text to your painted pots, you can download free fonts here. Choose a font that you'd like to use and type your chosen text into a document. Print it off on a piece of card and carefully cut out the letters using a craft knife. Then you will have a stencil to use on your pots. Tape the stencil to the pot and paint over it so that the text shows up on the pot. This method would be great for adding names or other personalised text to your pots, making them even more appealing to buy.
2. Handmade greeting cards
People are constantly needing greeting cards so they are bound to sell well online or at a craft fair. This is one of the easiest and cheapest crafts to make because you can use almost any scrap material or stationery to decorate your cards. Earlier this year I made some homemade cards which you can see in the photos below. I folded pieces of card in half and glued on random scraps of fabric, thread and beads to make flowers and birds.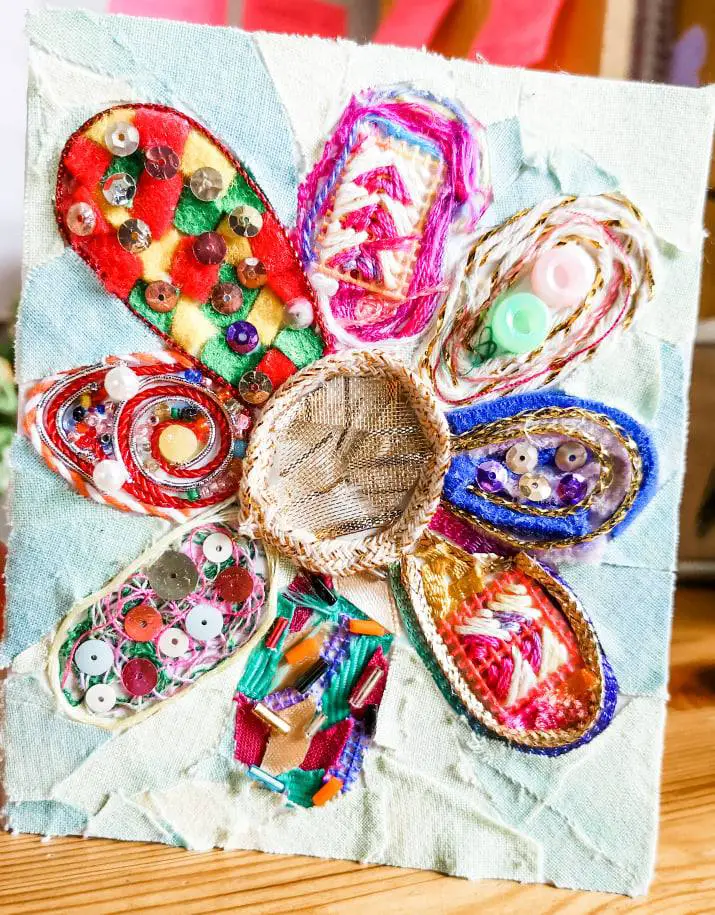 There are endless options for making greeting cards. If you want to add text to the front, you can find pretty free fonts here and print off some text to stick on your card. Another idea is to recycle old greeting cards by cutting the pictures off the front and sticking them onto new cards. You can also use washi tape to decorate your cards.
3. House name signs
There are some really beautiful house name signs out there, and it's actually quite easy to make unique, homemade ones to sell online. Did you know that some of the most common house names in the UK are The Orchard, Rose Cottage and Meadow View? You could start by making signs with those names as samples and then offer a custom service.
A simple way to make house signs with a rustic look is to find scrap pieces of wood and paint the house names onto them. You can do this by using the same stencil method described above in the painted plant pots. Acrylic paint is a great option for painting on wood. It's a good idea to use a primer first, and also seal the wood with varnish after painting.
Would you try these functional crafts?
Have you sold handmade items and crafts before? What was your experience? Have you ever made any of the crafts in this post? I'd love to hear from you in the comments below!