AD | This post features a book that has been gifted to me in exchange for a review. All opinions are honest and my own. This post also contains affiliate links, which means if you purchase something through my link, I will earn a small commission. This does not affect the price you pay for the item.
I'm pleased to be reviewing another non-fiction book today. Having recently read and reviewed 'Becoming Guise-Wise' by Michael Waters, I have since had the chance to read another of Michael Waters' books – 'The Power of Surge'.
Michael Waters left me a post-it note on my review copy of 'The Power of Surge' which immediately heightened my curiosity about this book. It read, "You might be interested to know that I wrote this a year before Covid but it was published three days after lockdown. Take a look at the opening sentence." The opening sentence in question is this: "Have you ever been attacked by a virus?". It turns out this book is highly relevant to current times and it's so interesting that it was written just before the pandemic. Read on to find out what it's all about.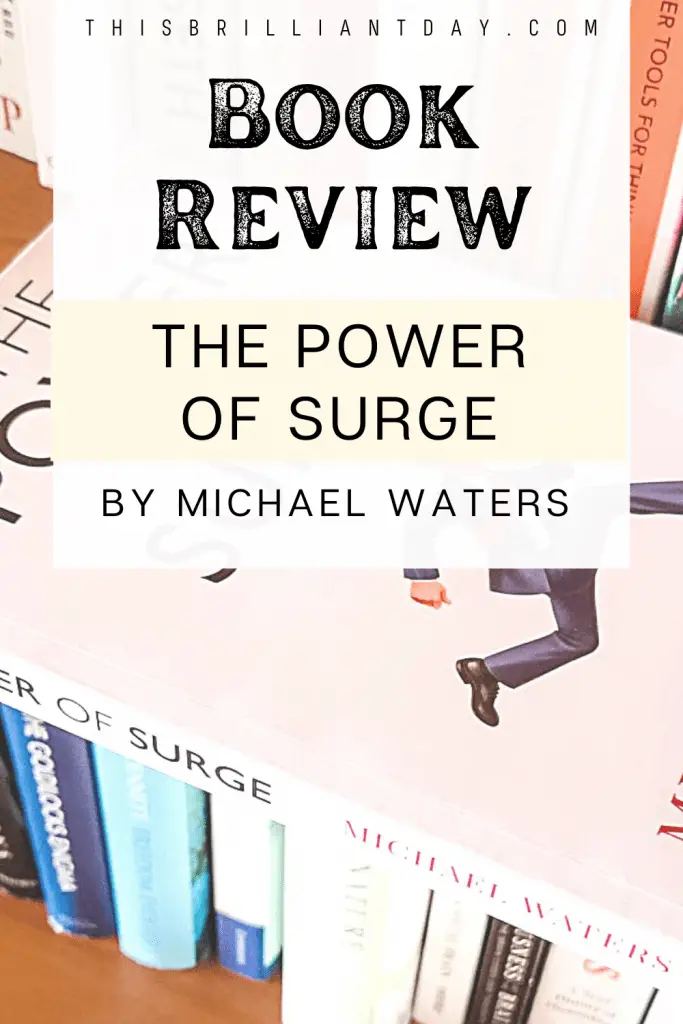 What is 'The Power of Surge' about?
The word 'surge' brings to mind powerful, robust, fast-moving events, movements or actions, and this is exactly how it is defined in this book. 'Surge events' are high-energy and time-limited events, that can be large or small scale (eg. humanitarian work vs personal projects), spontaneous (eg. natural disasters), reactive (eg. emergency responses) or planned (eg. construction projects). When we surge, we take 'rapid and robust action' to achieve a task, project or goal. In practice, 'The Power of Surge' is all about how to develop the ability to surge, and the importance of doing so.
After the introduction, the book is divided into the following chapters:
12 Great Reasons to Surge
How to Design a Good Surge
What You Need to Surge Successfully
Creating Lift-Off for Surge Events
Planning Your Surge: The Best Strategies for Rapid and Robust Action
Building Surge Experience
Mega Surges: Achieving Huge and Truly Challenging Surge Projects
As you can see, the chapters take you through what a surge is, why to surge, how to surge and tactics for better surges. The book teaches how surge action can benefit you individually, helping you to overcome procrastination, complete big projects and use your time efficiently. On the other end of the scale, it teaches how surge action could help manage or solve many of the world's hugest problems.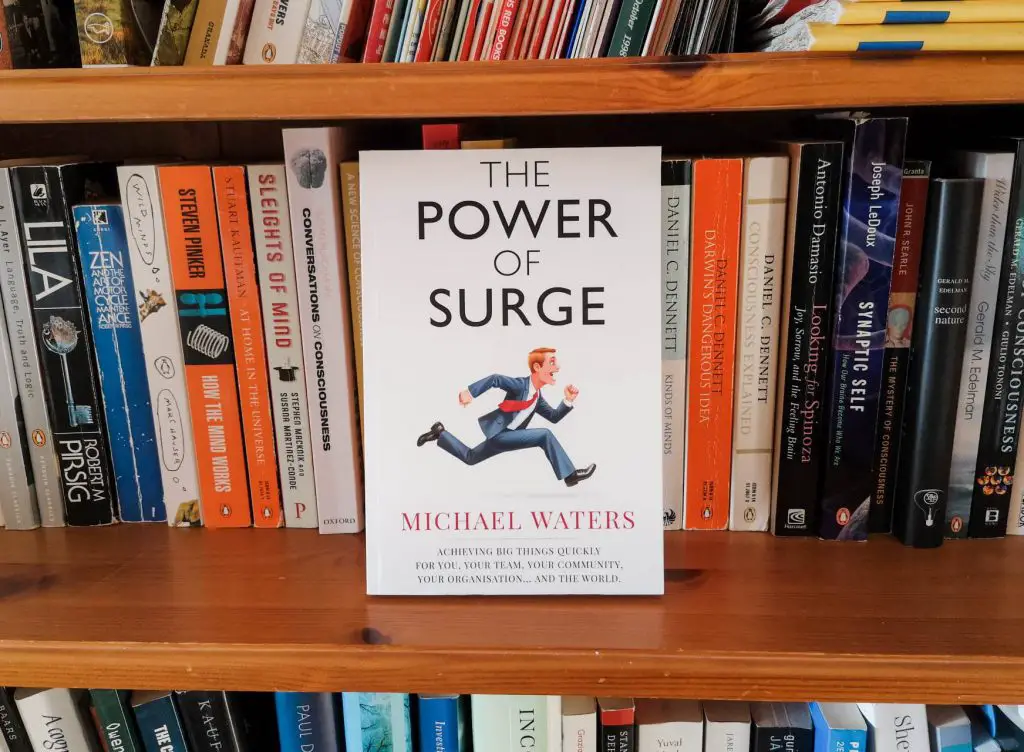 Large and small-scale surges
As I mentioned earlier, surges can range from very small-scale to absolutely massive. While 'The Power of Surge' contains plenty of advice for individuals wanting to increase their 'surge ability', there seemed to be a bigger focus on organisations, companies and group efforts, probably because there is simply more to cover in that area as things inevitably get more complex the more people are involved. That said, I would have liked to read more about the psychology and practical matters of getting oneself to surge successfully in personal projects (although a lot of this can be 'translated' from the group examples). I think being able to surge in your own projects is a good precursor to being able to surge as part of a group or to lead a group surge.
Here are some tips from this book that I found especially relevant and applicable as an individual:
Developing a habitual 'think surge' mindset is an essential first step if you want to take surge action regularly.
It's important to alternate periods of surge with periods of rest.
Never waste an energy high – use it to get something done.
Tackling a project by surge can often be the most pleasurable way as well as the most effective.
Surge action is a good way to overcome procrastination.
The more we take surge action, the easier and more natural it will become.
Organising our work into clearly defined projects makes surge action easier.
A surge project is more likely to happen if you schedule and reserve a specific block of time for it.
Surges go best when they are well planned, prepared for and rehearsed.
It is wise to expect future turbulence and instability so you can physically and mentally prepare for it, rather than assuming everything will stay the same – it probably won't.
These are all expanded on in greater detail in the book.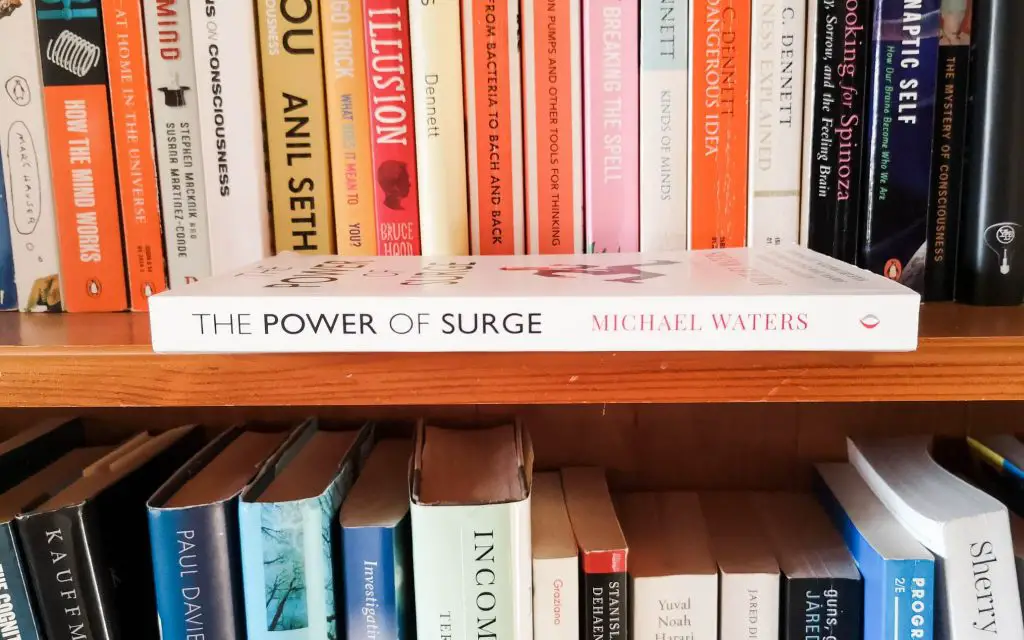 Preparing for the future
The last chapter of 'The Power of Surge' addresses the likelihood that humanity will face huge surge events in the near future, including natural disasters, mass migrations and more pandemics, mainly as a result of climate change. Michael Waters states that the best, and possibly the only way to cope with these problems is by taking large-scale surge action and that at present, we are not collectively prepared for this.
This is relevant to all of us and it's an eye-opener. This chapter is a bit scary and overwhelming to read which proves his point that we are not mentally prepared for big surge events that may well occur. This was a good chapter to finish with because it gives a strong incentive for the reader to actually put the information in this book into practice and get 'surge ready', for the benefit of the whole planet as well as for personal gains.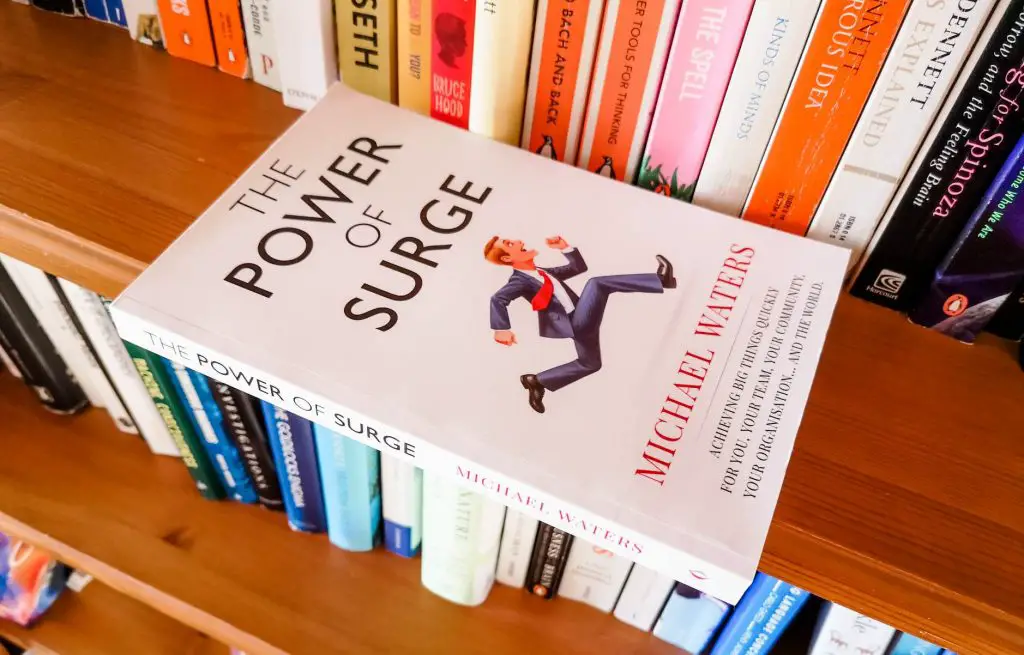 What is 'The Power of Surge' like to read?
Overall, the book is readable but it does use quite complex language and 'big words'. Because of this, some sections require a lot of concentration to read. My favourite parts of the book were the real-life examples, which were shown in 'panels' throughout the book. These were easy and interesting to read and brought the concepts to life. I like that they were true stories, rather than made-up examples. I would have liked to have read more such case studies and perhaps simpler language in the rest of the text to make it more accessible.
The chapter on 'What you need to surge successfully' was very long, consisting of 32 points with several pages of detail on each. This is obviously key content, but I feel the long list could perhaps be overwhelming for some. It could be broken up into smaller lists of related points, to make it feel easier to read. As a plus, there is a concise summary checklist at the end of the chapter. If reading this book again, I would skip straight to that checklist and then refer back to individual points if I wanted more detail or clarification.
Presentation and cover
The cover of 'The Power of Surge' looks clean and minimalistic, and it matches the style of other Michael Waters' books that I own, so they look good together as a collection on my bookshelf.
I'm not so sure about the cartoon image of the businessman running – it kind of gives an impression of rushing or panic rather than rapid but carefully considered action. Also, the fact that it's a man in a suit is not very inclusive to all the readers – maybe a silhouette or stick figure would be better, or the inclusion of several different people. Otherwise, it gives the impression that the book is aimed at businessmen, but really it's relevant to anyone. On the plus side, the man does look happy!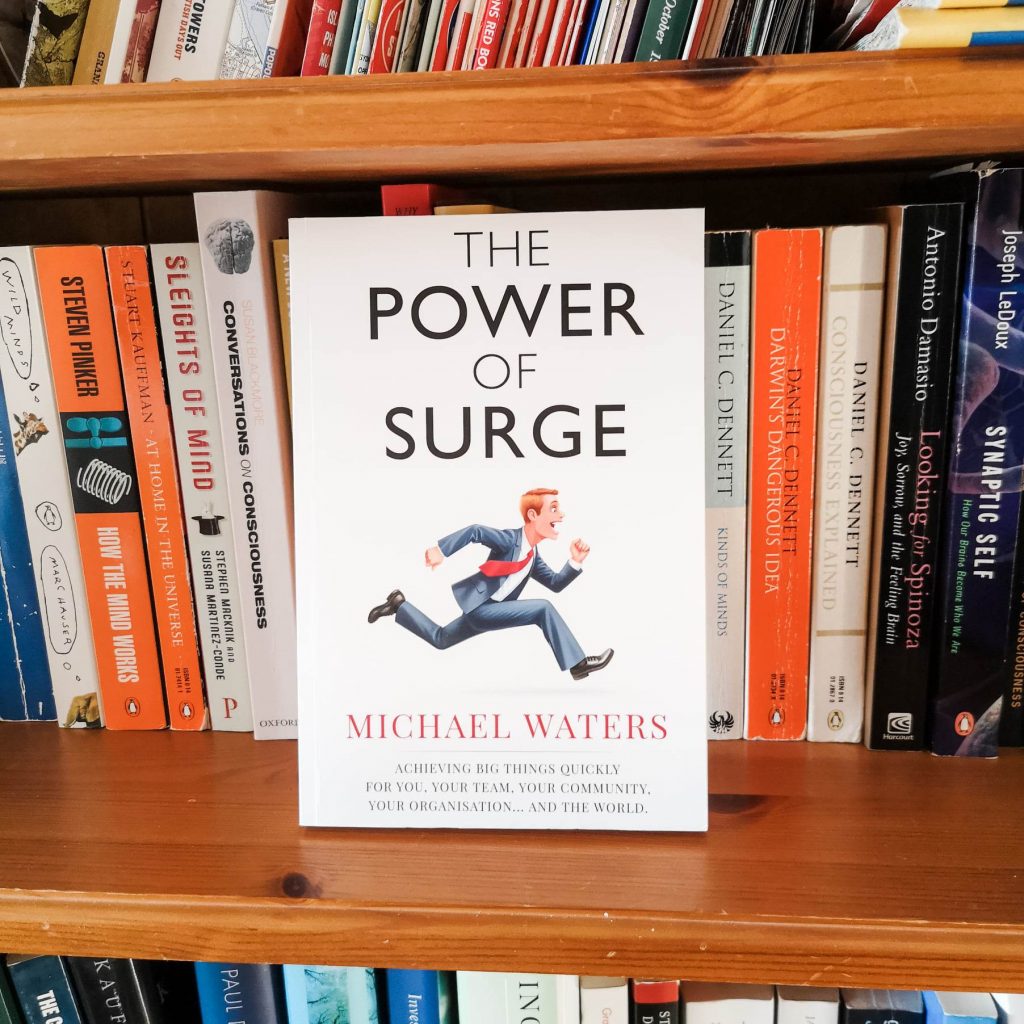 My experiences with surge
When I started reading 'The Power of Surge', I immediately recognised the concept of a surge but had just never given it a name. I can recognise times in my past when I have 'surged', including learning music for a concert at short notice, having a clear out, and 'marathon' writing and reading sessions. I'd describe my personal experience of surging as a burst of energy and action, staying focused and being in the flow, keeping going no matter what and pushing through any obstacles. I also find that a positive, 'can do' attitude massively helps my ability to 'surge', and this is a key point in the book too.
My own surge experiences are all very small-scale compared to most of the examples given in the book. Thankfully I have never had to surge in an emergency situation, but thanks to reading this book, I can see the benefits of being prepared for this.
One of the main things I got out of this book was the idea of becoming 'surge conscious' – seeing surge as an option, rather than always assuming that something will take a long time to complete. I can now see that in most cases, it would be more efficient overall to get things done in one big surge rather than little by little over time. I'd like to get into the habit of automatically considering whether something can be done by a surge, even if I don't always go with that option. I will be trying to build this habit into my personal life and projects.
Would I recommend 'The Power of Surge'?
I'd definitely recommend 'The Power of Surge' because it has such powerful implications on both a personal and global level. Even if you're only interested in the personal gains, there are certainly many: Michael Waters explains how surge action can benefit our mental health, self-esteem and confidence, as well as save us time and help us to get things done. If everyone developed their ability to take effective surge action, it could have a huge impact on individuals, communities and the world.
This book can be a complex read in some parts but even if you're not a strong reader, I'd recommend skimming the book to grasp the main concepts and pick up some tips from the headings and summaries.
I would like to thank Michael Waters for the opportunity to read and review 'The Power of Surge' and I look forward to reading more of his books in the future.
You can purchase 'The Power of Surge' from Amazon in a paperback format.