AD | This is a sponsored post and features products that have been gifted to me. All opinions are honest and my own.
When you think of your ideal outfit for summer, what comes to mind? Perhaps a casual tank top and shorts combo? Or a flowy maxi dress? Whatever your style, your summer outfit would almost inevitably be adorned with a few pieces of jewellery to add the finishing touches.
There are so many different jewellery designs out there, but what makes a piece of jewellery perfect for summer? This blog post is a guide to choosing the perfect summer jewellery, with the help of my featured brand, Daisy London, who have kindly gifted me the jewellery items shown in this post. It's time to get you introduced:
About Daisy London
Daisy London started out on a market stall in London in the 1970s, and from there it has grown into the sophisticated jewellery brand it is today. They strive to create high-quality, unique jewellery that can be worn every day, as well as for special occasions.
Daisy is all about creating a better world for all of us. They have supported over 30 charities, and they aim to be as environmentally friendly as possible. Their jewellery is made from 100% recycled sterling silver, and it is made to last, unlike fast fashion. They also use recyclable packaging made from FSC-certified materials.
When I chose my items from Daisy London, I was given the option of receiving their signature gift wrap, or minimal packaging to help the environment. I love that they offer these options because it shows they care about the environment, but there is also the option for fancy packaging that might be more appropriate if you were giving the jewellery as a gift.
I was tempted to go for the gift wrap for the sake of getting some extra pretty photos for this blog post, but I decided to stick with my ethics of trying to be as sustainable as possible, so I went for the minimal option. Even this was still aesthetically pleasing. The jewellery arrived in white jewellery boxes featuring the Daisy London logo. These were inside a brown paper envelope, along with a copy of the 'Daisy Times' which was a nice touch.
A Guide To Choosing The Perfect Summer Jewellery
Choose light-weight and delicate items
When it's hot, you won't want bulky jewellery weighing you down. Save bold, statement pieces for the cooler months and instead, opt for light and delicate jewellery in the summer.
The first necklace I chose from Daisy London is the perfect example of this. It's the Rose Quartz Healing Stone Necklace in Silver. The rose quartz pendant is so pretty and I love the beaded detail on the chain too. The sterling silver chain is adjustable so it can be worn with different necklines to perfect any summer look.
Opt for pastel colours
To me, pastel colours speak of summer. I associate them with warm weather, sunny days and flowers. Pastel colours are a great choice for any summer jewellery!
The Rose Quartz necklace I already showed you is a beautiful pastel pink, and to match this, I also got the Beloved Pink Opal Hexagon Ring in Sterling Silver. This gorgeous ring is set with an ethically sourced pink opal gemstone, and the band is made of 100% recycled sterling silver.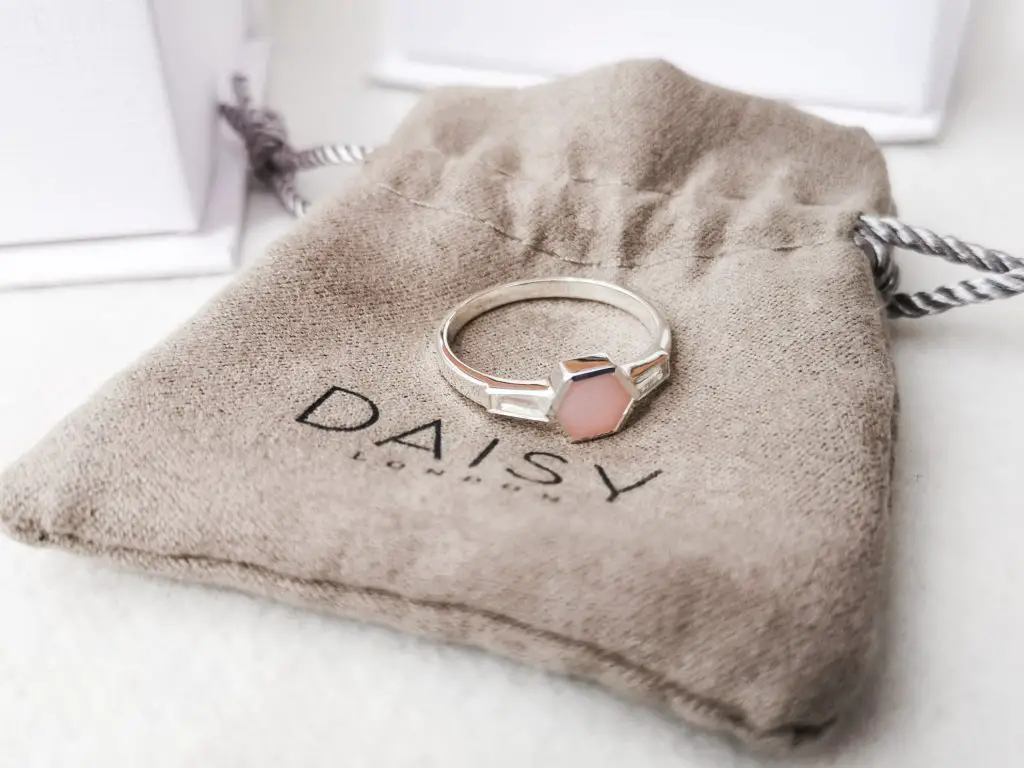 The shade of pink is a little lighter than the necklace because it's a different gemstone, but they still match really well. It's the perfect combination to wear in the summer!
I was actually torn between ordering this ring or something different because I don't normally wear rings. However, I decided to step out of my comfort zone and get a ring to try something new and different. I'm really glad I did because this ring is so pretty and it goes so well with the rose quartz necklace!
Because of my inexperience with ordering rings, I wasn't sure what size I should get. I estimated my size but unfortunately, the ring did end up being a little too big for me. I let my contact at Daisy London know this, and they were very happy to exchange the ring for a smaller size. This reflects on their good customer service!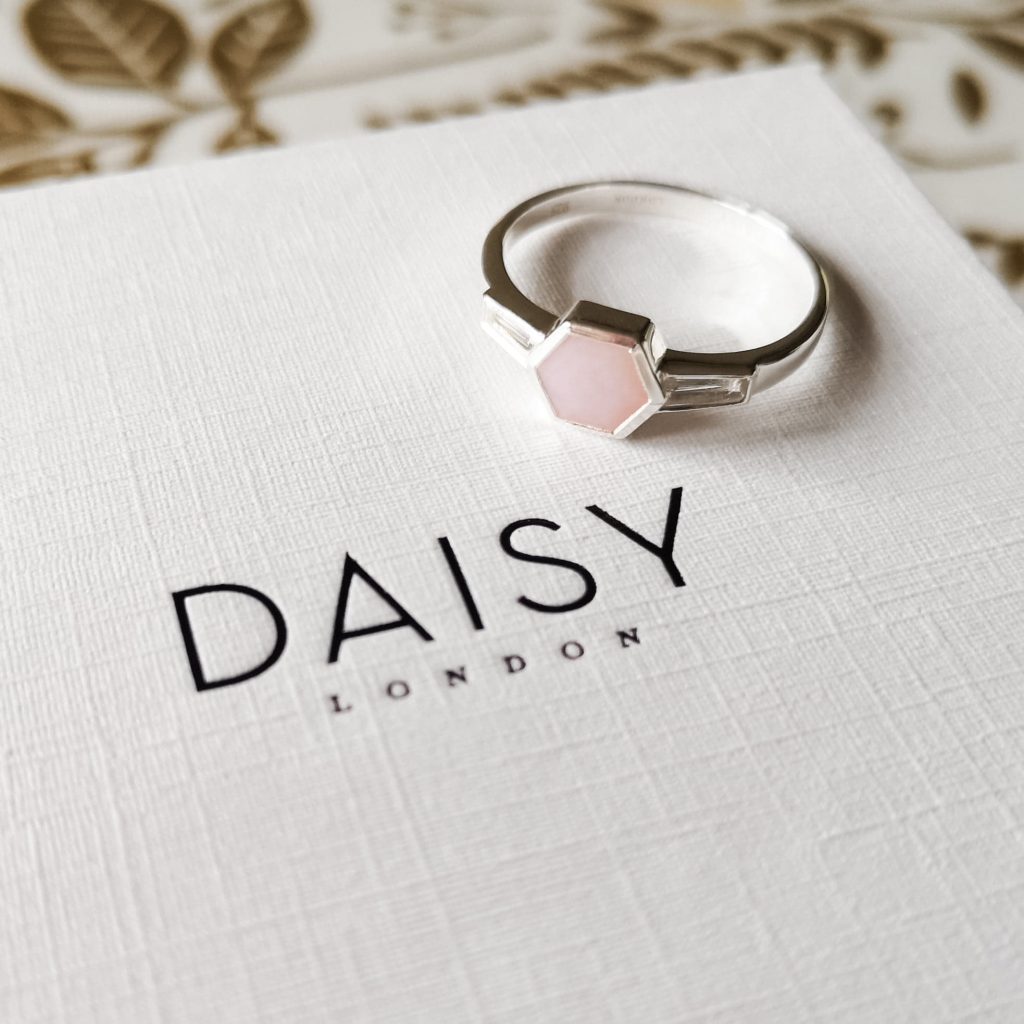 Look for items with summer-themed shapes or pendants
Summer themes could include the beach, sea shells, palm trees, the sun, or flowers. A necklace pendant with one of these themes is a great way to include something summery in your outfit.
To me, flowers are a quintessential symbol of summer. That's why I chose the Iota Daisy Chain Necklace from Daisy London. It features a ring of delicate daisies, made out of sterling silver with gold plating.
Daisies are such a summery flower and this delicate piece adds a beautiful touch to any summer outfit. The chain length is adjustable too which really helps!
What's your perfect summer jewellery?
I'm so pleased with all three jewellery items that I received from Daisy London. They are so pretty, so high-quality and I know I will get a lot of use out of them. I love how they were packaged, and the fact that the company makes ethical choices in its use of materials, both for packaging and for the jewellery itself.
In your opinion, what makes a jewellery piece summery? What do you think of the pieces I chose from Daisy London? Let me know in the comments below, and do make sure to check out Daisy London's website if you'd like to pick out any summer jewellery pieces for yourself!