AD | This post features a product that has been gifted to me in exchange for a review. All opinions are honest and my own.
A while ago, I wrote a review of the PMD Clean Smart Facial Cleansing Device. I was excited when PMD recently reached out to me again with the opportunity to try one of their newest products – the PMD Clean Body.
As the name suggests, this device is similar to the original PMD Clean but is designed for cleansing your body rather than your face. It is a vibrating, silicone brush that comes with several interchangeable magnetic attachments that serve different cleansing purposes. It works by using SonicGlow™ Technology: the brush vibrates at 7000 vibrations per minute and these vibrations help to break down dirt and oil from within your pores, giving a deeper cleanse than you could otherwise achieve.
Read on to find out how to use the PMD Clean Body and what I thought of it!
My First Impressions of the PMD Clean Body
The first thing I noticed about the PMD Clean Body was the sleek and attractive packaging. It comes in a sturdy cardboard box with fitted plastic trays inside to support the product and attachments. The packaging is high quality and compact, and although it uses some plastic, it is not too excessive.
The PMD Clean Body comes in a range of colours including Blush (light pink), Berry (dark pink) and Navy (dark blue). I chose the Berry option and I'm glad I did – it is such a pretty colour! The base and the massager attachment are a rose gold colour which complements the dark pink really well.
Before receiving the product, I assumed that it would be the same size as the original PMD Clean because they looked the same on the website. However, when it arrived I found that the PMD Clean Body is significantly larger than the PMD Clean facial device. This makes sense as it is to be used on the whole body. In the photo below, you can see a size comparison between the two devices.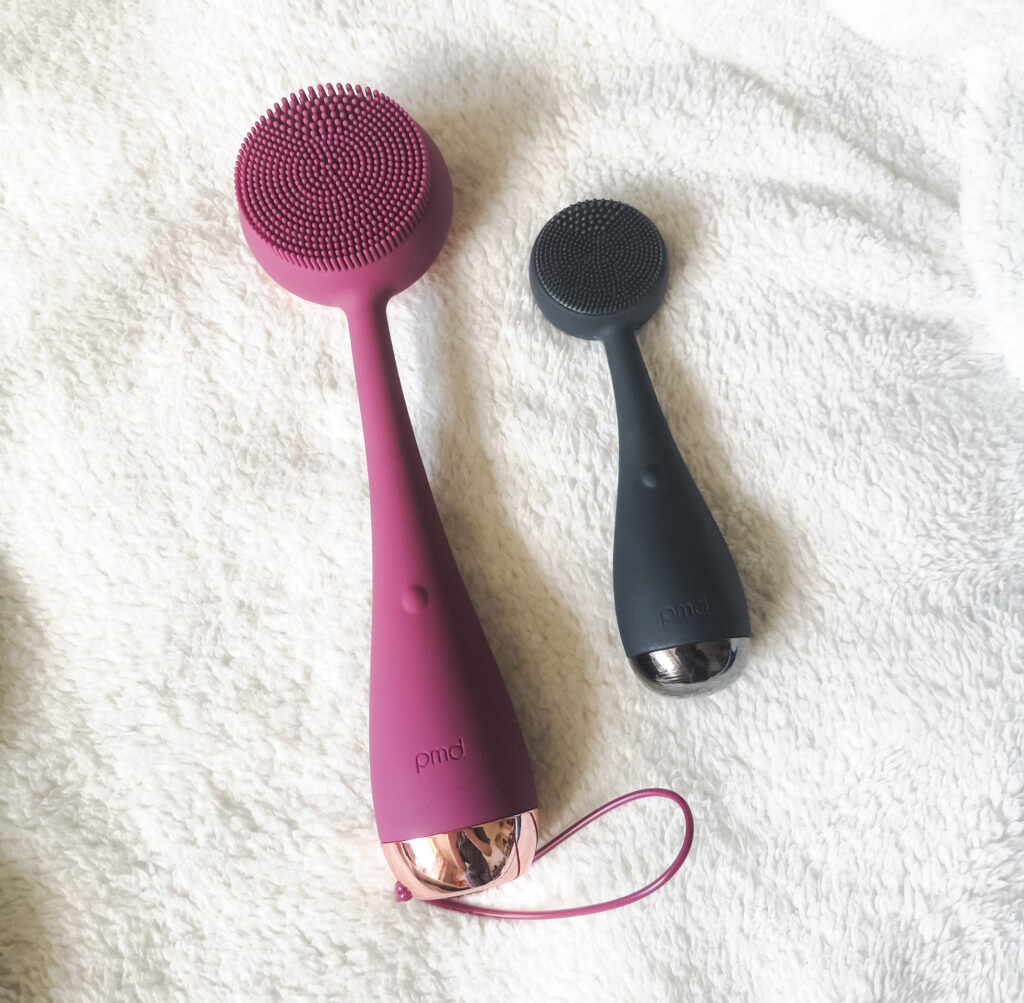 What are the different attachments for?
As mentioned, the PMD Clean Body comes with several magnetic attachments that you can swap over for different purposes. Here's what they are for (listed in the suggested order of use):
1. Cleanse
This is not an attachment but forms the main brush head which is designed for cleansing the whole body. The soft, silicone bristles are hypoallergenic, antibacterial and odour resistant. This means the PMD Clean is a far more hygienic option than a standard loofah.
2. Gentle exfoliation
This is the first of the attachments, which sticks magnetically to the back of the brush head. It is a firm loofah that provides gentle exfoliation and cleansing. It is silver-infused and antibacterial for maximum hygiene.
3. Intense exfoliation
This attachment is a flat, rough disk that provides intense exfoliation and is designed for use on rough, calloused skin to make it soft and smooth. The texture feels similar to sandpaper or a pumice stone.
4. Massage
The final attachment is designed for massaging everyday body aches. It has 3 smooth 'bumps' that vibrate along with the device and can be used on your back and other parts of the body that may be tense.
Later in this post, I will describe my experience using each of these attachments, and share whether they were effective for me.
My Experience Using The PMD Clean Body
The PMD Clean Body is designed to be used in the shower or bath, and thankfully it is waterproof. I don't often have a bath so I used mine in the shower.
First, I applied shower gel to the cleansing brush and switched the device on. There are 4 different vibration settings – gentle vibration, stronger vibration, slow pulses and fast pulses. I chose the gentle vibration setting. I found that the shower gel didn't lather up very well when using this device, so it made me doubt if my skin was getting properly cleansed. However, I guess that the vibrations and 'sonic glow technology' would counteract this with their cleansing properties.
I really like the design of the PMD Clean Body because it is easy to reach over and clean your back, compared to a normal loofah. I often get acne on my back so I can see it making a real difference there. My only complaint with the design is that it's easy to press the button by mistake and change the vibration settings without meaning to. However, I think I would soon get used to holding the device in a certain way to avoid this.
Trying the attachments
After cleansing my body, I tried using the gentle exfoliation attachment. It took me a while to get the hang of it because at first, I tried to literally scrub my body with it, which resulted in the attachment falling off multiple times. Then I realised that I only needed to move the device gently over my body, and the vibrations would do the work to exfoliate my skin.
Next, I tried the intense exfoliation attachment. I used it on my feet because my skin is quite rough there so I hoped it would soften them. It felt like a nice intensity of exfoliation, and although I didn't notice immediate results, I think that over time it will definitely soften the skin on my feet.
I wondered how long the sandpaper feel would last, or if it would eventually get smooth. I later discovered that it is possible to buy replacement attachments on the PMD website, at a reasonable price. Therefore I assume that it would eventually get smooth, but it's great that it's possible to replace it.
Finally, I used the massage attachment to massage my back and shoulders. This was possibly my favourite attachment because it was really effective for providing a massage and releasing tension. The brush design made it easy to reach my back and shoulders.
How To Charge The PMD Clean Body
The PMD Clean Body is charged via a USB cable. I like that it is rechargeable instead of using batteries like the original PMD Clean. It seems like a less wasteful option. The charging cable plugs into a hole in the base of the device. The hole is tight to make it waterproof, so it requires a strong push to plug the cable in. The light on the button switches on when it is charging, and off when it is finished.
Pros and Cons of the PMD Clean Body
Here is a list of pros and cons to help you to decide whether the PMD Clean Body would be a worthwhile investment for you.
Pros
It is attractive and high quality.
It has several different attachments so you can tailor it to your personal needs.
The magnetic attachments are quick and easy to swap over.
The design makes it easier to clean your back than it is with a traditional loofah.
It has a travel lock which prevents the device from getting accidentally switched on in your luggage.
It is rechargeable.
Comes with a useful loop to hang it up in the shower.
Cons
It's an expensive product, retailing at £145.
The attachments may wear out and need replacing.
It doesn't create much lather when using it with shower gel.
It's easy to press the button by mistake while using the device.
This product makes an audible vibration sound that could almost certainly be heard from outside the bathroom, so it's worth considering whether this would be awkward for you.
My Overall Thoughts on the PMD Clean Body
I really like the PMD Clean Body and I love how many different options it has for cleansing and exfoliating your body. An ordinary loofah gets a better lather, but the antibacterial properties and vibration technology of the PMD Clean Body really set it apart, and the attachments provide additional benefits. Time will tell whether it has a long-term effect on my skin, but so far I am seeing positive results and I can't wait to use it more.
I do however feel that it is a luxury body care device, and at £145, not everyone will be able to justify adding it into their body care routine. If you are looking to solve a particular issue such as callused skin, body acne or muscle tension, I feel that the PMD Clean Body is a great investment because the attachments could help to solve your issues. However, if your skin is already healthy or you don't think you would use the attachments, it's probably not worth budgeting for. Maybe add it to your Christmas list as a treat!
I noticed that they sometimes offer discount codes on the PMD website so it might be worth waiting for a sale if you are unsure about purchasing the PMD Clean Body at full price.
If you are considering buying the PMD Clean Body, I hope this post has helped you to make up your mind on whether it would be a worthwhile investment for you. I have definitely enjoyed incorporating it into my shower routine and I look forward to seeing how it will improve my skin over time. Have you ever tried this product or something similar? What did you think of it? Let me know in the comments below!