AD | This post features a product that has been gifted to me in exchange for a review. All opinions are honest and my own. This post also contains affiliate links, which means if you purchase something through my link, I will earn a small commission. This does not affect the price you pay for the item.
You probably don't give much thought to your toilet. It's something you use every day and take for granted. However, I'm about to introduce to you a small and simple gadget that will improve your toilet experience in ways you never knew you needed. Enter my featured product for this post: the ToiLight.
What is the ToiLight?
ToiLight is an LED waterproof toilet light that promises to 'make any toilet bowl glow'. Its one-size-fits-all design allows it to fit discreetly onto any toilet bowl. It works by a motion sensor in the dark, so the toilet will automatically be illuminated when someone enters the bathroom at night. It has 8 colours to choose from or you can opt to cycle through them all.
I was gifted a ToiLight to review in this post so I will be sharing my thoughts about it as we go.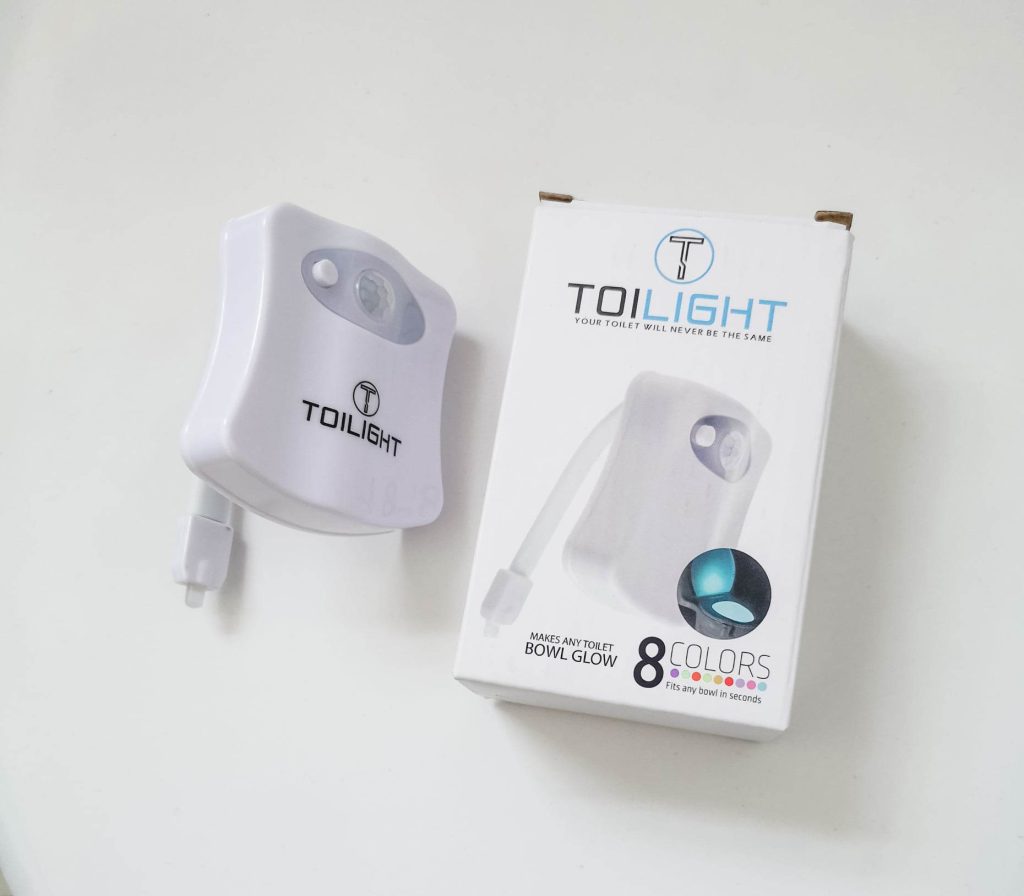 10 Great Reasons To Get A Toilet Light
1. It prevents you from getting dazzled
You're probably familiar with the feeling of getting dazzled by the bathroom light when making a nighttime toilet visit, and it's never pleasant. The alternative is stumbling around in the dark to avoid putting the light on. The ToiLight solves this problem by giving a soft glow so you can see what you're doing without getting dazzled.
I've found that my ToiLight gives out plenty of light for me to find my way around in the bathroom. The only thing is that I have to remember to put the lid up after using the toilet, as I habitually put it down before flushing. With the lid down, the ToiLight obviously doesn't create much illumination outside of the toilet!
2. It helps you sleep better
Switching on a bright light can jolt you awake, mess with your circadian rhythms and consequently interrupt your sleep. The ToiLight's gentle glow will prevent this and help you to stay in a sleepy state so you can quickly return to sleep after a bathroom visit.
Thankfully, I don't often wake in the middle of the night, but I still appreciate not having to turn on the bathroom light if I go in there before going to sleep. Dimming the lights before bedtime does help me to sleep better and the ToiLight complements this.
Related post: My Bedtime Routine For A Good Night's Sleep
3. Your home will be more accessible
The ToiLight is a great tool for accessibility in your home, particularly for those with less mobility. The toilet will light up automatically even if you or your loved one cannot turn on the light yourselves, and it's easier to see what you are doing when making your way to the toilet.
4. It's fun
There's something innately fun and amusing about a toilet lit up in bright colours. The ToiLight really does make the toilet stand out! This is ideal if you have children in your household as it could encourage them to use the toilet. It would also create a fun experience and talking point for guests.
As mentioned earlier, the ToiLight has 8 colours, plus an option to cycle through them. I went for the colour-changing option as it's more fun than just having one solid colour. The colour gradually changes so you get to experience them all.
5. It's quiet
The ToiLight comes on automatically and silently so you don't have to worry about noise from light switches, pulls, or a bathroom fan, not to mention stumbling in the dark. This means you're less likely to disturb other people's sleep. In my household of 3, this is much appreciated!
6. It's easy to install and remove
To install the toilet light, lift up the toilet seat and bend the flexible arm over the rim so that the light is inside the toilet and the sensors are on the outside. Then, just put the seat down on top of it. When I installed it on my toilet, it really was so simple. I love that you don't have to make any permanent modifications to your toilet at all.
At first, I was worried about hygiene, but the light sits high up by the rim so it generally stays out of the way of anything that's going in the toilet. Even if it does get dirty it is easy to remove and clean. It shouldn't be submerged in water but you can clean it with a wet wipe or damp cloth.
7. It's great for travel
If you benefit from your toilet light at home, why not bring it on your travels too? It's small and portable, and as mentioned it's completely adjustable to fit any toilet.
8. It can help with potty training
The ToiLight could be a fun tool to help with potty training. Young children will love the brightly coloured toilet and will hopefully be keener to use it!
9. It can help prevent accidents
A toilet light can be a good solution to avoid accidents, by children, elderly people or indeed anyone making a bathroom trip in the dark. It makes the toilet more visible which helps with aim.
10. It makes a great gift
Don't stop at buying one for yourself – the ToiLight also makes a great gift or stocking filler for others! It's a fun and silly gift, yet genuinely useful to pretty much everybody.
The ToiLight comes in a small cardboard box containing the light itself (wrapped in a small bubble wrap bag) and the instruction leaflet. It's worth noting that it requires 3 AAA batteries, which are not included.
Will you be getting a Toilet Light?
A toilet light is something I never knew existed until I heard about the ToiLight. It would be a bit dramatic to call it life-changing but it's certainly a nifty gadget that can make your night-time toilet visits a lot more convenient, as well as fun.
You can buy a ToiLight from Amazon and it's currently priced at £11.99 as I write this post.