AD | This post features a product that has been gifted to me in exchange for a review. All opinions are honest and my own.
I feel as though it's been a particularly cold winter here in the UK. We've had several cold spells when I just can't wear enough layers! When talking about winter fashion, layering up and keeping warm is a significant factor to consider. But that doesn't mean winter fashion can't be stylish. In this post, I'm going to be sharing 8 winter wardrobe essentials that are both warm and timelessly stylish. These are all some of my favourite clothing items to wear and I have multiple items of them in my wardrobe! So here they are – my 8 winter wardrobe essentials.
8 Winter Wardrobe Essentials That I Wear All The Time
1. Black Jeans
I'm calling these a winter wardrobe essential, but to be honest, black jeans are probably the most worn item in my wardrobe and I wear them throughout Spring and Autumn too. The great thing about black jeans is that they match absolutely anything, and they are versatile enough to be worn as part of the most casual or the most dressed-up outfits.
If you hadn't already guessed, black jeans are a total wardrobe staple for me. That's why, when I had the opportunity to try a pair of jeans from Lands' End, I opted for a pair of black, slim-fit jeans. I was kindly gifted the Women's Slim Leg 360° Stretch Jeans, Mid Rise to include in this post.
A review of my Lands' End jeans
The high quality of these jeans was obvious from the moment I received them. They arrived in a beautiful red box tied with a ribbon, which gave them a real luxury feel. Plus, the packaging was made up of cardboard, paper and ribbon, with no plastic in sight, which just proves that luxury packaging can still be sustainable.
It's always a bit of a risk buying jeans online, especially from a brand you haven't tried before, in case they don't fit. Thankfully, the fit of these jeans was absolutely right which I was so pleased about! I ordered my usual size (10) with 34 length and they are ideal. I love that Lands' End does a range of leg lengths on many of their styles because I have quite long legs and regular jeans are usually too short for me. If anything, these were a little too long and I would have been okay with a 32 length, but I'd much rather have my jeans too long than too short.
These jeans are made from a blend of 63% cotton, 22% polyester, 10% viscose and 5% spandex, otherwise known as Lycra. The material feels thick and high quality, and they are stretchy due to the Lycra content. The colour is a solid black which I love. The material does pick up some fluff, but I think this is pretty inevitable with any black jeans or black clothes in general. I have a cat so I'm used to my clothes getting covered in cat fur!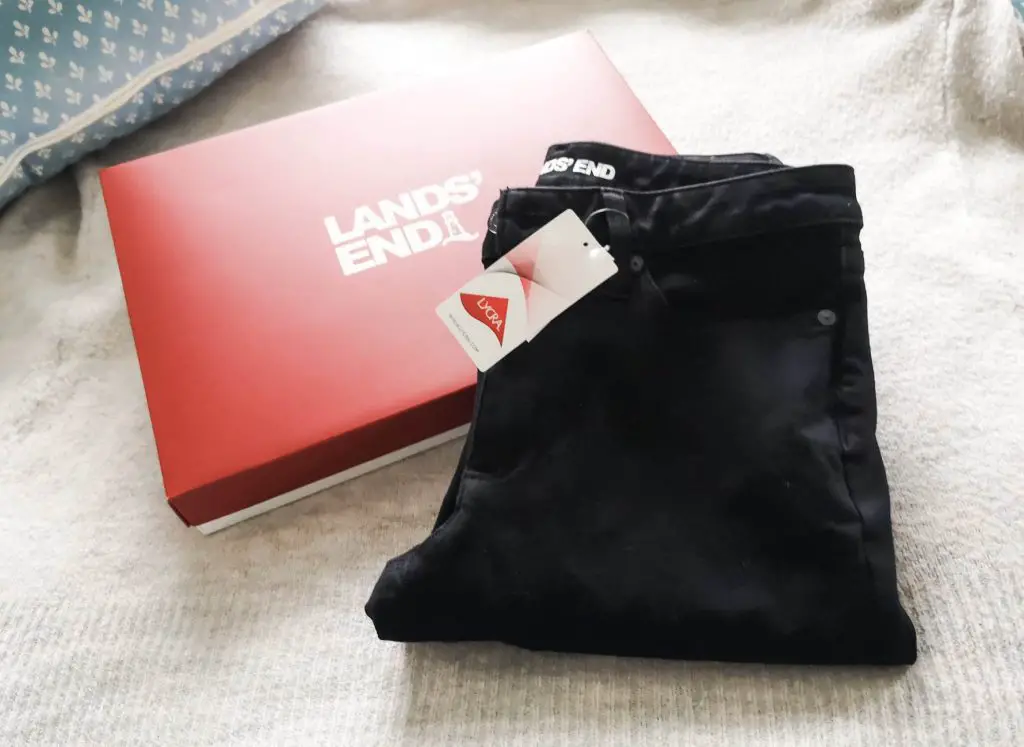 The style is 'slim fit' rather than skinny so they are not super tight around my legs, which is good as I prefer a slightly looser style nowadays. They are mid-rise as described. My usual preference is high-rise but these are high enough for me. The jeans have decent-sized pockets which is always a bonus.
Is Lands' End a sustainable brand?
I like to talk about sustainability when I'm reviewing brands, and I'm pleased to say that Lands' End takes sustainability seriously. Their buildings are Energy Star certified and they recycle 96% of the waste they generate at their European HQ. They already make 30% of their products using water-saving techniques and their goals by 2025 are to use 100% recycled polyester, 100% sustainable cotton and 100% sustainable packaging. They conduct an environmental assessment each year to make sure they are on track with this.
Need some new jeans?
If you're looking for a pair of jeans to add to your winter wardrobe then I highly recommend Lands' End's jeans. The black pair I got is priced at £85 – yes you can get cheaper jeans but they wouldn't match the quality of these. If black is not your colour, Lands' End does a wide variety of different colours as well as styles, many of which have price reductions at the moment.
I am so pleased with these jeans as I've been wanting to get another pair of black jeans for a while. These came at the perfect time and I will get a lot of wear out of them this winter and into the spring. Thank you Lands' End for gifting me this pair!
2. Bodysuits
Bodysuits are a new obsession that I discovered a couple of winters ago. In case you don't know, they are the tops with poppers that do up between your legs – a bit like a leotard. There are a couple of reasons why I love wearing bodysuits in the winter. First, they add an extra layer of warmth not just on your top half but around your bottom too. Second, they stay in place! When you're wearing lots of layers, one of the most annoying things is when your top rides up underneath your clothes. By wearing bodysuits you completely avoid this.
There are so many different styles of bodysuits so they can be a casual base layer or a more dressy piece – great paired with black jeans for a night out!
3. Thermal Tops
Like bodysuits, thermal tops are great for adding an extra layer of warmth underneath your clothing. I like to get ones that are long-sleeved and slightly oversized as this gives more comfort and warmth.
Writing this post has given me the idea that I should try and find a thermal bodysuit – how amazing would that be!
4. Fleece Lined Leggings
Fleece-lined leggings are total winter wardrobe essentials for me. On a cold winter day, I will nearly always wear a pair of fleece-lined leggings underneath my jeans or whatever I am wearing. It really makes a huge difference in keeping me warm!
Related post: How to Get Warm Without Turning the Heating Up
5. Oversized Jumpers
There's something about oversized jumpers that is so cosy and comforting, especially in the winter. Everyone loves a warm jumper, but I find that oversized ones are much more effective for keeping me warm. I think they look really stylish too. Some jumpers are designed in an oversized style, but others you can just choose to buy in a larger size to suit your preference. For me, the more oversized the better!
6. Thick, Fluffy Socks
In the winter, you'll nearly always find me wearing a thick, fluffy pair of socks around the house. Personally, I'm not a big wearer of slippers. I prefer to wear thick socks because I find them less cumbersome and easier to move about in. I typically wear a normal pair of socks as a base layer and then put fluffy slipper socks over the top to keep my feet nice and warm.
7. Boots
Boots are such an essential for keeping your feet warm and dry when you're out and about in the winter. They also look great with winter fashion, and I have black, brown and khaki pairs so I have something to match almost any outfit.
8. Long Cardigans
Long cardigans are a great layering piece in the winter. They are great to throw over pretty much any outfit to add an extra layer of warmth, and you can even wear them over a formal outfit and still look smart, so they are a great option for a work setting.
A note about washing your clothes
Many of the clothing items I mentioned are often made from synthetic fabrics, which are lovely and warm but there is a price to pay for the environment. These fabrics shed microfibers, some of which are too small to be filtered out by water treatment plants, and they end up in the oceans. A great solution to this is to use a microfibre filter washing bag, such as the Guppyfriend Washing Bag or the Sea Saver Micro Filter Washing Bag. (Not affiliate links) These catch the microfibers so they can be safely disposed of.
What are your winter wardrobe essentials?
Are you a fan of any of the winter wardrobe essentials I've mentioned, or do you style yourself differently? I'd love to know what your go-to items are at this time of year, so do let me know in the comments below.
If you are in need of a new pair of jeans or any other of these winter wardrobe essentials, be sure to check out Lands' End as they have such a great selection!